We measured the idle temperatures and power consumption levels with the system resting at the Windows 7 desktop.
The temperature of the Haswell-E CPU and power consumption of our entire test system (at the wall) is measured while loading only the CPU using Prime95′s in-place large FFTs setting.
Temperature recordings were taken using CPUID HW Monitor. Asus' AI Suite 3 software delivered contradictory readings that were sometimes as much as 10°C lower than the CPUID software.

Temperatures
Temperature recordings were taken with the Corsair H100i CPU cooler's fans running at full speed. Ambient temperature was maintained at a toasty 23°C.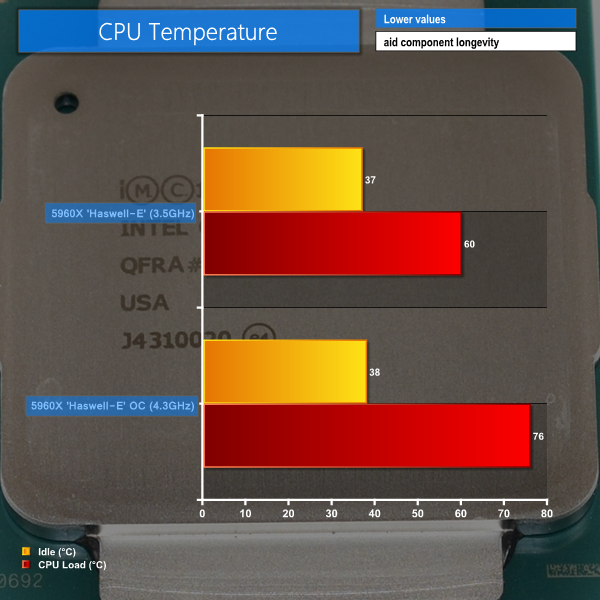 With our Corsair H100i operating at its maximum speed, the 1.20V CPU VCore applied at stock (MCT) levels tops out at 60°C. Even putting 1.30V through the chip doesn't force temperatures past the 80°C mark.
Intel seems to have learned from its mistakes with Ivy Bridge and Haswell – poor ability to remove heat hinders overclocking results. That said, it may be just the HEDT chips that are treated to a rugged heatspreader bonding solution.
Power Consumption
We must note that the 5960X system was housed inside an NZXT Phantom 630 chassis with three case fans. The 4790K and 4960X were tested in an open-air environment hence the powering of fans was not required.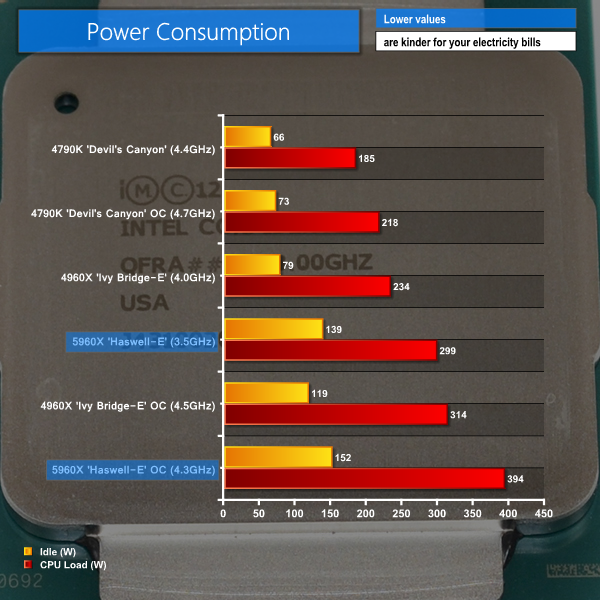 With eight physical cores and a 140W TDP, not even the positive efficiency of the Haswell microarchitecture can save the 5960X from sizeable power requirements. Around 25-30% more energy than a 4960X-based system is required to fuel our X99-based configuration.
While 25-30% may sound like a sizeable jump in power requirements, the 5960X's core count is 33% higher than its predecessor's. And its performance in some environments is greater than 25% ahead of the 4960X. With those points in mind, power and performance characteristics are more balanced than the above chart would suggest.
Let's not 'butter up' the situation though; with a pair of high-end graphics cards installed, an overclocked 5960X system may be enough to warrant a 1000W+ PSU from a reputable vendor.