Based on the Haswell microarchitecture and sporting eight cores with a 20MB serving of L3 cache, we expect the 5960X to excel in multi-threaded performance. On the contrary, the comparatively low operating frequency could hamper its single-core and gaming success.
The battle between the higher-clocked six-core Ivy Bridge-E 4960X and its successor – the eight-core Haswell-E 5960X – will be particularly interesting. Whether the fast but four-core 4790K can keep pace with these £760 brutes will also be an intriguing tale.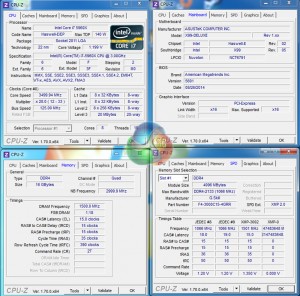 As is typical for many modern motherboards, enabling XMP applies multi-core turbo (MCT) which forces a processor to continuously operate at its maximum turbo level on all cores. This 3.5GHz frequency will be displayed as the 'stock' setting for our i7 5960X data.
While this is perhaps not the most accurate representation of 'stock' performance for a processor, people buying this kind of chip are likely to be using high-speed XMP memory kits. By that logic, testing with MCT enabled is arguably more representative of real-world performance.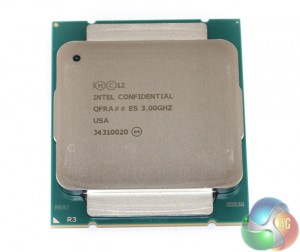 We will be outlining the eight-core 5960X Haswell-E processor's performance to that of its predecessor – the six-core Ivy Bridge-E Core i7 4960X. The Devil's Canyon Core i7 4790K serves as a performance comparison for the Haswell micro-architecture found on Intel's mid-range platform.
All processors will be compared at stock (MCT) speeds and typical overclocked frequencies. Test systems are kept as similar as possible. With the X99 platform supporting DDR4, the memory used by each system is different, as is our choice of SSD. These two component changes will have little effect on our CPU-centric benchmark suite.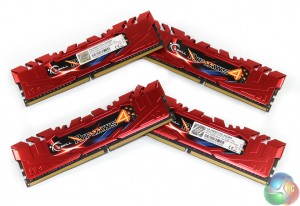 A 16GB kit of G.Skill's ultra-fast 3000MHz Ripjaws4 memory accompanies our Haswell-E test platform. The kit uses 1.350V to run at 3GHz with 15-15-15-35 timings. Applying the built-in XMP mode switches the system base clock to 125MHz and accordingly adjusts the processor back down to its stock (MCT) level.
CPU Test System Common Components:
Haswell-E 5960X System:

CPU: Intel Core i7 5960X 'Haswell-E' (Engineering Sample) 8 cores, 16 threads (3.5GHz stock MCT & 4.3GHz @ 1.30V overclocked).
Motherboard: Asus X99 Deluxe (LGA 2011-v3, X99).
Memory: 16GB (4x4GB) G.Skill Ripjaws4 3000MHz 15-15-15-35 DDR4 @ 1.35V.
System Drive: Samsung 840 500GB.
Ivy Bridge-E 4960X System:

Devil's Canyon 4790K System:

Software:
Asus X99 Deluxe BIOS v5601 (latest).
Catalyst 14.4 VGA drivers.
Tests:

Super Pi – 32M test (CPU)
Cinebench R15 – All-core & single-core CPU benchmark (CPU)
HandBrake 0.9.9 – Convert 4.36GB 720P MKV to MP4 (CPU)
SiSoft Sandra 2014 SP2 – Processor arithmetic, cryptography, memory bandwidth (CPU & Memory)
3DMark 1.3.708 – Fire Strike (System)
PCMark 8 v2.0.288 – Home (System)
WinRAR 5.10 – Built-in benchmark (System)
Bioshock Infinite – 1920 x 1080, ultra quality (Gaming)
Metro: Last Light – 1920 x 1080, high quality (Gaming)
Tomb Raider – 1920 x 1080, ultimate quality (Gaming)