Despite of tough times, Advanced Micro Devices plans to sustain its research and development investments on certain levels in a bid to ensure that its products are competitive in the future.
Research and development are two corner stones of high-tech companies. Without fundamental research of things that may not seem important today and development of actual products, companies will be unable to release anything at all. Just like other things, R&D costs money and companies have to assign a portion of their revenue on such operations in order to maintain financial discipline. Typically, high-tech companies spend between 20 and 25 per cent of their revenue on R&D.
Revenues of Advanced Micro Devices have been declining for many quarters now, as a result, the company has to lower its spending on research and development as well as on multitude of other things. In the last five years AMD's R&D spending dropped by almost 50 per cent: from $432 million in Q4 2009 to $225 million in Q2 2015 as a result of revenue drops as well as AMD's attempts to demonstrate profitability.
Throughout its history, AMD has always tried to maintain its R&D expenses at certain levels in a bid to support its product roadmap and ensure that it will have competitive products years down the road. Unfortunately, due to declines of earnings and decision to demonstrate positive results, AMD's R&D expenses dropped below $300 million per quarter in Q3 2013 and have been declining since then. In fact, $225 million is the lowest amount of money that AMD spent on research and development per quarter in more than a decade, which essentially means that now it spends less on R&D than back in the days when it developed only microprocessors.
During its earnings conference call with investors and financial analysts this week, AMD said that it would do everything to roll-out new products that are in development right now and prioritize R&D expenses over everything else going forward.
"We have specific products that are coming out over the next, call it, 18-month timeframe, and we are going to do everything possible to protect that roadmap," said Devinder Kumar, chief financial officer of AMD. "R&D is obviously going to be the higher priority from that standpoint."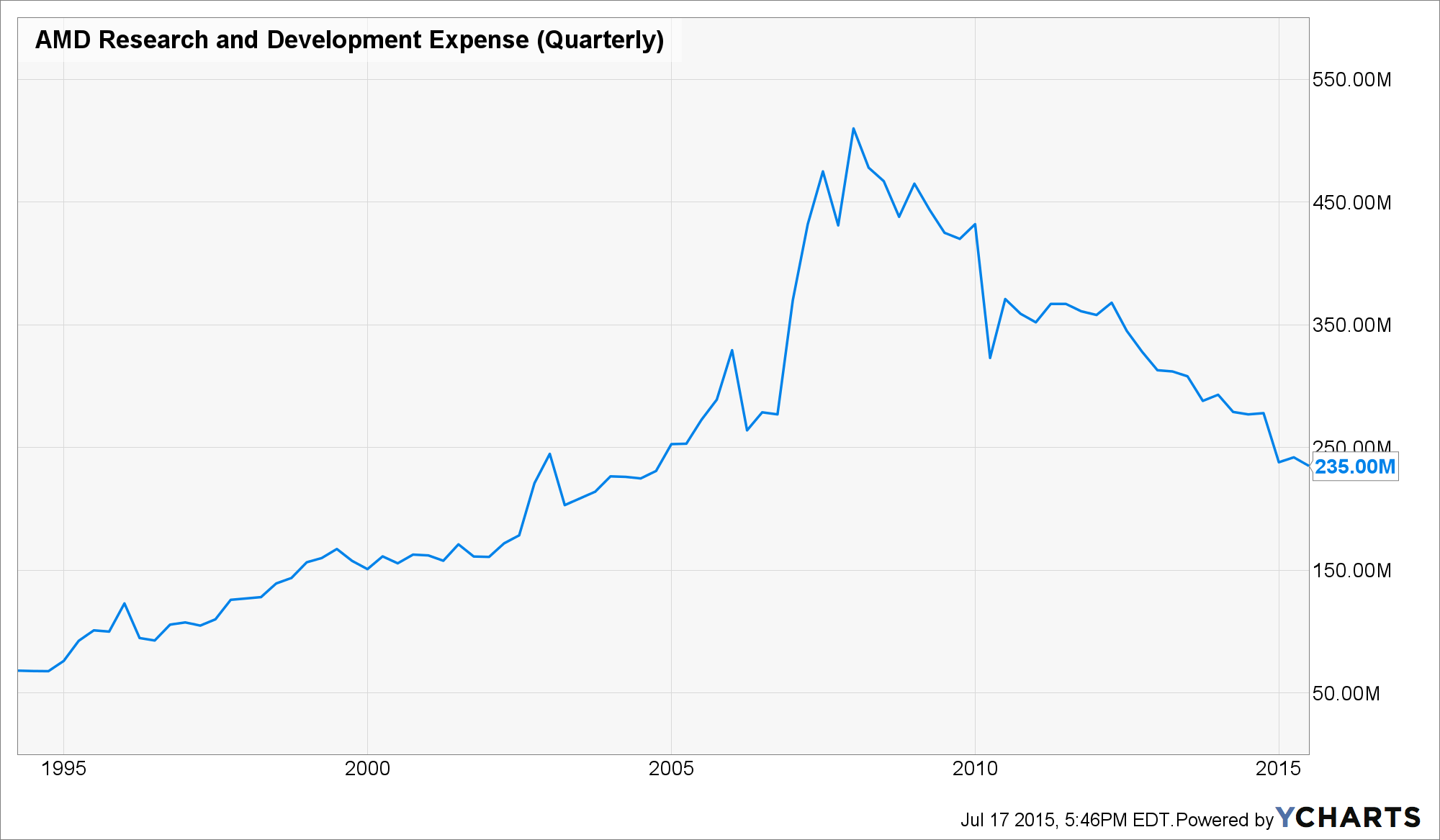 In a bid to support its ongoing R&D operations, AMD already increased research and development spending as a percentage of revenue to 23.8 per cent in Q2 compared to 22.5 per cent in Q1. Since the company expects its sales to increase in the third quarter, it will naturally be able to either further increase its R&D expenses, or at least maintain them at the current levels.
CFO of AMD understands perfectly that in addition to mid-term products, the company has to invest in the long-term future. Hopefully, it means that AMD will not let R&D spending fall below certain level.
"Even as we talk and contemplate about the actions we are going to take, we are going to do everything to protect that roadmap for the longer term, a strategic roadmap as well as the financial model," said Mr. Kumar.
Discuss on our Facebook page, HERE.
KitGuru Says: While it is nice to see that AMD cares about its mid-term and long-term future, it is clear that in order to be truly competitive with its rivals, the company will have to invest more in R&D, not only in terms of absolute dollars, but also as a percentage of revenue. For example, Nvidia spends around 30 per cent of its revenue on R&D, which is why its research and development budget has surpassed that of AMD despite of similar quarterly revenues. Moreover, as AMD transits its products to FinFET manufacturing technologies, its expenses on chip design will triple. Therefore, either AMD increases its sales and boosts its R&D budget, or it will have to increase its R&D spending as a percentage of revenue…