Historically, Nintendo developed key technologies and processors for its video game consoles at its research and development facilities in Japan. However, it looks like for its next-generation game systems the development of key system-on-chips will be carried out at Nintendo Technology Development, a subsidiary of Nintendo based in the U.S.
Nintendo Technology Development subsidiary was established in 1996. NTD has co-developed hardware with what is now called the Nintendo Integrated Research & Development division, but its main focus has always been the creation of various software technologies, hardware tools and development kits for Nintendo platforms. It looks like the role of NTD is changing.
In the recent months NTD started to hire various hardware specialists, including a lead graphics architect in the system-on-chip architecture group, reports GameSpot. Nintendo revealed at LinkedIn that the group is responsible for the architecture of Nintendo's game console SoCs.
The lead graphics architect, which has already been hired, was expected to have good architectural insights and the ability to apply that for setting future graphics direction for Nintendo. Among the responsibilities of the candidate, Nintendo listed evaluation of hardware graphics offerings from SoC solutions available in the market based on performance, power, and silicon area. Moreover, the lead graphics architect is to act as the graphics architectural evangelist working with global Nintendo teams for future and on-going programs, a clear indicator that NTD is now responsible for the key hardware for Nintendo's next-gen game consoles.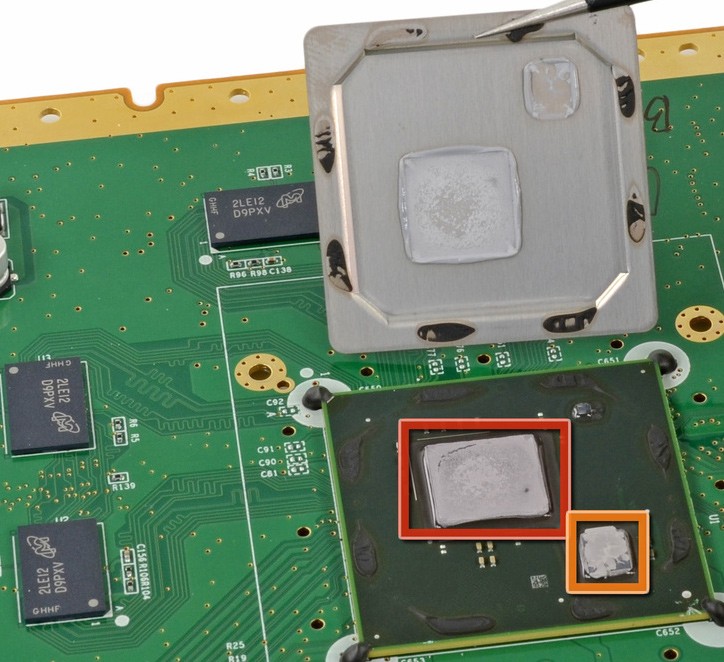 The system-on-chip that powers Nintendo Wii U. Image by IFixIt
While Nintendo has developed virtually all key technologies for its gaming platforms in Japan, it is pretty obvious that nowadays the U.S. has a clear lead over any other country when it comes to creation of chips. Moreover, system-on-chips for Wii and Wii U, which were designed in Japan, have failed to beat chips that power competing game consoles in terms of performance and functionality. Furthermore, the architecture of Nintendo's recent platforms is not exactly software developer friendly, which is why the company has to rely on first-party titles as a primary way to improve popularity of its consoles.
While Nintendo has not confirmed that it moved development of its chips from Japan to the U.S., it is clearly a logical thing to do. Both Microsoft Corp. and Sony Corp. develop their hardware platforms in the U.S., which allows them to build high-performance chips and developer-friendly consoles. Looks like this is exactly what Nintendo wants with its next-gen system.
Discuss on our Facebook page, HERE.
KitGuru Says: Nintendo is probably on the lookout for its "own" Mark Cerny (the lead architect of the PlayStation 4) these days… The problem is that even if the company gets a number of ingenious developers like Mr. Cerny, it will need to change its hardware design paradigm. Nintendo needs to develop leading-edge SoC (in terms of performance and functionality) for its future platform. If Nintendo continues to insist on low-cost hardware, it will be impossible even for a genius to develop anything decent.