Although many game developers have decided to support AMD's proprietary Mantle application programming interface (API), whereas Intel Corp. even expressed interest in exploring the API, Nvidia Corp. has been relatively quiet about one of its arch-rival's key technologies. This does not mean that the company does not have any opinion about Mantle. According to Nvidia, the proprietary API simply does not bring any tangible benefits.
AMD's Mantle is a cross-platform API designed specifically for graphics processing units based on graphics core next (GCN) architecture (e.g., AMD Radeon R9, R7 and HD 7000-series). The main purpose of the API is to allow game developers to access hardware on the low level and get higher performance because of the lack of limitations of the current APIs. According to AMD's internal testing, Mantle can bypass all the bottlenecks modern PC/API architectures have, it enables nine times more draw calls per second than DirectX and OpenGL due to lower CPU overhead.
Higher performance can be transformed into better quality of graphics or enable games to be played on lower-cost hardware. Microsoft's upcoming DirectX 12 API is designed with similar goals in mind, but it is about 1.5 years away from the release, which makes Mantle particularly valuable to game developers who want to bring something new to gamers. Although Nvidia is working with game designers to enable proprietary effects in titles as part of its GameWorks programme, it does not see any value in AMD's Mantle.
"We do not know much about Mantle, we are not part of Mantle," said Tom Petersen, a distinguished engineer at Nvidia, in an interview with PC Magazine, reports Dark Side of Gaming. "If they see value there they should go for it. And if they can convince game developers to go for it, go for it. It's not an Nvidia thing. The key thing is to develop great technologies that deliver benefits to gamers. Now in the case of Mantle it's not so clear to me that there is a lot of obvious benefits there."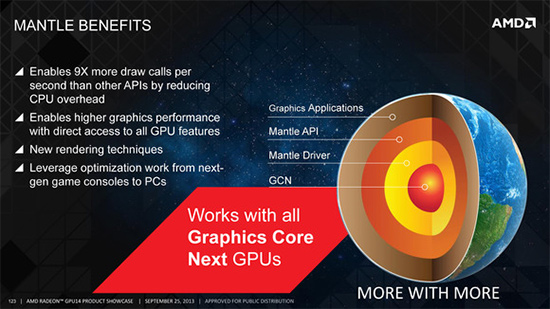 According to Nvidia, well-made DirectX drivers can deliver the right level of performance in games and there is no need to develop a proprietary API for that.
"If you go look at the numbers, compare our DX drivers today to Mantle games, I don't think you're going to notice any big improvement," said Rev Lebaradian, senior director of engineering at Nvidia.
While Nvidia criticises AMD's Mantle and AMD criticizes Nvidia's GameWorks, the ultimate goal of both efforts is similar. Both developers of graphics processing units want to add technologies to games that will exclusively work on their hardware. Mantle allows to add unique graphics effects for AMD Radeon (even though it does not necessarily use proprietary hardware capabilities), whereas GameWorks adds distinctive effects for Nvidia GeForce (using exclusive hardware capabilities in certain cases).
[yframe url='http://www.youtube.com/watch?v=aG2kIUerD4c']
Discuss on our Facebook page, HERE.
KitGuru Says: What is clear from Nvidia's comments about AMD's Mantle is that it will not develop its own proprietary API and will wait for Microsoft's DirectX 12 instead. Thanks to GameWorks programme, it can still add exclusive capabilities to select titles if it wants to…