Jen-Hsen Huang, chief executive officer of Nvidia Corp. said this week that he is excited about the company's next-generation graphics processing units code-named "Pascal" as well as next-generation process technologies. Nevertheless, while the CEO of Nvidia is confident of the company's roadmap, he notes that current-gen "Maxwell" family of GPUs is only beginning its journey.
"We have got lot of great surprises for you guys and I am excited about our next generation GPUs," said Jen-Hsun Huang during quarterly conference call with investors and financial analysts. "But right now we are enjoying ramping Maxwell. This is a brand new product cycle."
Right now Maxwell mainly addresses the market of consumer gaming PCs with GeForce graphics cards. Nvidia plans to introduce professional-grade Quadro graphics cards as well as Tesla accelerators for high-performance computing applications sometime in 2015.
At present there are only two graphics processing units – GM107 and GM204 – based on the Maxwell architecture. Nvidia is expected to unveil two more chips based on the latest graphics processing technology, which will take a quarter or two. It is believed that one of the forthcoming Maxwell GPUs – code-named GM200 – will address the markets of high-performance computing, professional graphics as well as ultra-high-end gaming PCs.
Nvidia's next-generation graphics processors are code-named "Pascal". Based on the company's roadmap that it demonstrated back in March, Pascal GPUs are due sometime in 2016. Next-generation graphics chips from Nvidia will support stacked high-bandwidth dynamic random access memory (DRAM) (SK Hynix's high-bandwidth memory (HBM) or Micron's hybrid memory cube (HMC)), unified memory addressing for CPU and GPU, NVLink interconnection for high-performance computing platforms as well as new graphics, compute and multimedia features that will be a part of DirectX 12, OpenGL 5.0 and other forthcoming application programming interfaces.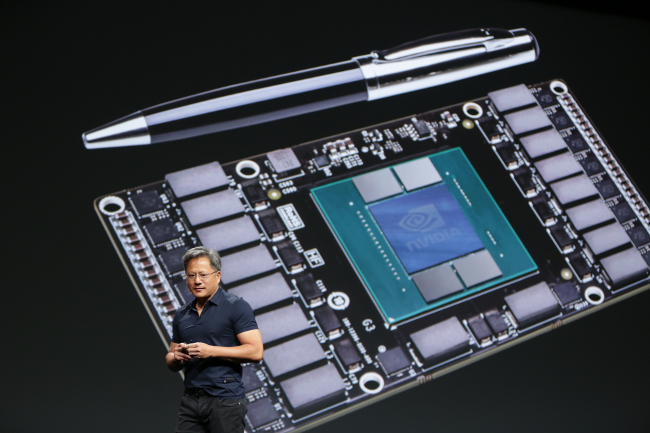 In 2016 displays with ultra-high-definition (UHD) resolutions like 4K (3840*2160, 4096*2160) or 5K (5120*2160) will get much more popular than they are today. Therefore, dramatically improved graphics processing horsepower of Pascal GPUs as well as extreme bandwidth provided by stacked HMC or HBM DRAM devices (we are talking about 1TB/s – 2TB/s bandwidth here) will be appreciated by the market.
Given the availability timeframe of the "Pascal" family of graphics processors, it is very likely that they will be manufactured using 16nm FinFET+ process technology at Taiwan Semiconductor Manufacturing Co. Although Jen-Hsun Huang has not confirmed anything about Pascal, he did indicate that he is happy with the forthcoming fabrication processes.
"We are excited about the next generation FinFET [manufacturing technologies]," said Mr. Huang. "I can tell you that for the next couple of nodes, I feel pretty good about [them]."
Discuss on our Facebook page, HERE.
KitGuru Says: While Nvidia's Pascal architecture looks like another major step in the evolution of graphics processors in general, it is at least 1.5 years away. Therefore, from an end-user point of view it is more interesting to know, what the GM200 is and how fast it is. The GM200 will power Nvidia's next-generation GeForce GTX Titan graphics cards and it is not a secret that they are performance monsters.