Having analysed two GTX 1070 Ti partner cards last week, today our attention was firmly on the ASUS GTX 1070 Ti ROG Strix model.
I must say, the overall design is stunning. Not only is the card a real looker with its matte black aesthetic and swanky backplate, but it is also cool, quiet and especially efficient. In fact, this Strix model actually posted the lowest noise levels and temperatures of any graphics card to come into my office over the last few months.
In terms of performance, we did see a benefit from the 'OC mode' setting which ASUS is providing with its ROG Strix 1070 Tis. This is essentially a one-click overclock which adds +76MHz to the GPU core – it is ASUS' way of getting around Nvidia's requirement that all 1070 Tis ship with reference speeds.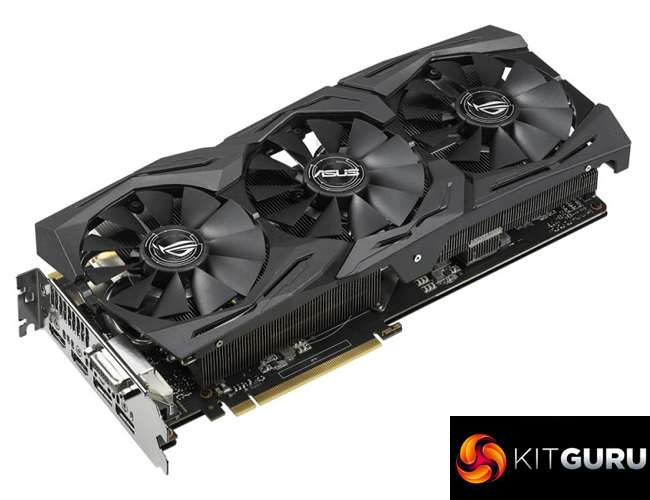 So, in OC mode, the Strix card was perhaps 1-2% faster than the other two GTX 1070 Ti partner cards we analysed last week. It is not much, and manual overclocking will obviously bring more gains, but it is enough to help elevate the Strix card above the competition.
However, pricing is still the enemy here. ASUS' card currently retails for £499.99 here in the UK, and that is actually more expensive than some GTX 1080s currently on the market. We fully appreciate the ROG Strix GTX 1070 Ti is packed to the gills with good features, but at the end of the day, a GTX 1080 is a GTX 1080, and it is highly unlikely you would pay more for a slower card.
As it is, we are still playing the waiting game, hoping prices will drop. At around the £450 mark, the ASUS GTX 1070 Ti ROG Strix would be a much more attractive proposition – after all, it is an excellent card. For now, though, the price is too much for this card to be the instant success it should be.

You can buy one from Overclockers UK HERE.
Discuss on our Facebook page, over HERE.
Pros
Good-looking.
Very quiet.
Power efficient.
Lots of features.
OC mode enables better performance.
Manual overclocking also raises performance to GTX 1080 levels.
Cons
Pricing is still inflated – GTX 1080s can actually be found for less money.
KitGuru says: This is undoubtedly the most polished GTX 1070 Ti we have seen so far. If the price drops, it could be a real winner. For now, though, GTX 1080 is still the way to go.