For our temperature testing, we measure the peak GPU core temperature under load, as well as the GPU temperature with the card idling on the desktop. A reading under load comes from running the 3DMark Fire Strike Ultra stress test 20 times. An idle reading comes after leaving the system on the Windows desktop for 30 minutes.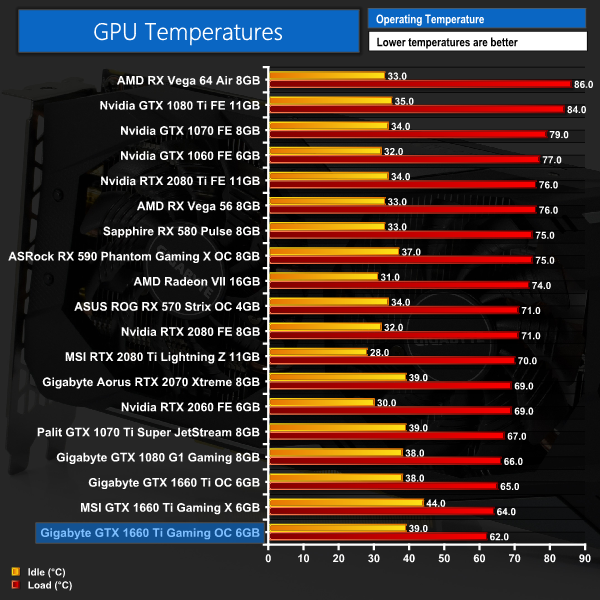 If you have seen any other GTX 1660 Ti reviews so far, you will know that the TU116 GPU is very easy to cool – just a single-fan configuration is enough to keep temperatures in check.

It's not exactly a surprise, then, that this triple-fan cooler produces exceptional results, with a peak temperature of just 62C under load. Bear in mind this is when cooling the fastest-running 1660 Ti we have seen so far, too, so it's even more impressive that it is both very fast and very cool.
As we found from our OC 6G review, however, our thermal camera images aren't necessarily representative of the actual temperature hot spots on the card. That's because the card uses a plastic shroud and backplate which don't directly contact the heatsink or PCB – so there is little to no thermal transfer. If the backplate was metal, for instance, we would likely see a higher temperature for the hot spot on the back of the card.