We take our noise measurements with the sound meter positioned 1 foot from the graphics card. I measured the sound floor to be 34 dBA, thus anything above this level can be attributed to the graphics cards. The power supply is passive for the entire power output range we tested all graphics cards in, while all CPU and system fans were disabled.
A reading under load comes from running the 3DMark Fire Strike Ultra stress test 20 times. An idle reading comes after leaving the system on the Windows desktop for 30 minutes.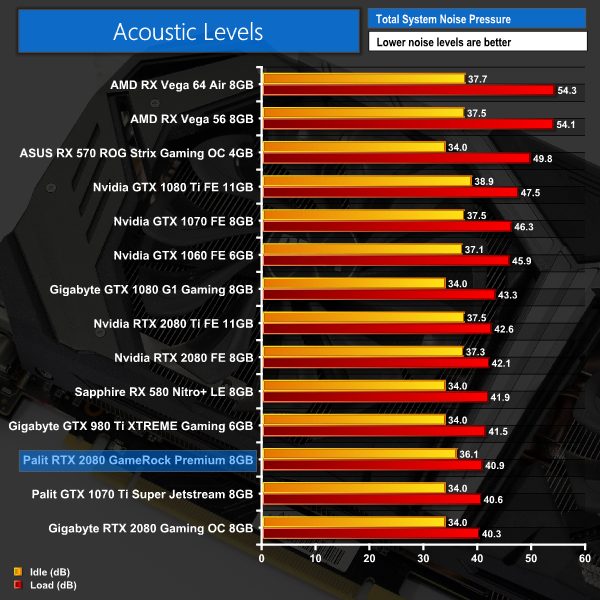 The GameRock Premium is a very quiet card, coming in just marginally louder than the Gigabyte RTX 2080 Gaming OC. In the real world, you would be hard pressed to tell the two apart – both are fantastically quiet.
Interestingly, the fans didn't stop spinning on our card, with the fan speed not dropping below 800RPM with the system idling. This resulted in the card emitting a very slight noise when not under load, when other cards would turn the fans off completely. This was surprising for us, given the the GameRock Premium makes a feature of its '0dB mode' on Palit's website.
It turns out that the 0dB mode is only enabled when you are using the card's secondary BIOS – the one that drops the clock speed back to reference levels (1710MHz boost). Using the card with the OC BIOS enabled, with the 1875MHz boost clock, means the fans won't spin slower than 35% (800rpm) speed regardless of the load on the GPU.
Personally I think Palit has missed a trick here – it seems they are just trying to be overly careful that the card doesn't overheat given the factory overclock, but when idling the GPU core will drop its frequency anyway – they could very easily get away with the 0dB mode enabled for the OC BIOS as well.
Be sure to check out our sponsors store EKWB here