For our temperature testing, we measure the peak GPU core temperature under load, as well as the GPU temperature with the card idling on the desktop. A reading under load comes from running the 3DMark Fire Strike Ultra stress test 20 times. An idle reading comes after leaving the system on the Windows desktop for 30 minutes.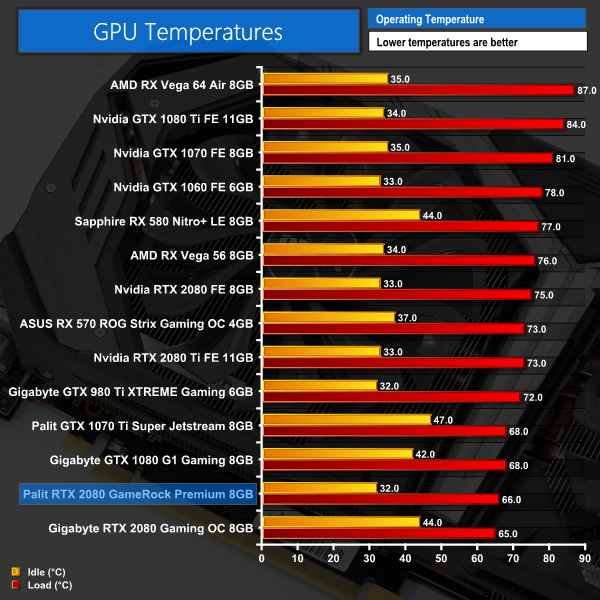 With a peak of 66C on the GPU core, this means the GameRock Premium is running just 1C hotter than the Gigabyte RTX 2080 Gaming OC. This is still a fantastic result and makes it 9C cooler than the Founders card. It is also worth bearing in mind the Palit card does have a clock speed advantage over the Gigabyte card as well – but the Palit's cooling setup can still produce excellent results.
Considering the GPU core only peaked at 66C, it is no surprise to see excellent results from our thermal gun. The side of the card peaked at 66C exactly, and this was on an area of the aluminium fin array just above the GameRock logo. The rear of the card peaked at 66.1C which was unsurprisingly directly behind the GPU core. Both results are fantastic.
Be sure to check out our sponsors store EKWB here