With a number of aftermarket RTX 2080 cards now available, today we have assessed the Palit RTX 2080 GameRock Premium.
This is a big card – measuring almost 30cm in length, while it is essentially a triple-slot card as well. Usually we don't comment too much on the overall aesthetics of a graphics card as this is quite subjective – but we do have to say, the backplate design of the GameRock Premium is likely to prove divisive thanks to the large GameRock logo.
Still, the cooler is very effective as we saw the card peak at just 66C – 1C hotter than the Gigabyte RTX 2080 Gaming OC we reviewed recently. The Palit does run faster out of the box, though, by around 60MHz, so that is worth bearing in mind.
It's also a fabulously quiet card – again, it is not quite as quiet as the Gigabyte card, but in the real world, it is very unlikely you would be able to hear the difference, as it comes down to just 0.6dB.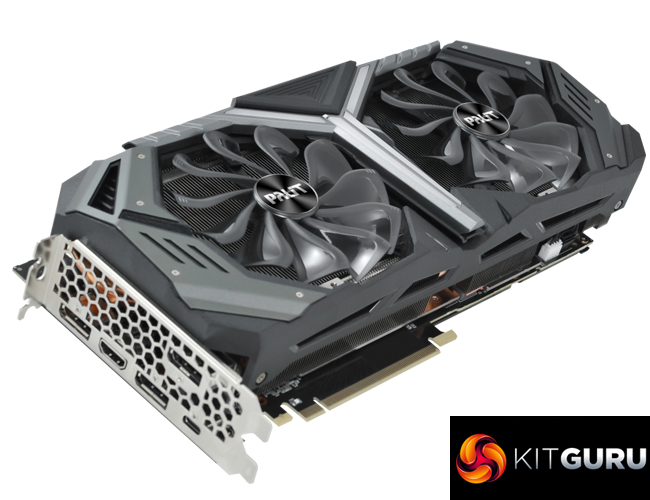 As we mentioned, it does run faster than both the Founders and Gigabyte RTX 2080 cards out of the box, thanks to the daring 1875MHz rated boost clock. In practice, we saw the card's average frequency hit 1927MHz when running Fire Strike Ultra. This does edge the GameRock Premium ahead of the other two RTX 2080 cards – it is faster, but as you can see from the charts, this only translated into an extra 0.8FPS at best when gaming at 4K.
The aggressive factory overclock also eats into manual overclocking headroom, and we could only add +45MHz to the GPU core before encountering hard crashes when running 3DMark, though the memory was able to run +800MHz faster. This overclock saw the GPU core hit 2055MHz before eventually settling down and averaging at 1992MHz. Impressively, the card barely ran any hotter or louder at this frequency, so a manual overclock is well worth it if you do pick up a GameRock Premium.
In terms of pricing, the GameRock Premium will set you back £830. This is £80 more than the Founders Edition, so you do have to ask yourself whether or not the quieter operation and low temperatures are worth that much to you. We've said it before, but Nvidia's excellent Founders card – at what looks to be one of the lower price we'll see for an RTX 2080 – does make things hard for Nvidia's partners.
We can still recommend the Palit RTX 2080 GameRock Premium – it gets a lot right and benefits from its aggressive factory overclock. At the end of the day, however, performance is pretty much the same as the Founders Edition, while the Founders card also offers better bang-for-buck.
Palit told us the GameRock Premium will retail for £830 here in the UK, with availability from the middle of October. We will update this page with a buy link when we have one.
Pros
Cool and quiet.
Aggressive factory overclock.
Hardly got any hotter or louder when overclocked to almost 2GHz.
Cons
£80 more than the Founders Edition for marginal FPS gains.
Backplate design is polarising.
No 0dB mode when using the OC BIOS.
KitGuru says: It is cool, quiet and ships with a hefty factory overclock. For £80 more than Nvidia's Founders Edition, though, it could prove a tough sell.
Be sure to check out our sponsors store EKWB here