We take our noise measurements with the sound meter positioned 1 foot from the graphics card. I measured the noise floor to be 32 dBA, thus anything above this level can be attributed to the graphics cards. The power supply is passive for the entire power output range we tested all graphics cards in, while all CPU and system fans were disabled.
A reading under load comes from running the 3DMark Fire Strike Ultra stress test 20 times. An idle reading comes after leaving the system on the Windows desktop for 30 minutes.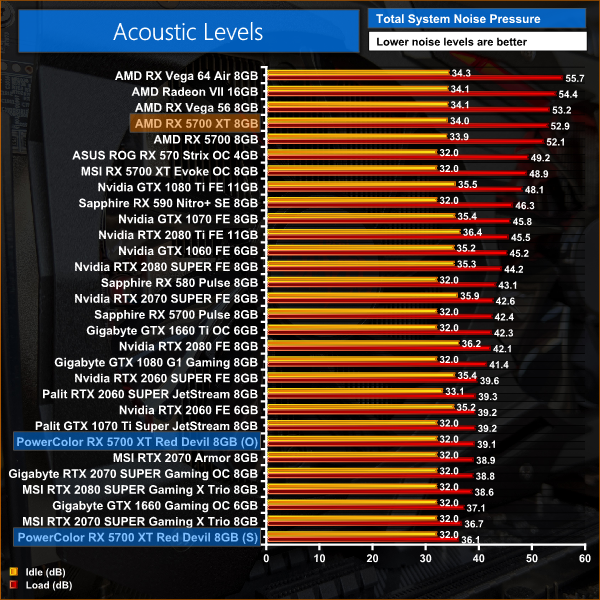 This is where things get very interesting for the Red Devil. Even with the OC BIOS – running 115MHz faster and 9C cooler than reference – noise levels are fantastic, barely reaching 39dB. This means the card is barely audible under load, with the fans spinning at around 1460rpm – 41% – for the majority of our stress test.
Engaging the Silent BIOS is even better. Here the fans dropped below 1000rpm (!), spinning at 950-970rpm (26-27%) for the duration of our testing. At these speeds, I have to be honest and say the card is just ridiculously quiet, to the point where the sound meter was telling me it was hearing something – but with my ear any further than two inches from the card, on an open air test bench no less, I just could not hear it.
Be sure to check out our sponsors store EKWB here: https://ek.tech/kit-guru