Having spent the last couple of weeks analysing custom Navi cards from the likes of Sapphire and MSI, today we have turned to the PowerColor RX 5700 XT Red Devil. There is no doubt in my mind that this is the most impressive partner card so far.
Things start off well as PowerColor has moved away from its signature red-and-black colour scheme which was a staple of the Red Devil series. Now, the card is much more colour-neutral and sports three RGB zones. Yes, there are still two small bits of red accenting for the fan stickers, but that's really clutching at straws in my opinion. Anyone who mounts this card horizontally – as is standard – will be looking at a clean black backplate instead, so it hardly matters.
Aesthetics aside, PowerColor has made a smart choice by simply sticking a large cooler on the 5700 XT GPU. Our reviews of the MSI Evoke OC and Sapphire Pulse show you don't necessarily need a huge cooler for the Navi GPUs, but boy does it help when we get to temperatures and noise levels. First, using the card with its default OC BIOS, not only is the Red Devil 115MHz faster than reference, it's also 9C cooler and over 10dB quieter. It's safe to say it's a massive improvement over AMD's blower-style cooler.
What makes this even more impressive, however, is the Silent BIOS. This does drop clock speeds to 36MHz below reference speeds, but the trade-off is the fans spin incredibly slowly – around 950rpm, or 26%. Because the clock speed drops as well, this only results in the GPU running at 74C which is still 6C cooler than reference despite being, for all intents and purpose, inaudible.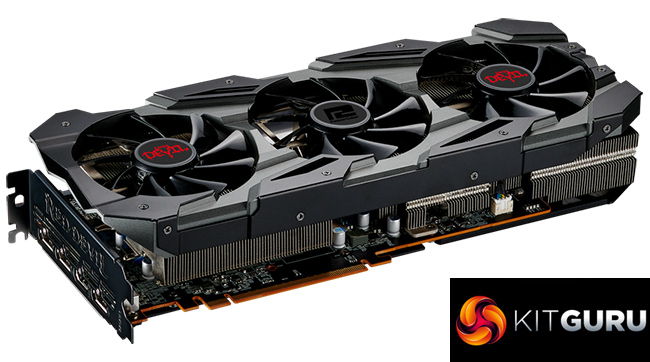 When gaming with the OC BIOS, real-world performance gains over the reference card aren't huge – but by now we know that Navi has been delivered pretty close to its limits, so we won't see huge gains from a factory overclocked partner card. In the case of the Red Devil, it runs on average 3% faster than the reference RX 5700 XT, putting it essentially on par with MSI's Evoke OC in terms of frame rates.
This cuts the gap between the 5700 XT and Nvidia's RTX 2070 SUPER to just 1% in Nvidia's favour, though the Red Devil is 4% slower than a factory overclocked model like MSI's Gaming X Trio. However, it is 13% faster than reference 2060 SUPER and 8% faster than Palit's 2060 SUPER JetStream – which retails for the same price as the Red Devil.
Speaking of pricing, there's no denying that US buyers get the better deal here, as the Red Devil has an MSRP of $439 – just $39 more than reference, and still $61 cheaper than 2070 SUPER. If you're based in America and want a new graphics card, at that price the Red Devil is an absolutely fantastic purchase and I'd pay the extra $40 premium over the reference card every day of the week.
Here in the UK, though, it is a definite shame that pricing isn't as attractive as in the US – here the card will set you back £449, or £70 more than reference MSRP. That brings pricing closer to the £475 MSRP of the 2070 SUPER, though at the time of writing there are still no cards available for that price – the cheapest I've seen is the Palit Blower X for £499.
Unfortunate currency conversion aside, it is clear PowerColor has absolutely nailed it with the RX 5700 XT Red Devil. This is a card that runs very cool and very quiet, while the dual-BIOS functionality is excellent. The bar has just been raised for custom Navi GPUs.

You can buy the RX 5700 XT Red Devil for £449.99 from Overclockers UK HERE.
Pros
Colour-neutral design with three RGB zones.
OC BIOS runs 115MHz faster and 9C cooler than reference.
Silent BIOS is ridiculously quiet and lowers power draw by 40W.
Dual-BIOS functionality lets you choose your preferred mode.
Attractive backplate.
$39 premium is well worth it for US buyers.
Cons
Pricing isn't as attractive for those in the UK.
Glossy plastic fans look a bit cheap.
KitGuru says: PowerColor has knocked it out of the park with the RX 5700 XT Red Devil. It will be fascinating to see how other flagship custom cards from the likes of Sapphire and ASUS compare in the coming weeks.
Be sure to check out our sponsors store EKWB here: https://ek.tech/kit-guru