Radeon Super Resolution (RSR) was announced back at CES, but it has finally launched to the public as part of AMD's new Adrenalin 22.3.1 driver. Using the same spatial upscaling algorithm as FSR, the key benefit to RSR is that it is applied at the driver level, meaning it can work in any game you want, without specific developer integration. We put it to the test today, with comparisons against FSR, NIS and DLSS…
Timestamps
00:00 Start
00:39 Introduction and test setup
03:57 Horizon Zero Dawn Image Comparisons
11:52 Guardians of the Galaxy Image Comparisons
18:04 F1 2021 Image Comparisons
21:46 Performance Benchmarks
23:02 Closing Thoughts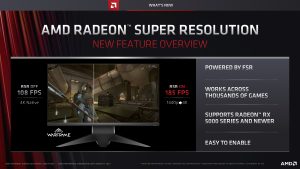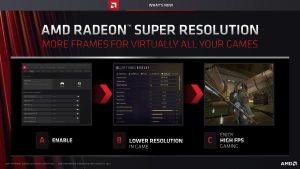 Radeon Super Resolution, or RSR, is very similar to Nvidia's Image Scaling feature we looked at late last year. That's because both are driver-level features which use spatial upscaling algorithms to render your games at a lower resolution, before outputting at your monitor's native resolution.
Enabling RSR is a doddle, as we show in the video. You simply need to open the Adrenalin software, navigate to the Global Graphics tab, and you will see a simple on/off toggle for Radeon Super Resolution. You can then open your game of choice, lower the in-game resolution, and RSR will upscale the image to your monitor's display resolution. You can check RSR is active by hitting Alt+R in-game, and the Adrenalin overlay will appear confirming that RSR is working correctly.
We test RSR in three different games – Horizon Zero Dawn, Guardians of the Galaxy and F1 2021, comparing it to FSR, NIS and DLSS, so for all of the image quality comparisons and analysis, be sure to check out the video.
The only real snag with RSR is that it is only supported on the RX 5000 series or newer – so anyone with Vega or Polaris GPUs won't be able to use, despite the fact that FSR is supported all the way back to the RX 400 series. I asked AMD why this was the case and they responded with the following, copied verbatim:
'While the FSR 1.0 algorithm is also used by RSR, the original implementation was a simple-to-integrate, game-side solution for developers to leverage. The RSR implementation of the algorithm is a product-level solution in the driver, which requires development of software architecture tied to the AMD RDNA architecture.'
I do find this is quite disappointing, as the GPUs that would benefit most from a feature like RSR – the likes of the RX 470s and RX 480s – are the ones that are unable to access it, so we strongly hope AMD is able to bring support for RSR to a wider number of GPU architectures in the future.
For now though, be sure to watch the video above detailing the image quality on offer, and be sure to leave us any feedback in the comments or over on Facebook.
Discuss on our Facebook page HERE.
KitGuru says: RSR is a good addition to AMD's software suite, it's just a shame the GPUs that need it the most are the ones which can't access the feature. If you are running an AMD GPU though, be sure to update to the latest 22.3.1 driver.