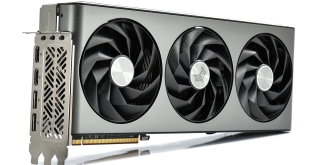 The RX 7800 XT reviews continue today as we take a look at the Sapphire Nitro+ model. Sporting an eye-catching design with RGB light bar, dual-BIOS and a thick, triple-slot cooler, Sapphire's Nitro+ series has offered some of the best AMD-based cards to hit the market in recent years. Today we find out if this £539 RX 7800 XT can live up to that billing.
We've already reviewed the Sapphire RX 7900 XTX Nitro+ this generation and came away seriously impressed, so we have have high hopes for the RX 7800 XT Nitro+. Utilising a near-identical design as its more expensive sibling, the 7800 XT Nitro+ is certainly a looker and Sapphire will be hoping it has the cooling grunt to back up that swish design. We'll find out soon enough, so let's dive in…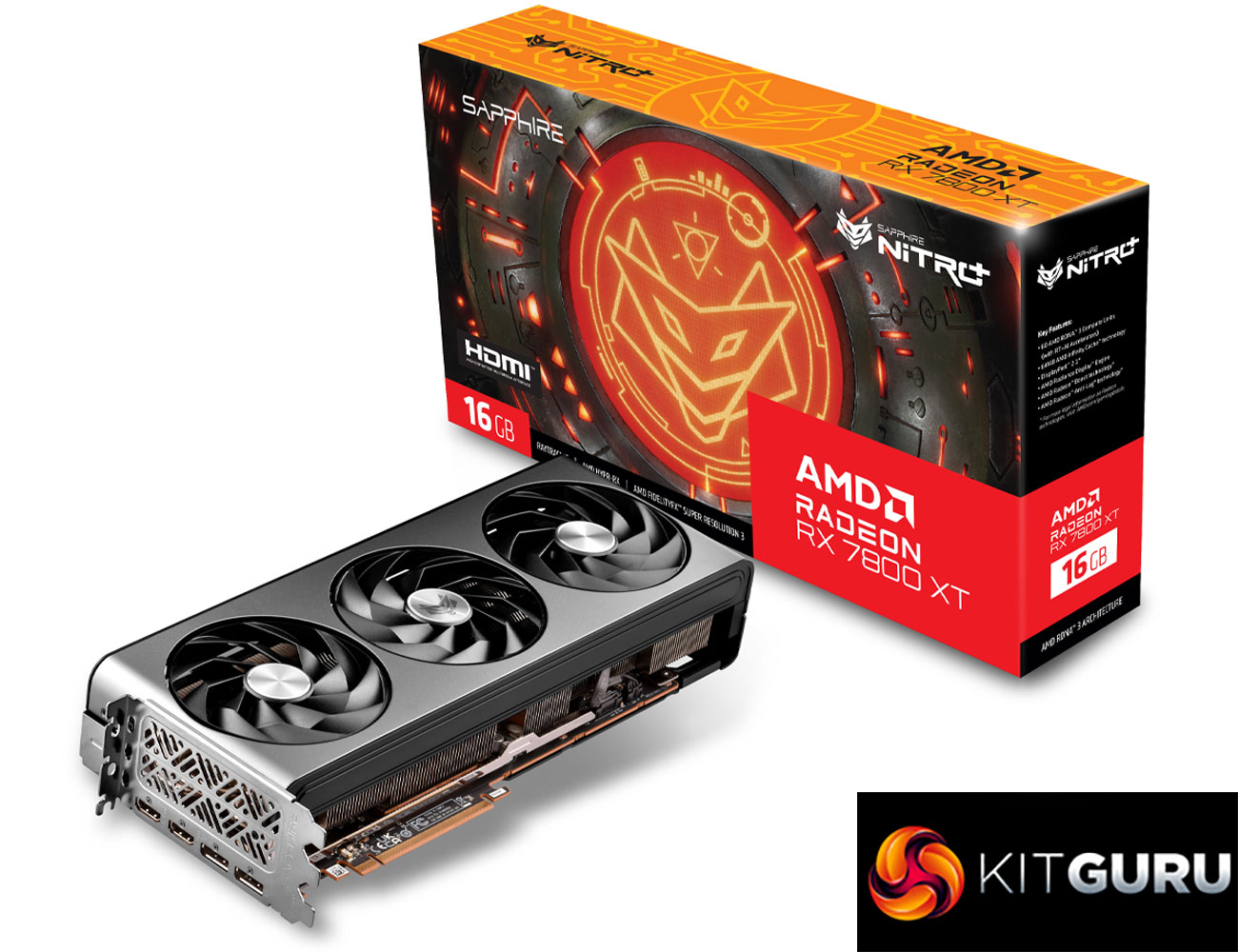 RX 7900 XT
RX 7800 XT
RX 7700 XT
RX 6800 XT
RX 6800 
RX 6700 XT
Architecture
RDNA 3
RDNA 3
RDNA 3
RDNA 2
RDNA 2
RDNA 2
Manufacturing Process
5nm GCD + 6nm MCD
5nm GCD + 6nm MCD
5nm GCD + 6nm MCD
7nm
7nm
7nm
Transistor Count
57.7 billion
28.1 billion
28.1 billion
26.8 billion
26.8 billion
17.2 billion
Die Size 
300 mm² GCD

220 mm² MCD

200 mm² GCD

150 mm² MCD

200 mm² GCD

150 mm² MCD

519 mm²
519 mm²
336 mm²
Compute Units
84
60
54
72
60
40
Ray Accelerators
84
60
54
72
60
40
Stream Processors 
5376
3840
3456
4608
3840
2560
Game GPU Clock
Up to 2000 MHz
2124 MHz
2171 MHz
Up to 2015MHz
Up to 1815MHz
Up to 2424MHz
Boost GPU Clock
Up to 2400 MHz
Up to 2430 MHz
Up to 2544 MHz
Up to 2250MHz
Up to 2105MHz
Up to 2581MHz
ROPs
192
96
96
128
96
64
AMD Infinity Cache
80MB
64MB
48MB
128MB
128MB
96MB
Memory
20GB GDDR6 20Gbps
16GB GDDR6 19.5 Gbps
12GB GDDR6 18Gbps
16GB GDDR6 16Gbps
16GB GDDR6 16Gbps
12GB GDDR6 16Gbps
Memory Bandwidth
800 GB/s
624 GB/s
432 GB/s
512 GB/s
512 GB/s
384 GB/s
Memory Interface 
320-bit
256-bit
192-bit
256-bit
256-bit
192-bit
Board Power 
315W
263W
245W
300W
250W
230W
First, let's take a quick look at the specs. Unlike the most recent RDNA 3 GPU – the RX 7600 – AMD has made a return to its chiplet-based design for the RX 7800 XT, as we initially saw last year with the RX 7900 XTX and 7900 XT. This time around, the 7800 XT offers a 200mm² Graphics Compute Die (GCD) using TSMC's 5nm process, flanked by four 150 mm² Memory Compute Dies (MCDs) built on TSMC's 6nm node.
Internally though, the compute makeup hasn't been radically changed. Navi 32 packs in 60 Compute Units, each of which houses 64 Stream Processors, for a total of 3840 shaders. There are also 60 Ray Accelerators – one per CU – and 96 ROPs.
As for clock speed, this remains high with the RX 7800 XT, with AMD touting a boost of up to 2430MHz. Sapphire has increased this to 2565MHz for the OC BIOS, though the Silent BIOS remains with the reference 2430MHz target speed,
Meanwhile, the memory configuration is almost identical to the previous generation RX 6800 XT. We still find 16GB GDDR6 operating over a 256-bit interface, but this time the memory clocks in at 19.5Gbps, up from 16Gbps. This gives a memory bandwidth of 624 GB/s, though AMD claims an 'effective' bandwidth of 2708.4 GB/s due to the 64MB of 2nd Gen Infinity cache.
Power draw for the RX 7800 XT is rated at 263W Total Board Power (TBP),  though Sapphire has again increased this for the OC BIOS. We are using our well-established GPU power testing methodology in this review, so read on for our most detailed power and efficiency testing yet.
Be sure to check out our sponsors store EKWB here