DOOM is finally here, complete with a fantastic campaign, Snap Map system and plenty of multiplayer modes to jump in to but is the PC version up to snuff?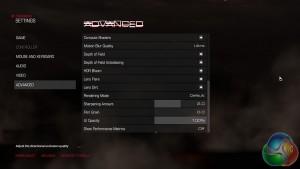 When the DOOM open beta came around, the advanced graphics options were locked out so we didn't really know what to expect ahead of launch. However, as you can see, id Software has implemented a long list of options so you can tweak fidelity to your liking. There is nothing really missing from the list, so in all, we are off to a good start.
The game itself also looks gorgeous. The id Tech 6 engine is very capable when it comes to visuals, though a lot of surfaces do appear to be quite glossy, rather than finely detailed.
The game isn't just filled with dimly lit rooms covered in blood, there are some outdoor areas where you see a lot more colour and later on in the campaign you will end up in hell, which looks exactly how you would expect it to.
For our testing today, we will be running DOOM on a system using an Intel Core i7 6700K, 16GB of RAM, an Asus Maximus VII Hero motherboard and a 1TB Samsung Evo SSD. For graphics cards, we will be benching a reference GTX 980Ti, a GTX 970, an R9 Fury X, an R9 390x and a R9 290.
For Nvidia, we are using driver version 365.19, which is the latest Game Ready driver release at the time of writing. For AMD we are using driver version 16.5.2, which was released with optimizations for Doom. None of our cards are overclocked for this test.
As much as I'd hoped it might, DOOM doesn't have its own in-built performance testing tool, so I got creative and made a benchmark run of my own. I needed something easily repeatable across multiple GPUs so I decided to bench the first Hell Spawner room in the campaign as it contains plenty of enemies and explosives, resulting in a fairly demanding gameplay scenario.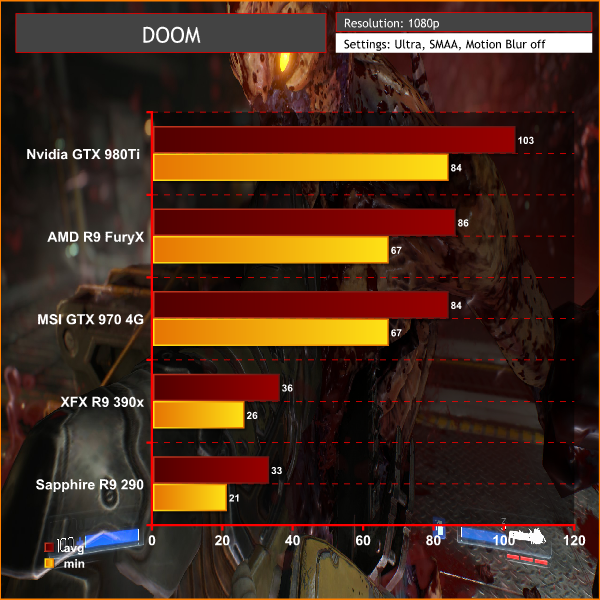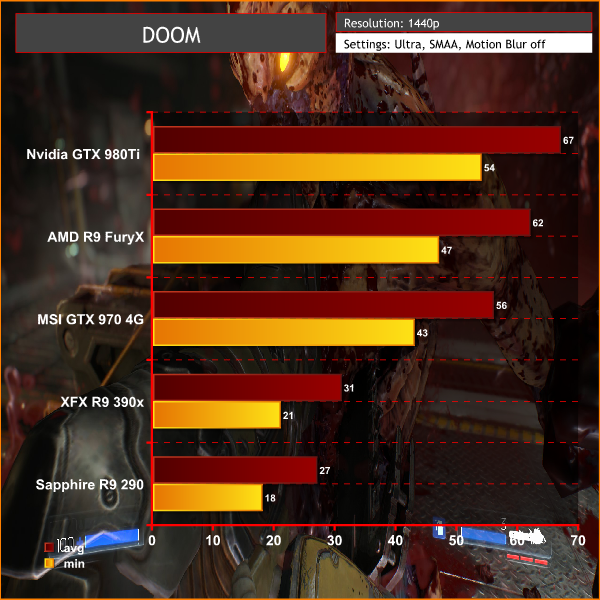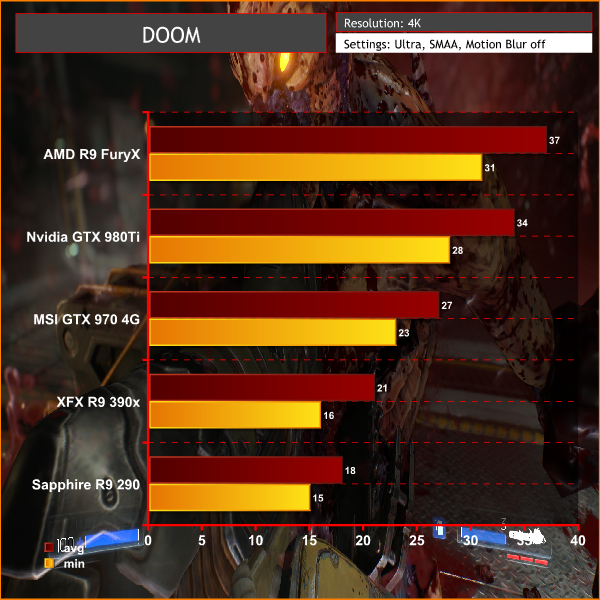 id Software came out with a brand new engine for this game known as the id Tech 6 engine. It produces some excellent graphics and for Nvidia GPUs in particular, performance was great. However, the R9 290 and R9 390x really struggled, barely managing to hold 30 frames per second even at 1080p. Normally we would see these two cards trading blows with the GTX 970 but the gap was significant here. I would have also expected the Fury X to be a little closer to the GTX 980Ti in the 1080p test.
This suggests to me that this game could use some additional tweaking for AMD graphics card users. This isn't the first time that id Software has released a game that struggles on AMD hardware, back in 2011 Rage was released, which used the id Tech 5 engine but still struggled to effectively leverage AMD graphics cards.
For now, it looks like AMD users may want to turn a few graphics settings down a bit to achieve smooth 60 frames per second gameplay.
While things aren't super promising on the AMD side of things, the game did come out with 21:9 ultra-wide support, which is something a lot of our readers look out for. Multi-GPU support is also said to be on the way too.
Now let's talk a bit about gameplay. You probably noticed my positive introduction to this article and there is a reason for that- I love this game. I have barely been able to pull myself away from it all weekend, the campaign is action-packed and fast paced.
I'm normally not one to brag but it also doesn't hurt that I can hold my own in the multiplayer.
Speaking of which, the multiplayer for this game has proven quite divisive, not everyone is on-board with it. While I don't think it does anything particularly innovative to really push the boundaries, it is addictive, causing me to put many hours in to it over the weekend.
This game does come with a Snap Map system, which allows players to easily create their own maps/levels for DOOM focused on either co-op or solo play. I didn't play around with it too much but there are a few really good levels already available and if this takes off, it could probably end up being as big as Forge was in Halo 3.
DOOM is truly a testament to old-school shooters and it is clear that ID Software has not lost its touch at all. Whether you get on with the multiplayer or not, the campaign is well worth playing, particularly if you really enjoyed Wolfenstein: The New Order back in 2014.
KitGuru Says: DOOM is an excellent game but like most shooters, it is best played at high frame rates, which may be an issue for those on the AMD R9 200 and R9 300 series. I don't think it is a hardware issue either, as the R9 290 and R9 390x tend to trade blows with the GTX 970 in most other titles. Hopefully the situation will improve a bit after a patch or two. That said, if you are using a Fury, or a GTX 980Ti, then you will be able to run this game at buttery smooth frame rates even with the details all cranked up.