Update  (18/10/17): We got our first peek at the performance of the upcoming GTX 1070Ti graphics card earlier this week. Now just two days later, even more benchmarks have leaked out. This time around we have some Fire Strike and Time Spy results to join the earlier Ashes of the Singularity benchmark.
Videocardz managed to unearth two GTX 1070Ti results on Fire Strike, the first offered a GPU score of 9,449 and the second had a GPU score of 9,546. For comparison, a GTX 1070 should score around 8,900 points.
On the Time Spy front, there was one GTX 1070Ti result, with a GPU score of 6,777, this places it above the RX Vega 56 in Turbo mode, which scores 6,423 points. However, it falls below the RX Vega 64, which scores 7,046 points in Balanced mode.
There will likely be a few more leaks as we get closer to launch, which supposedly takes place next week.
Original Story (16/10/17): We have been hearing more and more about the alleged upcoming release of the GTX 1070Ti over the last few weeks but now it looks like we have some tangible performance numbers to look at as well. On top of that, we have rumoured specs to go with it.
Current reports are indicating that the GTX 1070Ti will release at the end of October but there will be no reference card version. Instead, board partners like Asus, MSI and Gigabyte will rollout their own custom-cooled variants. There was a report indicating that perhaps all of these cards will ship with the same out of the box clock speeds, so performance without manual overclocking should be consistent across the board.
With that out of the way, let's dive into the benchmark. A GTX 1070Ti result has been spotted on the Ashes of Singularity database. The result is still live at the time of writing. In the benchmark, the 1070Ti managed to score 6,200 points, averaging 65.5 frames per second across all tests at 1440p.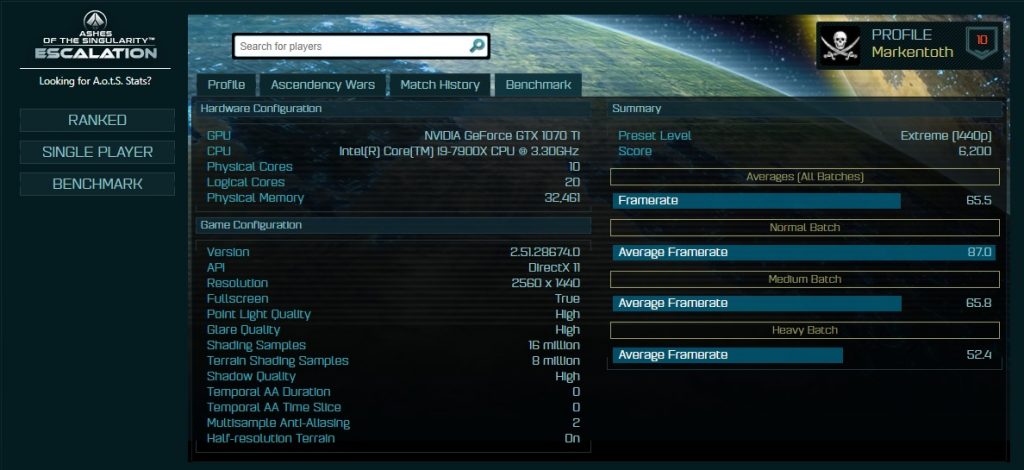 The system also featured an Intel Core i9-7900X, so no CPU bottlenecking would have come into play. If you browse the AoTS database, you will find some GTX 1070 and GTX 1080 results in a similar score region, though you will find some 1080's scoring higher than 8000 points. With that in mind, it seems that the 1070Ti will compete with stock clocked GTX 1080s and some of the more heavily overclocked 1070s.
As reported by Videocardz, the GTX 1070Ti is supposed to roll out on the 26th of October, which is in just ten days time. As for specifications, rumour has it that the GTX 1070Ti will feature 2432 CUDA cores, 152 TMUs, 64 ROPs and 7.8 TFLOPs of compute power. Base clock speeds should be 1607Mhz with a boost to 1683MHz. This puts it closer to the 1080 in terms of raw performance, which is rated for 8.2 TFLOPs, with 2560 CUDA cores, 160 TMUs and 64 ROPs.
Pricing remains a mystery but given that this is a stop gap card, it will likely fall in the £400-£450 range between the GTX 1070 and GTX 1080.
KitGuru Says: At this point, it seems like the GTX 1070Ti is happening. Given how close we are to launch, we may see a few more leaks over the next week. Are any of you looking to upgrade your GPU soon? Does the 1070Ti interest you at all?