If you are shopping for a new GTX980 Ti graphics card you are literally spoilt for choice this summer.
The three major motherboard manufacturers all have fantastic solutions available and we rate the Gigabyte GTX980 Ti G1 Gaming (review HERE) and Asus Strix GTX980 Ti Gaming (review HERE) very highly indeed. The Gigabyte solution runs the coolest while ASUS have opted to run their triple fans at very low speeds to achieve ultra quiet results while the high clock speeds ensure the fastest 'out of the box' performance levels.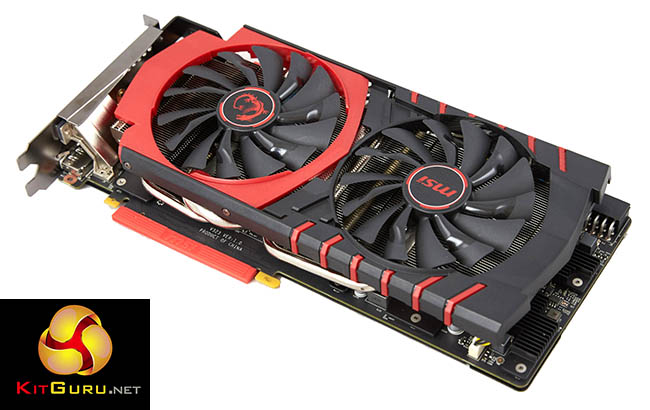 The MSI GTX980 Ti Gaming 6G is a great gaming card and it is clear that MSI have tried to balance performance and cooling efficiency equally. The Asus STRIX card is quieter and faster out of the box, but the MSI fan profile is slightly more aggressive. This is only part of the story when we take a closer look however.
When we factor in that both Gigabyte and Asus have adopted triple fan coolers for their flagship GTX980 Ti models it is quite remarkable that MSI seem to be coping very well with only two. The MSI card isn't the coolest running, and it isn't the fastest either, but it has no discernible weaknesses. I can't help but wonder how the Gaming 6G would perform if MSI adopted a new triple fan cooler this year. Adding another high grade fan can mean slower running speeds with reduced noise – equally so fan speeds can be increased for greater cooling efficiency.

Manufacturers like MSI tend to release their graphics cards with plenty of headroom available, and the MSI GTX980 Ti Gaming 6G scores well in this regard. Boost speeds could be increased by a further 13% without any hint of artifacting or instability.


You can buy the MSI GTX980 Ti Gaming 6G from Overclockers UK for £599.99 inc vat. It is £30 cheaper than the Gigabyte GTX980 G1 Gaming, and £60 cheaper than the ASUS Strix GTX980 Ti Direct CU III.
Discuss on our Facebook page, over HERE.
Pros:
the most attractive graphics card on the market.
excellent build quality.
backplate helps reduce hot spots, and it looks great too.
both core and memory are overclocked above reference.
excellent 4K performance.
HDMI 2.0 support.
plenty of core clock headroom.
no coil whine.
cheaper than the Gigabyte and ASUS GTX980 Ti.
Cons:
Another fan with a minor cooler redesign should be the next move for MSI.
Kitguru says: The MSI GTX980 Ti Gaming 6G is a stunning looking card, and under the hood it is just as impressive. Performance is first class and it is also less expensive than the flagship GTX980 Ti's from Gigabyte and ASUS.