With the 5C, Drobo have brought-NAS level storage management to an external drive. If you don't need the extra features and management that a true NAS brings to the table, or you are in an environment where a network is non-existent but there is a need for massive amounts of storage, then the 5C could be the answer.
The Drobo 5C is impressive for something that is basically an external hard drive, albeit an external hard drive on steroids especially as it supports a 64TB volume size.
As with the full version that comes with the NAS drives, Drobo's Dashboard OS is easy to use and navigate making setting up the drive a doddle. It also makes managing the drive easier and swapping from single-drive failure to dual-drive failure protection is as simple as a single mouse click.
The built-in power protection is a very useful feature and certainly gives peace of mind about what happens to your data should the power fail.
And then, of course, you have the BeyondRAID technology which takes away all the fear and worry about setting up a RAID array, including making sure all the disks are the same and working out which array you need. BeyondRAID simply builds arrays quickly with any mix of disks you have to hand.
Adding capacity to the unit is as simple as taking out the lowest capacity drive and adding a larger one in its place; BeyondRAID simply adds the drive in as it rebuilds the array in a very short space of time with the neat trick of allowing access to any stored data whilst it's doing it.
We found the Drobo 5C on Scan to pre-order for £359.99 HERE.
Discuss on our Facebook page HERE.
Pros
Huge amount of storage potential
Power-loss protection
BeyondRAID technology
Cons
KitGuru says: An ideal answer if you need huge amounts of external capacity and don't want to go down the NAS route.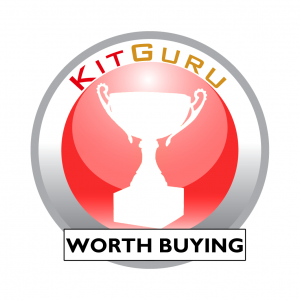 Be sure to check out our sponsors store EKWB here