While other members of the KitGuru review team have spent some time with Drobo products in recent years, I wasn't quite sure what to expect. I am one of the few who uses 50% Apple and 50% PC products on a daily basis – so when Drobo asked me to test it on Mac OS they piqued my interest. Much of the KitGuru Vimeo and YouTube content is passed to Final Cut Pro as a final stage for instance so I have a lot of experience with other companies DAS units such as the LaCie 5Big platform.
The Drobo 5D3 has a unique operating system, and while it took me a short while to thoroughly master, there is no doubt that it is very straightforward to use, especially as it removes the need for any kind of user interaction in selecting a RAID configuration. This may not appeal to the hardcore users who love minute detail and control over their storage devices, but for many, the Drobo 5D3 removes a lot of the potential headache.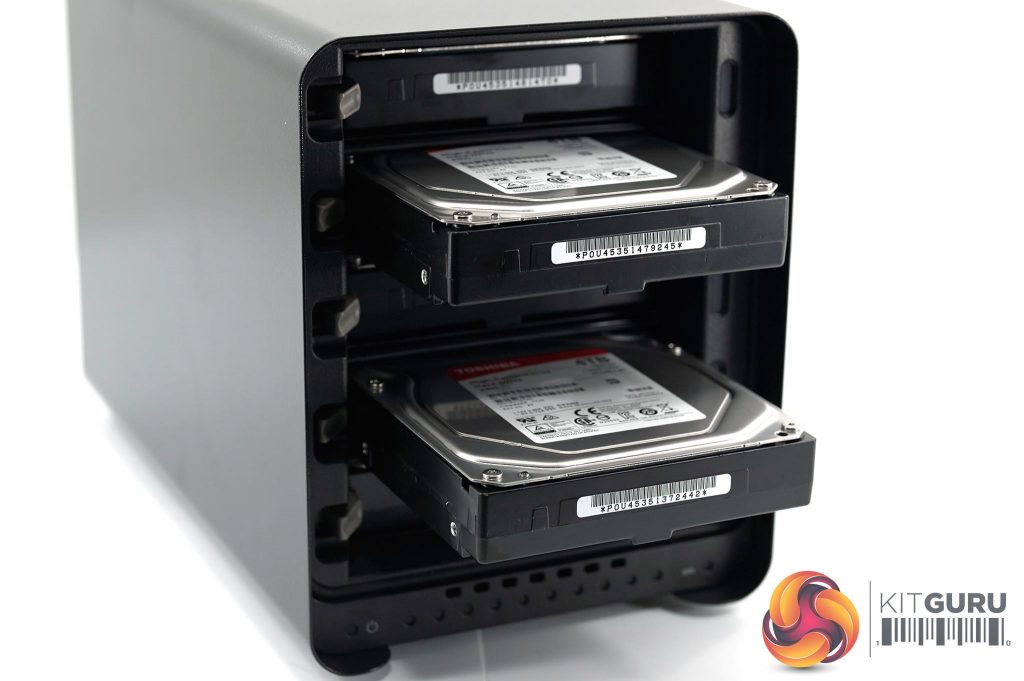 While other DAS products will require hefty initialisation periods and frequent downtime while migrating data – with the Drobo 5D3 you can simply insert a drive, then add more on a hot swap basis – change them if they fail and even alter capacity, while reading and writing to the unit. No downtime is a heck of a unique selling point in my mind.
Seeing it working first hand is remarkable.
The build quality of the Drobo 5D3 is also very nice, the metal edges are beautifully rounded and the device has worked flawlessly now for me for a month. I even put in a faulty drive to see how the software would react. It dealt with the problem easily, highlighting an alert to remove the drive as soon as possible. It didn't send the software into a self destruct state or some locked out looped error – its been clearly thought through and as far as I can see, pretty much bug free.
There are some things I would like Drobo to think about for future revisions. Firstly, I don't like seeing the total 'possible' storage in Mac OS. I would rather that this number updated to accurately reflect the storage available to the operating system. As it stands, the only real way to check available capacity is via the Drobo software itself, which to be fair is easily accessible via an icon in the Apple Menu bar at the top of the screen.
I also think that Drobo should include an mSATA drive as standard with their DAS units. The performance differences when this is installed can be quite dramatic and it raises the responsiveness to another level. A 60GB or 120GB mSATA drive wouldn't add an awful lot to the retail price of the DAS – as you can pick them up for around £30-£50 online. My thinking behind this is based on the 'Drobo logic'.
Drobo are targeting a user base who simply want an experience as close to 'plug n play' as possible. I am pretty sure that audience won't want to start shopping on Amazon for a compatible mSATA drive, especially when Drobo don't make it clear that anything 'SandForce' related will not work.
Increase the retail price by £40 and include a good mSATA drive as standard. Take it out of the users hands, but give them the extra cache performance because it transforms some file copy situations dramatically.
The retail price of the Drobo 5D3 is set at £739 inc vat and it will be available at Amazon, eBuyer and Image Store very soon. It is expensive, but it is a rather remarkable bit of kit with a fairly unique selling point – the flawless hot swappable implementation with no downtime.
Pros:
high build quality.
nippy.
mSATA drive enhances responsiveness.
on the fly drive changes.
OS is easy to use.
supports the latest, very large mechanical drives for a total up to 64TB.
cooling system is quiet in operation.
very stable and capable user interface.
Cons:
Mac OS reads maximum possible capacity, not currently available.
non lockable drive bay cover.
KitGuru says: The Drobo 5D3 is one of the finest secure backup DAS systems available for Mac OS. It is stable, fast and offers huge storage capacity for a home or small business environment. The hot swappable feature supports both drive failures and upgrades – it works flawlessly.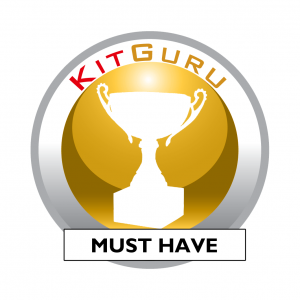 Be sure to check out our sponsors store EKWB here