It is quite clear that the NH-D15 is an evolution of the NH-D14, with a design that has been adapted to meet the ever increasing demands of overclocking enthusiasts.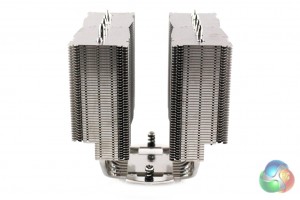 Noctua has retained the dual tower configuration, with a series of aluminium fins arrange across the six nickel-plated copper heatpipes.  These heatpipes measure 6mm in diameter and are U-shaped, meaning each heatpipe passes through both towers and the CPU block in the centre.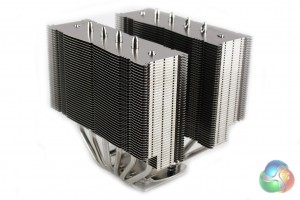 One of the main issues with the NH-D14 was RAM compatibility, as the heatsink had a tendency to obscure the memory slots.  Noctua have cut large sections into the heatsink of the NH-D15 to allow sufficient room to install memory with tall heatspreaders.  While we wouldn't guarantee compatibility with all memory, we tried a number of different types and didn't have a problem with any.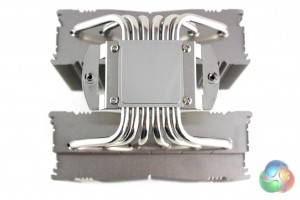 The CPU block is almost identical in design to most other Noctua models, consisting of a textured nickel-plated copper block.  Unlike some manufacturers, Noctua don't pre-apply thermal paste to the block, but do include a tube of high-quality paste in the bundle.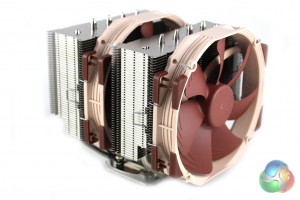 The NH-D15 is supplied with two Noctua NF-A15 150 mm fans.  These features 140 mm mounting points, meaning you would have to replace them with 140mm models if you're considering alternatives.
The fans can be PWM controlled, spinning up to a maximum of 1,500 RPM at full speed, although Noctua include a low noise adapter for those who want to ensure they have a silent system.