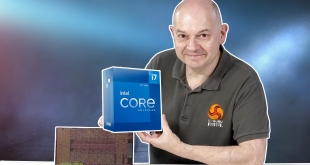 Hard on the heels of the amazing Intel Core i5-12600K and the hot, toasty and storming Core i9-12900K… We are now heading for the middle ground with the Core i7-12700K, which offers a large slice of the performance you get with Core i9 at a substantially reduced price. At any rate, that's the theory…
Watch the video via our VIMEO Channel (Below) or over on YouTube at 2160p HERE
As you would expect, Core i7-12700K uses the same imposing LGA1700 socket as Core i9-12900K and is well suited to the impressive MSI MEG Z690 Unify motherboard we used in our test platform.
As you can see from these screenshots, the major difference between the new Core i9 and this Core i7 is the reduction in Efficient cores from eight to four.
We used these slides from Intel in our reviews of Core i5-12600K and Core i9-12900K to lay out the main features of Intel's first wave of 12th Gen CPUs and can the specification of the Core i7 sits squarely between Core i5 and Core i9. The price of the Core i7 is much closer to Core i5 than Core i9 and this gives us hope the new Core i7-12700K will offer decent value to the consumer.
Be sure to check out our sponsors store EKWB here