Power Consumption and Temperatures
If we judge the Core i7-12700K by Intel's recent standards we see the Core i7-12700K draws the same power under load as Core i7-11700K, despite using more cores and delivering more work, which is clearly impressive. On the other hand if we compare Intel 12th Gen with AMD Zen 3 we see that Intel uses far more power than AMD.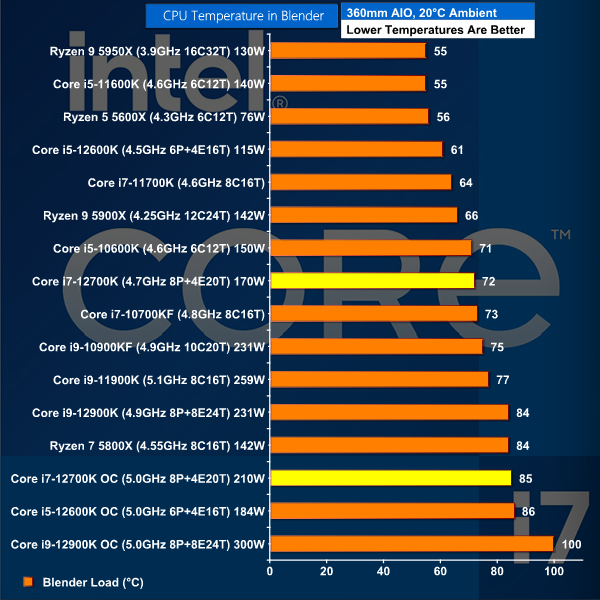 Cooling Core i7-12700K is easy enough and we see clear steps in temperature between Core i5-12600K, Core i7-12700K and Core i9-12900K.
Our chart of Cinebench R23 scores divided by power consumption plays to the strengths of the Core i7-12700K. It delivers decent performance, although the power draw is rather higher than we would like to see. The two Ryzen 9 CPUs at the top of the chart deliver huge performance with stunning efficiency where Intel 12th Gen relies instead on brute force.
Dividing each Cinebench R23 score by the cost of the CPU shows that Intel is getting aggressive with the positioning of Core i5 and Core i7. It is no surprise that AMD has responded by cutting the price of Ryzen 7 to help it compete with Intel's new CPUs. This chart makes it clear the Ryzen 5 5600X sells at a high premium and also that Core i9-12900K is horribly expensive.
Be sure to check out our sponsors store EKWB here