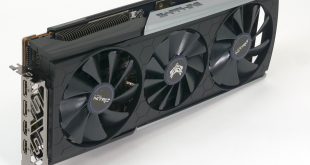 KitGuru has been busy testing and reviewing AMD Navi graphics cards with after-market coolers and today it's time for Sapphire with their Nitro+ RX 5700 XT.
The new Sapphire shares a number of features with the PowerColor Red Devil, including a dual BIOS function, RGB and a huge triple fan cooler. Sapphire has taken things one step further by making the RGB Addressable – so the Nitro+ looks pretty enough, however the key question is how well it performs.
Watch the video via our VIMEO Channel (Below) or over on YouTube at 2160p HERE
Our starting point for this review is the reference AMD RX 5700 XT 8GB which provides a fine 1440p gaming experience, however the reference blower cooler is noisy and that counts as a significant flaw. Our first look at a custom Navi came thanks to MSI with their RX 5700 XT Evoke OC which runs significantly cooler than the AMD reference design. On the downside, while the MSI cooler was quieter than the AMD blower, the fans were set to run at high speed and the MSI was louder than we had expected.
Things took a significant turn for the better with the PowerColor Red Devil which ticked all of Dominic's boxes as it delivered good performance and low noise at a sensible price. In addition the dual BIOS function meant you could even choose to run the Red Devil at a lower power setting than the AMD reference design.
And so we come to the Sapphire Nitro+ RX 5700 XT. We initially noted the Sapphire and PowerColor had the same US price, while the UK price for the Sapphire was higher. We raised a query with Sapphire and the price was reduced to £449.99 – so we are looking at a graphics card that is priced at the same level as the Red Devil and which promises a similar level of performance.
Be sure to check out our sponsors store EKWB here