Sapphire has done its usual fine job with the Tri-X cooler on the Nitro + and as a result the 5700 XT runs fast and cool. Unfortunately it also draws a significant amount of power when compared with the Red Devil and the consequence is that Sapphire has to run the fans a couple of hundred rpm faster to maintain low temperatures. You cannot detect the extra power draw in any meaningful way except when you note the Sapphire is every so slightly more noisy than the PowerColor.
It seems to us the root issue here is Sapphire's choice of VRM design which is presumably less efficient than the Red Devil and the consequence is more power and heat. If we looked at the Nitro+ in isolation I am quite sure we would be satisfied, however in comparison with the PowerColor it suffers ever so slightly.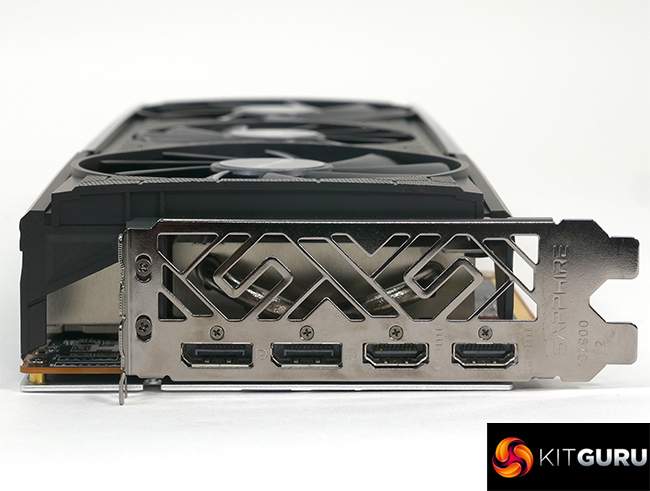 As we say in our video the Silent BIOS mode is the better choice as it helps the Nitro+ to run cool and quiet with only the most tiny reduction in performance. Even then, it is worth making clear that there is not a lot in it between the Nitro+ and the Red Devil. In our opinion, the lower power and noise does just about edge the PowerColor ahead, but the Sapphire still performs very well.
Sapphire does have a couple of tricks up its sleeve, however, and one of those is TriXX. The software utility can control the RGB lighting and can also switch between BIOS modes – meaning you don't have to physically move the switch on the card. We also like that Sapphire has included the ARGB header on the Nitro+'s PCB.
On the whole, there is clearly not a lot of difference between the Nitro+ and PowerColor's Red Devil. The Red Devil just does enough to take the upper hand of the two due to its increased power efficiency and low fan speeds, but the Nitro+ is right on its heels and does have a couple of unique features we appreciate.

The Nitro+ has launched today and is available from Overclockers UK for £449.
Pros:
High performance.
Low noise.
BIOS mode can be switched using TriXX software.
No overclocking required – arrives with optimal settings.
ARGB header allows connection to your motherboard.
ARGB fan kit gives you more lighting options.
Cons:
UK pricing is steep versus the US.
High power consumption.
ARGB cable is not included.
Painted finish on aluminium backplate is unimpressive.
KitGuru says: Sapphire has added ARGB to RX 5700 XT and has also done a good job with the cooling.