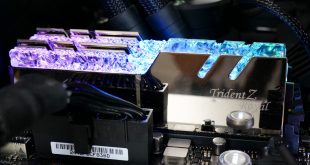 G.SKILL's Trident Z Royal memory brings 4000MHz C17 operating frequency in a 32GB dual-channel, dual-rank form using Samsung B-die ICs. What more could you ask for? Great aesthetics and a mirror-finish aluminium heatspreader sound good? Let's take a closer look at this ultra-premium set of DDR4 memory.
Watch via our Vimeo Channel (Below) or over on YouTube at 2160p HERE
Video Timestamps:
00:00 Start
00:15 Introduction
01:20 G.Skill Trident Z Royal Memory Specs / Design
03:53 LED Lighting
04:37 RGB Synchronisation
05:18 Availability and pricing
06:02 Test Setup
07:40 Test results
08:50 Overclocking
09:40 Closing Thoughts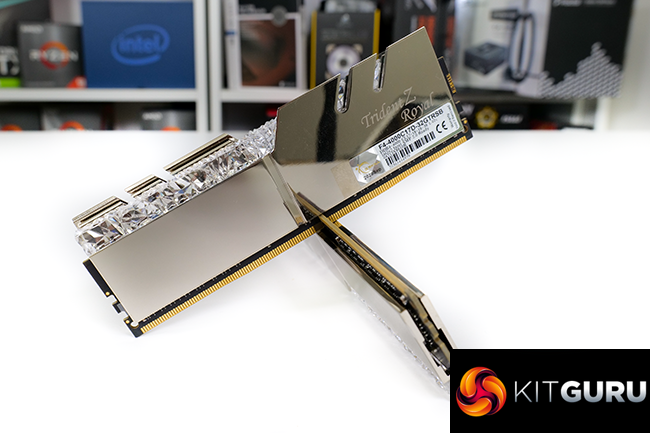 As we already mentioned, the specs are impressive! DDR4 4000MHz operating frequency supporting XMP, dual-channel 2x16GB 32GB kits using dual-rank modules, 17-18-18-38 rated timings at 1.4V operating voltage. These are impressive numbers, even for a high-end memory kit.
And under the heatspreader, you get Samsung B-die memory ICs which we know are still loved and highly regarded for both Intel and AMD setups.
In terms of styling, it is the usual Trident Z aesthetic but with the Royal flair added. That tri-fin heatspreader design continues to look absolutely fantastic in my opinion, and it feels sturdy and well built. At 44mm tall, the overall module height is very reasonable by today's standards.
Looking at the physical modules, G.SKILL uses a heavily polished, electroplated aluminium heatspreader that is silver in colour for our specific test kit. The sheet of metal is so heavily polished and so reflective that G.SKILL actually includes a cleaning cloth as part of the bundle. Touch these modules bare-handed at your own peril!
LED lighting is handled via 8 controllable RGB zones atop the module. G.SKILL uses a 'crown jewel' design crystalline light bar that is certainly unique in terms of appearance. Without colour applied, the jewel-type appearance works well with our kit's shiny silver heatspreader.
With RGB lighting applied, the aesthetics are taken a whole different level, in our opinion. Diffusion is excellent, brightness is superb, and the overall appearance really does tick pretty much all of the boxes for high-end, eye-catching memory sticks.
In terms of RGB synchronisation, G.SKILL does offer their own tool. It is actually reasonably comprehensive and allows individual control of the 8 LED zones. You can select a few different modes and then settings such as speed and brightness. And there is also support for Razer Chrome RGB sync.
You will probably want to use motherboard vendor software for control and sync to match other components. That can be done through the individual tools which are ASUS Aura Sync, Gigabyte RGB Fusion 2.0, MSI Mystic Light Sync, and ASRock Polychrome Sync.
As is typical for G.SKILL memory in recent times, pricing and availability are pretty much non-existent in the UK. We can't even speculate UK pricing as G.SKILL's product line is so fractured and availability basically boils down to Amazon third-party sellers.
In the US, Newegg has the kit listed at $329.99. That is expensive but doesn't actually seem outrageous versus comparable premium kits such as Corsair Dominator Platinum and Crucial Ballistix MAX.
Thaiphoon burner also shows the presence of a temperature sensor from the OnSemi stable.
Model Number: F4-4000C17D-32GTRSB
Capacity: 32GB (2x 16GB)
Rated Frequency: DDR4-4000MHz
Rated Timings: 17-18-18-38
Voltage: 1.4V
Format: Non-ECC Unbuffered 288-pin DIMM
Be sure to check out our sponsors store EKWB here