To summarise nice and briefly – because there really isn't all that much that needs to be said – the G.SKILL Trident Z Royal memory is absolutely superb.
Our 4000MHz C17 kit delivered excellent performance when ran at the preferential 3800MHz clock speed with 1900MHz CPU tie-in frequencies. In most cases, the 2x16GB set of dual-rank modules delivered chart-topping performance. And overclocking to 3800MHz 14-14-14 at 1.45V was another boost that we were very happy to see.

Aesthetics and styling are absolutely fantastic, in my opinion. I personally have essentially zero gripes with the overall appearance and attention to detail paid by G.SKILL. Perhaps the 44mm module height will be an issue for some, though that's unlikely. Oh, and the mirror-finish aluminium heatspreaders are fingerprint magnets, but a cloth for wiping off grubbiness is included.
And in terms of RGB lighting, this is once again excellent. The brightness is strong, that unique crystalline diffuser effect looks cool and works well, and the control through various software suites is positive.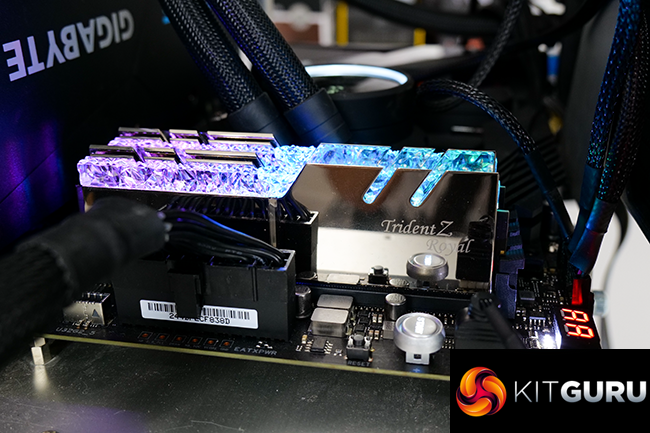 Basically, I am struggling to see any real downsides for the Trident Z Royal memory from G.SKILL. Performance, aesthetics, RGB lighting – it ticks all boxes.
The key disappointment from our perspective is the dire UK availability and complete confusion when it comes to actual pricing this side of the pond. But for our US-based audience, $329.99 for a 32GB 4000MHz C17 kit really doesn't seem all that bad when compared to other 'God Tier' competitors. Though do let me know in the comment section down below if you're more au fait with the US market and disagree with that point.
For now, this kit of high-speed, high-capacity G.SKILL Trident Z Royal memory sits very highly in our preference for DDR4 sets. Roll on the new versions for DDR5, is all I can say!
Discuss on our Facebook page HERE.
Pros:
Absolutely gorgeous aesthetics and overall styling.
Strong performance at XMP timings (when tuned for AMD).
Good overclocking potential for latency tightening.
Excellent RGB lighting implementation with good diffusion and a unique form.
Lighting control software support is positive.
Cons:
Dire UK availability and completely unknown pricing.
Mirror-finish heatspreaders get grubby quickly, but a cloth is bundled.
KitGuru says: Gorgeous memory that ticks the performance, RGB, and aesthetics boxes convincingly!