ASRock Z270 UEFI
Firstly, we are pleased to report that our generic wireless mouse worked correctly in the ASRock Z270 UEFI. Some mice can be troubling with UEFI support, so when a generic wireless unit functions correctly in the interface, that is usually a good sign for overall mouse support.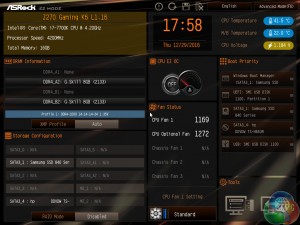 ASRock's UEFI opens into the EZ Mode page which displays relevant information such as the fan speeds, boot device priority, and operating temperatures. This section has limited ability but can be used to control XMP, use the CPU EZ OC feature, and change the fan speed setting.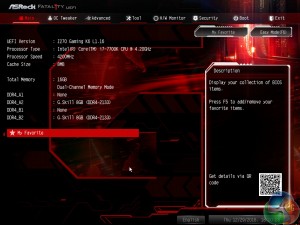 Pressing F6 takes you into the Advanced UEFI sections which is opened on the Main page (this can be changed). Pieces of information are displayed on this page but the quantity of content is slim.
OC Tweaker is the section where the important overclocking parameters can be accessed. ASRock splits the subsections into CPU, DRAM, and Voltage configurations in order to segregate the vast amount of settings that can be changed. Up to five user user profiles can be saved to the board's internal memory and these can be exported and imported via USB flash drive.
Five CPU overclocking presets are saved in the UEFI. These go from a 4.6GHz CPU frequency up to 5.0GHz in 100MHz intervals. Given that these presets are designed to work with a variety of CPUs, their voltage optimisation is limited and not specific to your chip (which may scale well or poorly with voltage and frequency).
The 5.0GHz setting uses 1.45V CPU VCore with a -3x multiplier AVX workload compensation, which is too high for 24/7 usage without serious consideration for chip longevity. 4.6GHz is comfortable with a 1.35V CPU VCore and no AVX offset. I liked the 4.8GHz mode which used a 1.380V CPU VCore but did have a -2x multiplier AVX offset. The fan speeds were setting to maximum under the 4.8GHz preset.
Credit to ASRock for deploying a smart group of LLC settings with a clear, visual indication as to what each level means for voltage behaviour.
CPU and onboard features can be managed in the Advanced section. The M.2 slots can be set to force SATA mode or PCIe mode.
ASRock's Instant Flash tool can scan through folders in a storage device to search for a compatible BIOS profile. This makes BIOS updates a simple task. There's also an option to update the BIOS via the internet.
System Browser is a great tool that I continuously praise for its inclusion on ASRock (and MSI) motherboards. The visual outlook at the motherboard's connected devices is ideal for troubleshooting purposes and for general system upkeep, such as checking that your SSDs are connected to the fastest SATA ports without opening your chassis or tracking multiple SATA cables.
The UEFI-based AURA RGB LED tool allows the individual colour sections to be adjusted in terms of actual colour and LED activation mode. The tool is similar to the OS version, which is more of an indication of the simplicity of the latter rather than the complexity of the former.
There is no ability to control RGB LEDs on connected devices such as graphics cards. This is likely due to ASRock not having a position in the VGA card market, as many of its motherboard vendor competitors do.
The initial H/W Monitor sections outlines system operating parameters such as voltages, temperatures, and fan speeds. Scrolling down takes a user to the comprehensive fan control section.
ASRock provides an automated fan tuning tool that scans your system's fans for their lowest rated speed (in order to keep noise levels low). FAN-Tasting Tuning is, despite its silly name, a good tool for adjusting fan speed curves in a manual fashion. The fan speed can be set to 0% at as low as 30°C, which is good to see as some competing vendors do not allow the 0% operation that certain fan models support.
If you prefer to tune your fan speed outside of the graphical environment, ASRock also gives a good set of pre-determined speed profiles. There's also the ability to manually adjust the fan speed curve using numeric temperature and fan speed percentage values. DC and PWM control modes are supported for the two CPU fan headers and the CHA_Fan3/Water Pump header but not for the chassis fan 1 and 2 connections.
ASRock Z270 UEFI is a good solution with a number of useful features. The System Browser tool is convenient, Instant Flash works well, and fan control options are very good. However, the overclocking presets are not great as the voltages are on the high side and there's no clear tuning wizard that is specific for one's own chip. If you are a user who will ignore the automated overclocking functions and appreciate precise fan control, ASRock Z270 UEFI should have you impressed.
Software
Software tools are generally delivered through ASRock's APP SHOP. We take a look at some of the more useful software tools provided.
We must note that the driver CD supplied with our motherboard sample did not feature an installation for ASRock's F-Stream software. It is highly likely that this useful utility will be available to download upon launch.
Aside from being used as a repository for software apps, APP SHOP can also be used to outline and install BIOS and driver updates.
XFast LAN is based on cFos software and gives a good degree of network monitoring ability. There are also options to control network parameters but most of these are more effectively managed through one's wireless router in order to provide control for the entire network, not just a single computer.
Key Master is a good way of creating macros if your keyboard does not include any or feature a macro manager tool in its software.
There's not much difference between the OS and UEFI AURA RGB LED tools, which speaks volumes for how basic the OS option is. A number of control methods are supported and different colours can be set for the four individual zones. That's about it for RGB LED control.
Sound Blaster Cinema 3 software can be used to control the audio system and tweak profiles to your individual preference.
ASRock's offering of OS software is certainly basic. It may be due to the pre-release nature of our testing, but it is disappointing to see such a small variety of software apps. The good thing is that this is easy to change as ASRock can roll out new apps following the motherboard's release.