Automatic CPU Overclocking:
ASrock includes CPU overclocking presets for 4.6GHz, 4.7GHz, 4.8GHz, 4.9GHz, and 5.0GHz. 4.6GHz uses a 1.35V CPU VCore and no AVX offset. 4.8GHz uses a 1.380V VCore and a -2x multiplier AVX offset. 5.0GHz uses a very high 1.45V CPU VCore and a -3x multiplier AVX offset.

We tested stability with the 4.8GHz preset and found it to be solid. A good cooler will be required to manage the 1.38V CPU VCore. As the screenshot shows, Prime 95 AVX workload drops the CPU clock speed by two multipliers down to 4.6GHz.
I am pleased to see that XMP is left enabled with the CPU overclocking presets.
Manual CPU Overclocking:
To test the ASRock Fatal1ty Z270 Gaming K6 motherboard's CPU overclocking potential, we first increased the CPU VCore to 1.35V and applied Level 1 LLC setting in order to minimise voltage adjustments above or below the desired level.
We maintained the DRAM frequency at 3200MHz to take its stability out of the overclocking equation. Cache frequency was manually set at its stock MCT value of 4.2GHz as the ASRock board had a tendency to increase the cache speed to 4.6GHz or 4.8GHz when the Auto setting was applied.
We took our 7700K to its Prime-stable maximum frequency of 4.8GHz. This used a 1.35V BIOS-set VCore and the Level 1 LLC mode which saw the CPU VCore drop by only 6mV under heavy load. This level of voltage accuracy is superb.
3600MHz XMP Memory:
We test the motherboard's ability to run G.Skill's high-speed 16GB DDR4 TridentZ kit at a 3600MHz XMP setting. High-speed XMP settings can prove a challenge for motherboard designers when optimising the settings for stability at the intended DRAM frequency.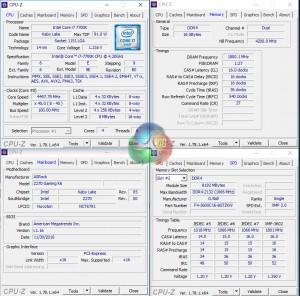 Overclocked Performance

As a performance comparison, we have included the results from two other Z270 motherboards. The maximum overclocked configuration achieved with each board was a 4800MHz (48 x 100MHz) processor frequency whilst using 3200MHz CL14 memory.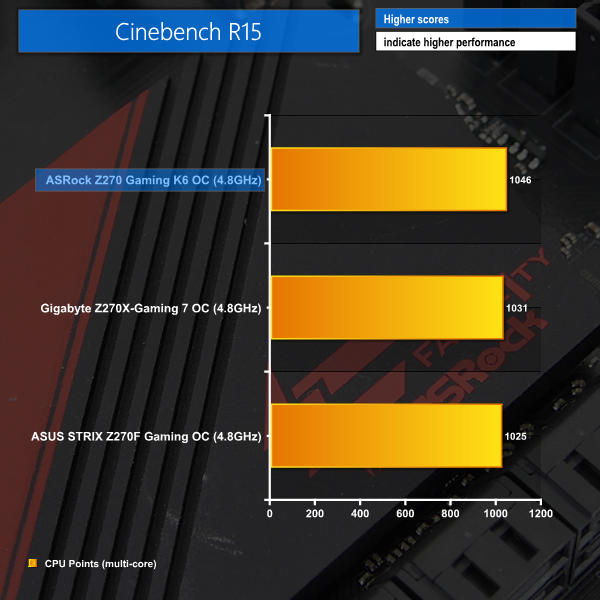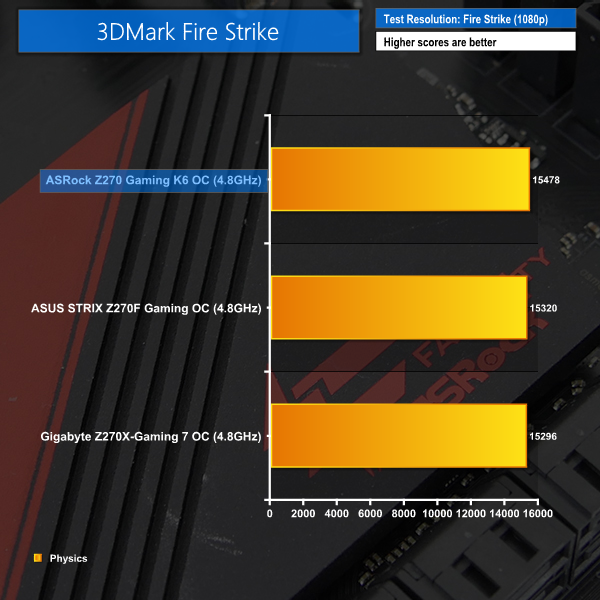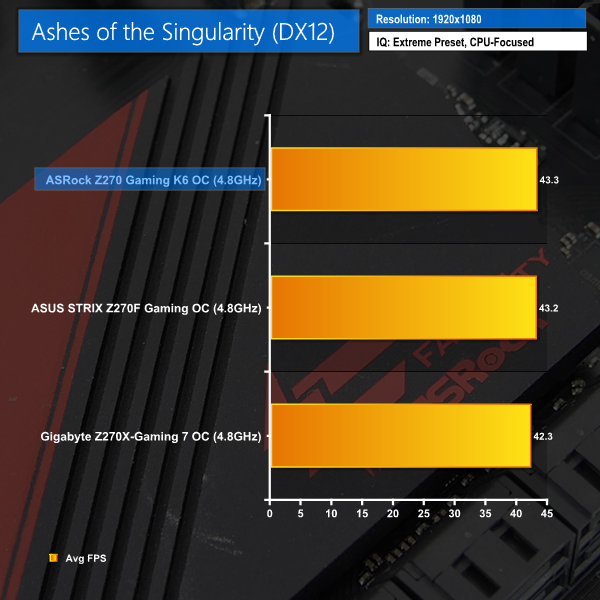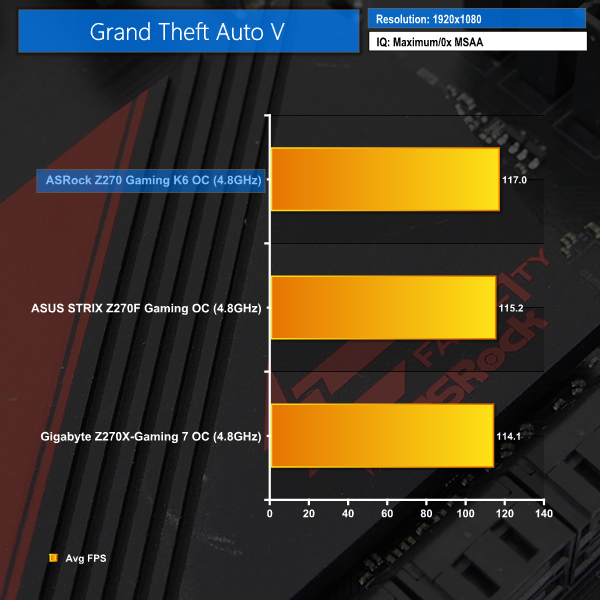 After being overclocked to 4.8GHz, ASRock's Fatal1ty Z270 Gaming K6 maintains its top spot in CPU-heavy benchmarks and manages to gain the first position in gaming tests.
Power
We leave the system to idle on the Windows 10 desktop for 5 minutes before taking a reading. For CPU load results we run AIDA64 CPU, FPU, and Cache stress tests and take a reading. The power consumption of our entire test system (at the wall) is shown in the chart.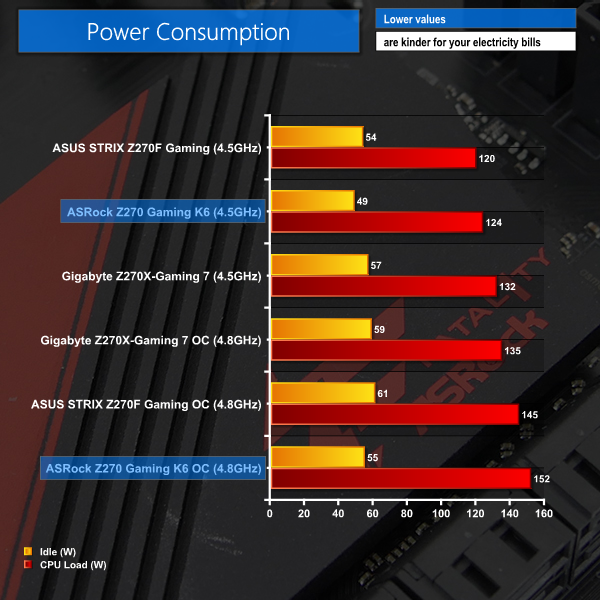 The 1.232V Stock MCT VCore results in positive power draw numbers for ASRock. A load system-wide power draw of 124W shows good efficiency and is only bested by ASUS' STRIX Z270F Gaming. Idle numbers are also positive thanks to the ability of ASRock's hybrid digital controller to drop the CPU core voltage under low-load conditions.
Overclocked power draw is the worst of these three contenders, likely due to ASRock's ability to hold close to 1.35V (unlike Gigabyte's) while also powering add-on chipsets for USB 3.0 and SATA (unlike ASUS). Put simply, the Z270 Gaming K6 is likely to draw a little more power from your system than ASUS' STRIX Z270F Gaming, even when both use the same BIOS-set CPU VCore levels.