We will be outlining the ASRock Fatal1ty Z270 Gaming K6 motherboard's performance with the Core i7 7700K CPU and 16GB of 3200MHz G.Skill TridentZ DDR4 memory.
By default, the ASRock Fatal1ty Z270 Gaming K6 motherboard applies a multi-core turbo (MCT) state and forces the 7700K to a constant 4.5GHz when XMP is enabled. Overclocked performance will be outlined later in the review.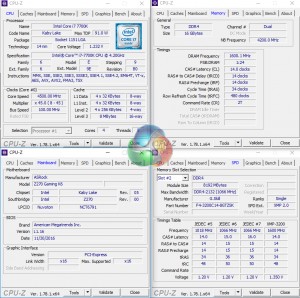 Stock MCT voltage for the ASRock board was 1.232V under Prime 95 load. This is a good level which results in manageable thermals for even mid-range air CPU coolers. And 1.232V shouldn't be a concern for CPU longevity. The voltage drops below 0.9V under idle and low-load conditions.
Z270 Motherboard Test System:
Processor: Intel Core i7 7700K (4.5GHz Forced Turbo).
Memory: 16GB (2x8GB) G.Skill TridentZ 3200MHz 14-14-14-34 DDR4 @ 1.35V.
Graphics Card: Nvidia GTX Titan X Pascal (custom fan curve to eliminate thermal throttling).
System Drive: 500GB Samsung 840 SATA 6Gbps SSD.
Games Drive: 960GB SK Hynix SE3010 SATA 6Gbps SSD.
CPU Cooler: Corsair H110i GT.
Power Supply: Seasonic Platinum 760W SS-760XP.
Operating System: Windows 10 Pro 64-bit (Anniversary Update).
Compared Z270 Motherboards:
ASRock Fatal1ty Z270 Gaming K6.
ASUS STRIX Z270F Gaming.
Gigabyte Aorus Z270X-Gaming 7.
Software:
ASRock Fatal1ty Z270 Gaming K6 BIOS L1.16 (pre-release – 30/11/2016 build date).
GeForce 376.19 VGA drivers.
Tests:

Cinebench R15 – All-core CPU benchmark (CPU)
HandBrake 0.10.5 – Convert 6.27GB 4K video recording using the Normal Profile setting and MP4 container (CPU)
SiSoft Sandra 2016 SP1 – Processor Arithmetic Test (CPU) and Memory Bandwidth Test (Memory)
7-Zip 16.04 – Built-in 7-Zip benchmark test (CPU & Memory)
3DMark Fire Strike v1.1 – Fire Strike (1080p) test (Gaming)
Ashes of the Singularity – Built-in benchmark tool CPU-Focused test, 1920 x 1080, Extreme quality preset, DX12 version (Gaming)
Grand Theft Auto V – Built-in benchmark tool, 1920 x 1080, Maximum quality settings, Maximum Advanced Graphics (Gaming)
Metro: Last Light Redux – Built-in benchmark tool, 1920 x 1080, Very High quality, SSAA, AF 16X, Tessellation: High (Gaming)
ATTO – M.2, USB 3.1, and SATA 6Gbps transfer rates (Motherboard)
RightMark Audio Analyzer – Record and playback test using a line-in to line-out loopback with a 3.5mm audio cable (Motherboard)