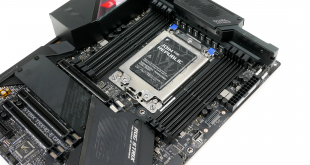 Squeaking in at just under £500, on test we have one of ASUS' three TRX40 motherboards – the ROG STRIX TRX40-E Gaming. Featuring the ROG STRIX branding, ASUS is clearly gearing this board towards consumer enthusiasts who have a need for the Threadripper platform.
Watch via our Vimeo channel (below) or over on YouTube at 2160p HERE
Despite the 'Gaming' in the name, this is not a board for gamers – it's for enthusiasts who do more power-hungry tasks with their system. You get triple PCIe Gen 4 x4 M.2 connectors, a Realtek 2.5Gb NIC, and a sixteen-stage VRM solution with 960A of total capacity.

There's hot competition in the sub-£500 TRX40 motherboard segment, so can ASUS' ROG STRIX TRX40-E Gaming prove itself as a solid option? Let's find out.
Features (information taken from the ASUS webpage):
Ready for the latest 3rd Gen AMD Ryzen™ Threadripper™ series processors to maximise connectivity and speed with up to three M.2 drives, USB 3.2 Gen 2.
Unmatched personalisation: OLED and Aura Sync RGB lighting, including RGB headers and addressable Gen 2 RGB headers
Optimal Power Solution: 16 power stages with ProCool II power connector, high-quality chokes and durable capacitors to support multi-core processors
Comprehensive cooling: Active cooling VRM and Chipset heatsink, stacked-fin heatsink, with on-board dual M.2 heatsinks and a water pump+ header
Gaming connectivity: Three M.2, USB 3.2 Gen 2 Type-C port and Type-C front panel connector
Gaming networking: 2.5Gbps LAN and Intel® Gigabit Ethernet with ASUS LANGuard, Wi-Fi 6 (802.11ax) with MU-MIMO, and gateway teaming via GameFirst V
Gaming audio: High fidelity audio with SupremeFX S1220, DTS® Sound Unbound and Sonic Studio III to draw you deeper into the action
Easy DIY: ROG-patented pre-mounted I/O shield, Flexkey, ASUS SafeSlot, ASUS Node connector and BIOS FlashBack™ for a friendlier building experience
The ASUS ROG STRIX TRX40-E Gaming motherboard uses the usual styling for an ROG STRIX product. You get the dark black PCB and primarily dark black slots and connectors. ASUS relies upon the RGB lighting implementation to offer colour contrast.
As is the norm for today's premium motherboards, you get an integrated rear IO shield as well as a shroud. A plastic sheet is used to allow LED lighting to shine through and ASUS takes this opportunity to deploy its ROG logo.
Three distinct lighting zones are provided with the TRX40-E Gaming motherboard. You get lighting on the rear IO cover, the VRM shroud, and the chipset heatsink. That last location is almost entirely blocked by the presence of a large graphics card and is therefore rendered rather pointless.
Notably, the TRX40-E Gaming also features a LiveDash OLED display on the rear IO shroud. This is useful as ASUS uses this screen to display operating characteristics in real time, such as the checks being done during POST. A cool feature indeed, and a useful one too.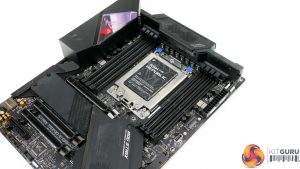 Given the TRX40 platform's quad-channel memory capability, it is no surprise to see eight DDR4 DIMM slots deployed. Each of these slots features a single-latch mechanism and, on our sample, the latch position is switched between the left and right banks.
Official memory speed support is up to 3200MHz for Threadripper 3000 CPUs, depending on how many DIMMs are installed. But ASUS also quotes support for frequencies above 4600MHz via overclocking according to the QVL. With currently available 32GB non-ECC modules, you can install up to 256GB of memory. ASUS also supports certain ECC memory kits according to the QVL.
Close to the right-side bank of DIMM slots, you'll find convenient access to a pair of RGB headers, one of which is the newer Addressable type, a single USB 3.2 Gen 2 Type-C front panel header, and one of the board's three M.2 slots.
I like the inclusion of this vertical M.2 connector. It's mounted in a location where interference with other components is unlikely and accessibility is simple, even when the system is fully built. See a deal on a shiny new M.2 SSD? You don't need to pull out your graphics card and tear the system apart to install that SSD in this location, and that's a positive. Plus, the vertical orientation is likely to be cooled well by the direct airflow from front chassis fans.
This slot supports M.2 drives up to 110mm in length. TRX40 chipset-fed lanes provide a PCIe Gen 4 x4 link or SATA 6Gbps compatibility. Its bandwidth is not shared with other devices, so you can use this connection at full speed at any time.
Also worth noting is the inclusion of DRAM, CPU, VGA, and BOOT onboard LEDs in a location that is convenient to see when troubleshooting.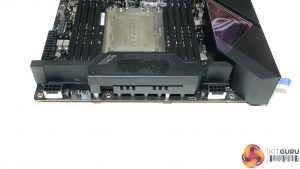 Switching focus to the top edge of the motherboard, we find two 8-pin CPU power connectors hidden on either side of the monstrous VRM heatsink. Dual 8-pins is actually pretty reasonable for sTRX4 motherboards as Threadripper 3000 chips comfortably draw 285W out of the box and can go well over 400W when overclocked.
I don't mind ASUS' decision to split these connectors to opposite edges of the motherboard as it may ease the cable routing burdens. Plus, there's probably an argument for injecting current into the hefty VRM system at opposite ends to reduce voltage drops across the rather long bank of MOSFETs.
Two CPU-focused 4-pin fan headers are located up top, which is a bit stingy in all honesty. There should be a third header dedicated to AIO pump duties as the next nearest header is halfway down the motherboard's PCB.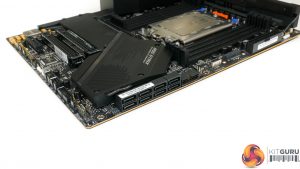 Right-angled SATA ports are found in their usual position and ASUS deploys a total of eight. All of these ports are fed by the TRX40 chipset. I think eight connections for slower SSDs and spinning hard drives is sufficient even for this calibre of motherboard, especially when the triple M.2 capability is factored in. RAID 0, 1, and 10 modes are supported.
Next to the bank of SATA ports is one of the board's two internal USB 3.1 Gen 1 5Gbps headers. Importantly, this header is connected via an ASMedia ASM1074 hub to the TRX40 chipset. Given that the ASM1074 hub takes a single 5Gbps USB 3.1 Gen 1 lane and multiplies it to four connectors, bandwidth limitations are clear.
If you want to do drive-to-drive copies between external USB 3.1 Gen 1 SSDs, you should be able to run at better speeds by using the alternative USB 3.1 Gen 1 ports on the rear IO.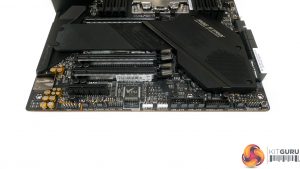 Nestled at the very edge of the bottom right corner is the onboard power button. This is a feature I like to see included for troubleshooting purposes.
Moving along the set of connectors, you get the second internal USB 3.1 Gen 1 5Gbps header in addition to two internal USB 2.0 headers which is enough for connecting to RGB controllers and AIO pumps. Two more RGB headers, one of which is addressable, are also mounted down the bottom.
As well as the ASUS Node header, there are also three 4-pin fan headers found along the bottom edge. This is good for handling custom liquid cooling pump duties, in addition to lower- or front-mounted chassis fans.
One notable omission that may disappoint some potential buyers is the lack of a Thunderbolt 3 internal header.
The primary pair of M.2 connectors are mounted beneath a slab of metal that features thermal pads. Both of these slots work with drives up to 110mm long and operate only in PCIe mode with up to 4 lanes of Gen 4 bandwidth direct from a Threadripper 3000 CPU.
The M.2 cooling approach is interesting. ASUS uses a slab of metal to cool both SSDs, meaning that additional heat is dumped into the heatsink. This is likely to cause a challenge for the low-profile design if two high-speed SSDs are being pushed hard simultaneously. With that said, ASUS suggests that the cooling performance is similar to the alternative approach when two drives are used.
ASUS is keen to point out that users with a single SSD installed should benefit from the greater cooling capacity of the physically larger block of metal compared to typical SSD heatsinks on motherboards that are only sized for a single drive.
Positioning of the M.2 slots is the norm but it's not ideal. This location places the SSDs directly beneath a graphics card that is likely to have an open-air cooler vent hot air directly onto the SSD heatsink. Couple that with the larger heatsink that will draw more thermal energy from the graphics card's exhaust and M.2 running temperatures are certainly something to keep an eye out for.
Wisely, however, ASUS deploys metal channels close to the chipset heatsink that will direct air from the chipset fan to the M.2 SSD location. That's a smart move that should help to give an extra burst of coolant air for the SSDs.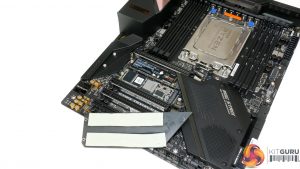 Installing an SSD in either of these slots will force the removal of a graphics card. That's annoying for users who want to install a new drive after building their system. That fact holds especially true for anybody running the GPU in a custom liquid cooling loop.
Thankfully, the vertical M.2 connector can be used for quick-and-easy SSD installs without ripping the graphics card out of one's system.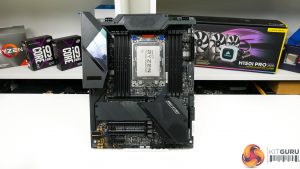 In terms of expansion slots, ASUS' TRX40-E features three steel-reinforced full-length connectors that operate at PCIe Gen 4 x16/x16/x16 bandwidth directly from the CPU. That'll be a good solution for many Threadripper users who may deploy dual GPUs alongside an accelerator card or a high-bandwidth RAID controller, for example.
The final slot is a closed-back PCIe 4.0 x4 connector that receives its lanes from the TRX40 chipset. This is another good location for high-bandwidth devices such as high-speed NICs or video capture cards. Even more positive is the fact that it doesn't steal any bandwidth from the main, CPU-connected slots.
Slot count and spacing is not particularly good, especially as ASRock, Gigabyte, and MSI competitors have better strategies at this price point.
With 2.5- or 3-slot graphics cards, you'll have room for just two of those and nothing else. That's not so smart. Even using dual-slot graphics cards would only leave you with either the PCIe x4 or PCIe x16 slot spare – not both. Moving the PCIe x4 slot to the second position on the board would be better for dual-GPU users as you could go with two dual-slot cards, plus an x16 slot, plus the x4 slot. However, triple-slot cards would have blocked the PCIe x4 connector in that configuration.
There's realistically no ideal solution given the varied partnering components and use cases for TRX40 buyers. With that said, the competing vendors' solutions offer better expansion slot layouts at this price point.
Judging by the layout, I'd say that the TRX40-E Gaming looks to be designed for single graphics card users who also want capability for single-slot, high-bandwidth add-in cards. If you fall into that category, you're unlikely to have any complaints.
I will, however, say that these configuration headaches are likely to be less annoying than the switch up to the XL-ATX form factor on some competing motherboards and the chassis limitations that brings.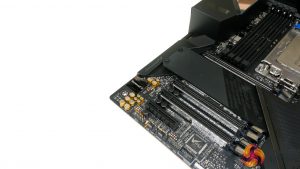 ASUS' audio solution is built around the SupremeFX S1220 audio codec that is powered by a chipset-fed USB 2.0 port using a Realtek ALC4050H bridge.
Located in close proximity is a Texas Instruments R4580i operational amplifier, in addition to the usual set of Nichicon audio capacitors.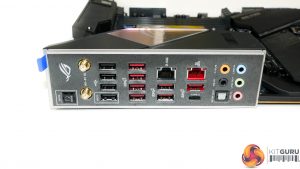 The rear IO is USB central, with a total of four USB 2.0 ports for legacy connectivity and BIOS Flashback duties, and eight USB 3.2 Gen 2 10Gbps connectors. Four of those 10Gbps ports are fed directly from the Threadripper CPU, while the other four (including the Type-C connector made available via an ASMedia ASM1543 logic IC) are delivered through the TRX40 chipset. That means there should be plenty of bandwidth available for high-speed transfers with several USB devices.
Wi-Fi 6 comes from an Intel AX200 adapter and supports data rates up to 1.73Gbps via its 2×2 MU-MIMO connection. Bluetooth 5.0 is also supported. You get standard Gigabit Ethernet from an Intel I211AT NIC, while Realtek's RTL8125 controller is deployed for 2.5Gbps Ethernet capabilities.
It's actually a little disappointing to see 'only' a 2.5Gbps high-speed NIC included when competing, and cheaper, solutions squeeze a 5Gbps or 10Gbps adapter into the budget. 2.5Gbps is a welcomed upgrade from 1Gbps but it's realistically a good deal slower than even 5Gbps adapters.
A good way to visualise this is that a 2.5Gbps NIC may give you 250-300MBps when connected to a storage server or NAS. A 5Gbps NIC will give you around 500-or-so MBps, which is about as fast as a SATA SSD. The difference between the two will be evident if you're a video editor who deals directly with network-attached storage servers. Or if you're a simulation engineer dealing with large project files over the network. The list of examples goes on. It's the difference between saturating a SATA scratch SSD in your networked storage server versus leaving half the performance on the table.
Rounding out the rear IO is the usual set of audio connectors, including SPDIF. There's no clear CMOS button on the rear IO, which is highly annoying for users who are tinkering with their system… or when you get a random crash and failed boot on this still very new platform.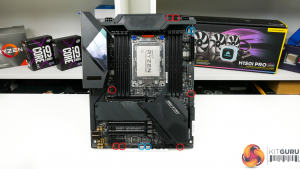 A total of seven 4-pin fan headers are scattered across the board, three of which are within reasonable reach of the CPU zone. The distribution is reasonable and shouldn't cause any major headaches, other than the lack of an AIO-specific header near to the two top-mounted CPU fan headers.
A Nuvoton NCT6798D-R controller manages fan control and some monitoring duties. I am disappointed to see a complete lack of onboard voltage monitoring points. Whipping out a multimeter to check voltages are fine is a niche scenario, but it's certainly not unreasonable to request for a board of this calibre with this target audience.
Four LED headers are provided, two of which are standard RGB and the other two are addressable connections. These are split between the top-right and bottom-centre zones on the motherboard in locations that I would consider to be very good.
ASUS is using a proprietary ASP1405 PWM controller that is widely believed to be based on the highly competitive International Rectifiers IR35201 8-phase PWM chip. As is typical for ASUS' recent motherboards, no phase doublers are used and instead one PWM phase is used to drive two sets of electrical components. That rear metal strip is therefore cooling the PCB below the front-side power stages rather than any phase doublers specifically.
ASUS argues that the 'teamed' approach of running two sets of electrical components in parallel from one PWM phase removes the added latency of a phase doubler from the equation. However, it also limits the control granularity compared to the higher number of PWM phases provided by phase doublers.
We know that people don't like to call this a 16-phase solution, but it features 16 sets of power stages that are driven by eight control phases. It's top-end current delivery performance, which is important when driving high loads to the CPU, is more akin to a 16-phase solution than an eight-phase one.
Either way, at this end of the market and with such high-performance hardware being deployed, the difference between teamed and phase doubled solutions is likely to be relatively small.
Sixteen Infineon TDA21462 60A power stages are used to drive the sTRX4 processor. These power stages are essentially de-rated versions of the 70A TDA21472 units deployed on higher-end TRX40 boards.
960A of combined current capability is an immense level that will be sufficient even for lofty overclocking goals with future higher core count CPUs.
5K-rated MIL standard capacitors are used for the primary power delivery components. 5K may seem a little meagre for a motherboard of this calibre. However, the higher temperature threshold of typical MIL testing means that working life when extrapolated to real operating temperatures will be perfectly fine, even compared to 10K-rated 105°C alternatives.
As a note, the memory looks to be controlled by a pair of Digi+ ASP1103 controllers, one of which is located near to each DIMM bank.
ASUS uses a massive, tiered heatsink to cool the sixteen sets of VRM components, including the chokes via contact and through a thermal pad. This heatsink is a hybrid type design that uses a sizeable slab of metal for thermal capacitance and stacked fins to increase the surface area for longer, steady-state heat dissipation.
A pair of 30mm PWM-controllable fans are mounted on the VRM heatsink. This had me slightly disappointed at first as there realistically isn't a need for them if ASUS has done a good enough job with the VRM component selection and heatsink design. Thankfully, ASUS sets the fans by default to remain idle up until 60°C VRM temperature – a figure and fan speed curve that can be controlled in the UEFI.
This is a smart move as it means that the VRM cooling remains silent when the MOSFET temperatures are reasonable and there's extra cooling capacity available when it may be needed for heavy overclocked scenarios.
The rear strip makes direct contact with the motherboard PCB via a thermal pad. There is no power delivery logic in this location, so its job is to extract heat that soaks through the PCB from front-side mounted power stages.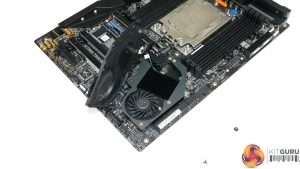 ASUS' 40mm controllable chipset fan sits atop a metal cooling plate that features ample fins to dissipate heat from the TRX40 silicon. The fan is an open-rotor radial design that needs to force air across the well-sized fin stack in order to dissipate thermal energy effectively.
Incidental airflow for the radial fan is also routed towards the M.2 SSDs nearby, which is a smart move by ASUS.
Positioning of the chipset fan is rather smart as ASUS has made effort to position the blower as far away from a top-slot graphics card as is reasonably possible. This means that the small fan will be able to ingest air from the cool stream driven in by front chassis fans, with a lower amount of interference from the exhaust air exiting a hot graphics card cooler.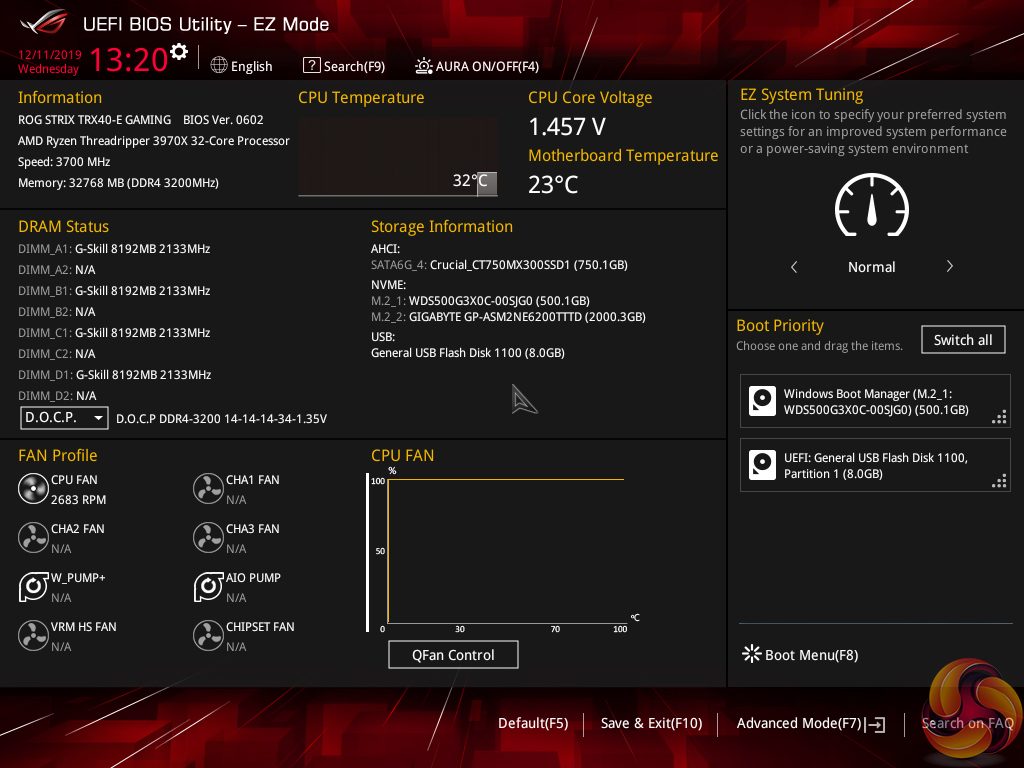 The default entry page for ASUS' UEFI is EZ Mode. On this page, basic settings relating to fan speeds and boot devices can be adjusted and other important information can be viewed. EZ Mode is simple enough for novice users to not be dissuaded from entering the UEFI.
Hitting F7 allows the Advanced mode to be accessed. The Main page outlines information relating to the system and motherboard. The My Favorites tab can be convenient if you are frequently searching for a setting buried deep within the UEFI.
AI Tweaker follows the standard layout that we have come to expect from recent ASUS motherboards, and that's a good thing. Easy access is provided to ratio, frequency, and voltage settings, allowing users to adjust their system parameters with minimal effort.
Different voltage operating modes are available for the CPU, allowing the user to adjust an overclock to their own preference. The modes of interest are: Offset, Manual, and Auto.
Load-line calibration (LLC) settings can be accessed through the Digi+ VRM page. ASUS provides options over multiple levels but gives no explanation of how the LLC levels work. This is frustrating as we had to resort to trial and error in order to find the desirable LLC level, which was a waste of time compared to competing vendors' solutions of including a clear graph.
The Advanced tab is where options relating to storage and onboard devices can be adjusted.
Under the Onboard Devices page, operation mode of the PCIe 4.0 slots can be adjusted and the bifurcation can be set. This subsection also provides an option for the onboard RGB lighting to be enabled or disabled during sleep and power-off modes.
ASUS gives a wealth of information relating to voltages, temperatures, and fan speeds, as displayed in the Monitor UEFI page. Warnings relating to low fan speed can also be set to warn a user of a failed fan, for example.
Fan speed control in ASUS' UEFI is very good. There are multiple methods of controlling the fan speed curve and several pre-determined modes are also available. Fans can also take temperature readings from different sources in order to better tune their operation to a user's cooling preference.
Hitting F6 loads up ASUS' Q-Fan Control GUI which is a graphical method of adjusting the fan speed curve. All fan headers are given control in Q-Fan by using a 3-point curve. The CPU fan header is given the greatest flexibility as the minimum fan speed it supports is 20%. The non-CPU headers can only go to 60% as their minimum fan speed setting in PWM control mode.
There is, however, a Fan Off setting for the non-CPU fans that allows them to power down when the relevant temperature conditions are met. While this is a useful feature in theory, I have previously seen fans succumbing to motor twitch in this mode, and the jump from 0% speed to 60% is generally audible.
The Tool section is home to ASUS' useful features, such as Secure Erase and EZ Flash 3 Utility.
EZ Flash 3 has the ability to update the BIOS using a storage device or over the web. Up to eight settings profiles can be saved and named in the UEFI. Further profiles can be transferred through storage mediums such as a USB flash drive.
SSD Secure Erase is a useful tool for securely wiping the contents of an SSD if you are selling it on, for example. There is also the possibility that wiping the data will restore performance, though this was more prevalent with older SandForce drives.
GPU Post and ASUS SPD Information can be useful in troubleshooting scenarios such as identifying dead or disconnected hardware without tearing one's system apart.
The search function is useful for quickly jumping to specific sections. ASUS gives quick access to a toggle that allows the Aura LED mode to be adjusted.
We will be outlining the ASUS ROG STRIX TRX40-E Gaming motherboard's performance with the AMD Ryzen Threadripper 3970X CPU, 32GB of 3200MHz DDR4 memory, and an Aorus RTX 2080 Ti XTREME graphics card.
TRX40 Motherboard Test System:
Processor: AMD Ryzen Threadripper 3970X.
Memory: 32GB (4x8GB) G.SKILL 3200MHz CL14 DDR4 @ 1.35V.
Graphics Card: Gigabyte Aorus RTX 2080 Ti XTREME 11G (custom fan curve to eliminate thermal throttling).
System Drive: WD Black SN750 500GB.
Test SSD: Gigabyte Aorus PCIe Gen 4 2TB.
Games SSD: Crucial MX300 750GB.
CPU Cooler: Cooler Master Wraith Ripper (full speed fans to eliminate thermal throttling).
Power Supply: Seasonic Prime TX-1000 80Plus Titanium 1000W.
Operating System: Windows 10 Pro 64-bit 1909 Update.
Drivers and UEFI:
ASUS ROG STRIX TRX40-E Gaming BIOS 0602 (latest at the time of testing).
Comparison Motherboards:
ASUS ROG Zenith II Extreme (BIOS 0601).
Gigabyte TRX40 Aorus Master (BIOS F4e).
Tests:

Cinebench R20 – All-core & single-core CPU benchmark (CPU), Stress test (Temperatures & Power Consumption)
Blender 2.81a – All-core rendering of the BMW and Classroom benchmark (CPU), Stress test (Temperatures & Power Consumption)
SiSoft Sandra – Memory bandwidth (Memory)
AIDA64 – Memory bandwidth, memory latency (Memory)
3DMark TimeSpy – Time Spy (1440p) test (Gaming)
Deus Ex: Mankind Divided – Built-in benchmark tool, 1920 x 1080, Ultra quality preset, no AA, DX12 version (Gaming)
Shadow of the Tomb Raider – Built-in benchmark tool, 1920 x 1080, Highest quality preset, no AA, DX12 version (Gaming)
CrystalDiskMark– Storage transfer rates (Motherboard)
Rightmark Audio Analyzer – Record and playback test using a line-in to line-out loopback with a 3.5mm audio cable (Motherboard)
HWiNFO – System sensor monitoring during stress test (Temperatures & Power Consumption)
Cinebench R20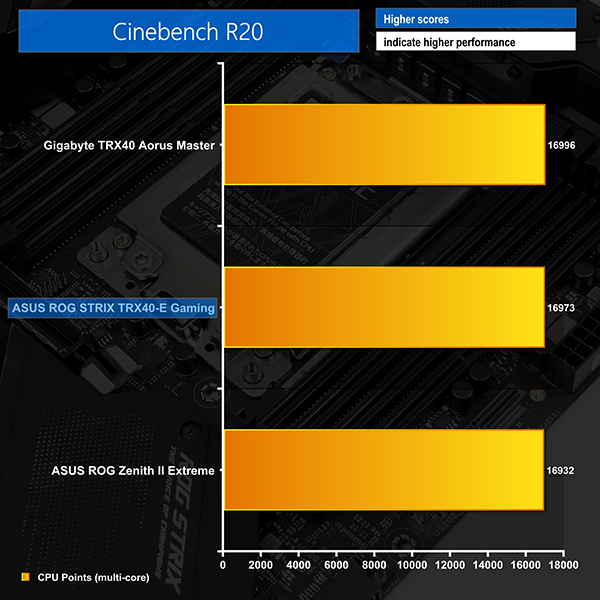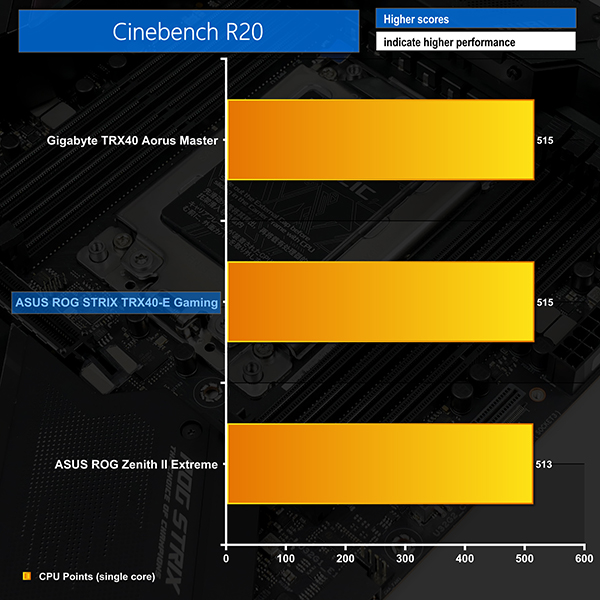 Blender BMW & Classroom Benchmarks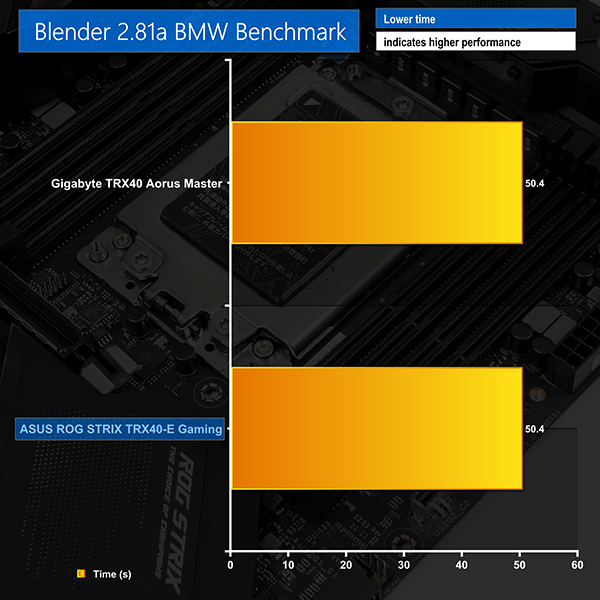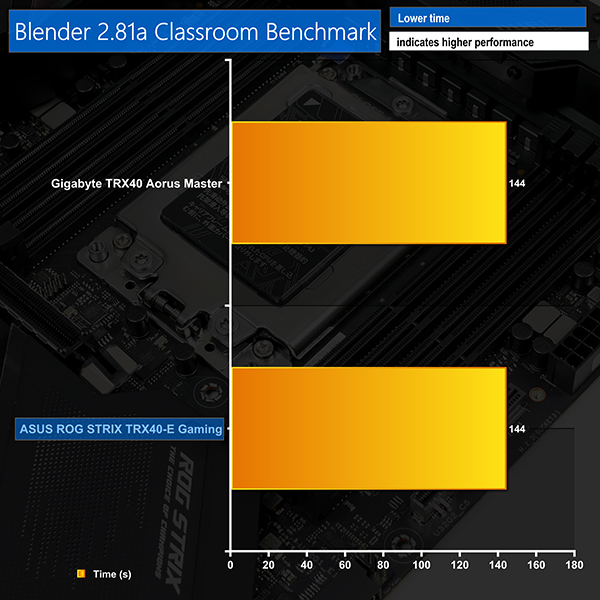 As expected, performance between the competing boards is very similar in Cinebench. Gigabyte's price competitor pips the ASUS TRX40-E Gaming to top spot in the multi-core test, but the differences between all solutions here are unnoticeable in real world usage. All-core frequency for the ASUS board was around 3850MHz (38.5x) to 3875MHz (38.75x) during Cinebench loading.
When accounting for numerical rounding, there's nothing to separate ASUS' and Gigabyte's £490 offerings in the Blender BWM test. That exact same point holds true for the classroom test. Clearly ASUS' BIOS is delivering the level of performance that we'd expect. ASUS' core frequency averaged 3825MHz (38.25x) in both Blender tests.
AIDA64 Engineer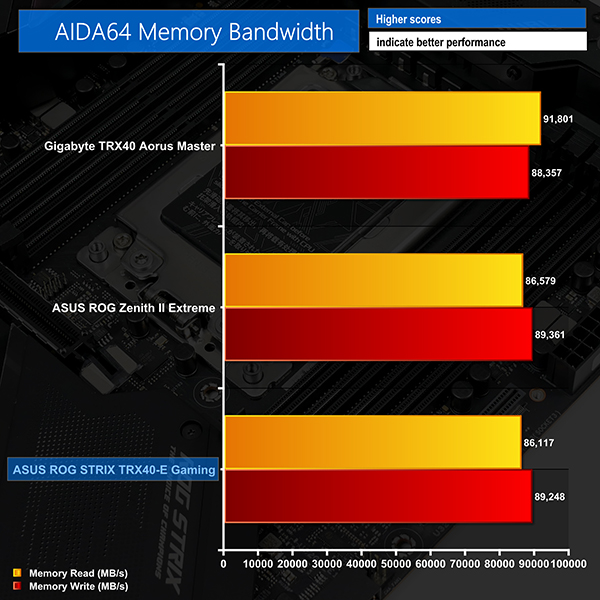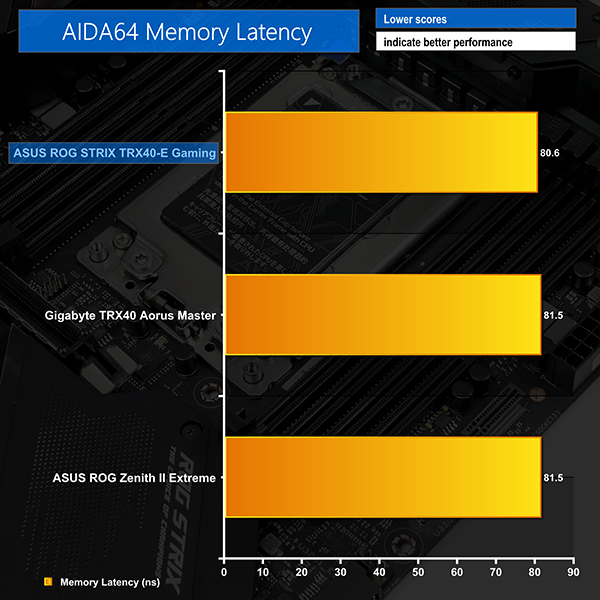 Sandra Memory Bandwidth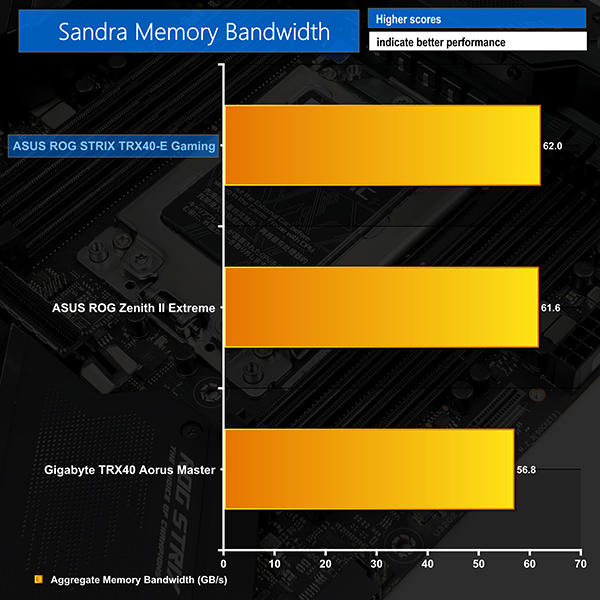 ASUS trails Gigabyte a little when it comes to memory bandwidth performance in the AIDA test. The exact reverse is true for SiSoft Sandra numbers, with the lead switching to ASUS' option that delivers 62GBps with 3200MHz CL14 DDR4.
Latency is also an area where ASUS performs well with the TRX40-E Gaming. Despite the differences shown in these tests, there is no major cause for concern from the ASUS board's numbers.
3DMark

3DMark is a multi-platform hardware benchmark designed to test varying resolutions and detail levels of 3D gaming performance. We run the Windows platform test and in particular the Time Spy benchmark, which is indicative of high-end 1440p PC Gaming.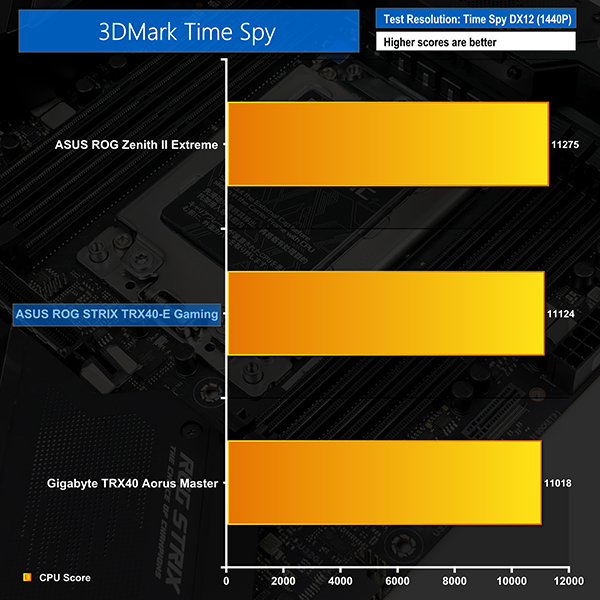 Deus Ex: Mankind Divided
Despite its age, Deus Ex: Mankind Divided remains a demanding title even for modern hardware. We use the game's built-in benchmark with quality set to Ultra, MSAA disabled, and DX12 mode.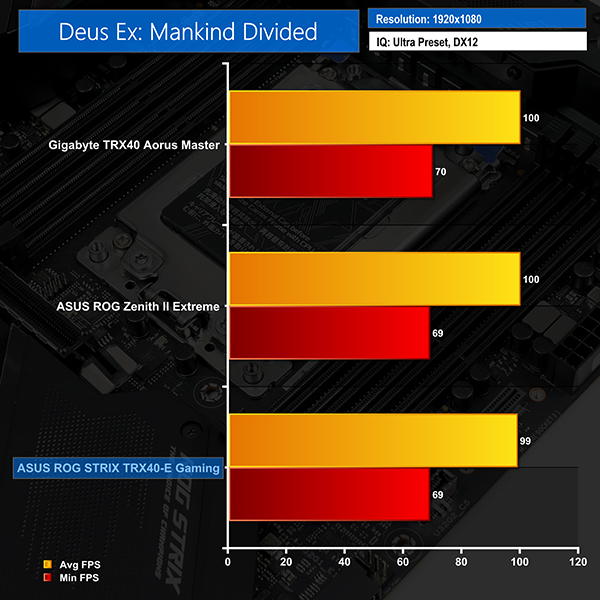 Shadow of the Tomb Raider
We run the built-in benchmark using the DirectX 12 mode, anti-aliasing disabled, and the Highest quality preset.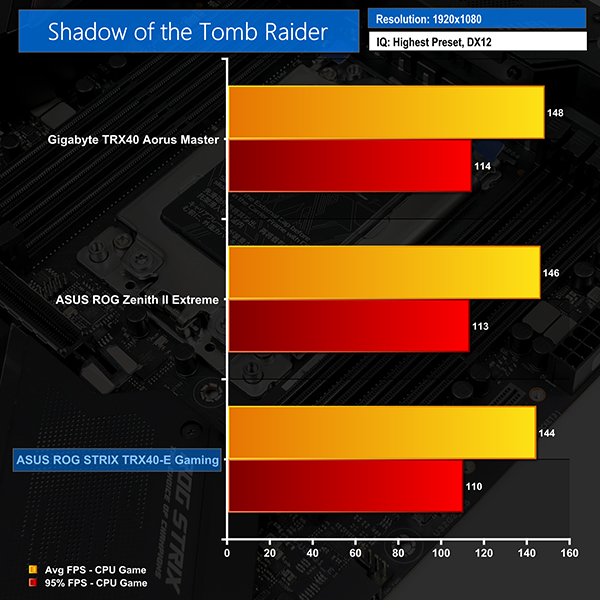 Similarities in boost clock behaviour means that performance in game-related benchmarks is similar for all options. ASUS' ROG STRIX TRX40-E Gaming does pull out a small victory over its Gigabyte competitor in 3DMark Time Spy. However, the ASUS board is a few FPS slower on average in our Shadow of the Tomb Raider testing.
Either way, you'll get strong gaming performance from all solutions on offer.
M.2 PCIe Performance
We test M.2 PCIe performance using an Aorus PCIe Gen 4 2TB SSD. This SSD uses a Phison-based PCIe Gen 4 controller.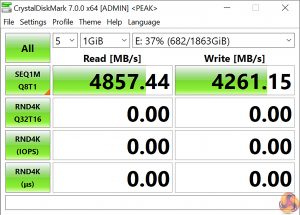 M.2 performance is as good as we'd expect, with the PCIe Gen 4 x4 slots having no problems feeding our almost-5GBps Aorus 2TB NVMe SSD.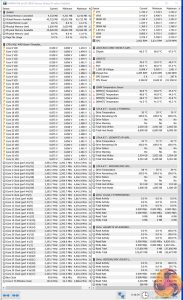 Cooling performance from ASUS' heatsink was perfectly good, with our logs showing a peak temperature of 63°C for the CrystalDiskMark test run. That's a similar level to what we have seen from competing motherboards, so short, bursty SSD loading does not seem to be hampered by ASUS' cooling plate design.
SATA 6Gbps Performance
For SATA 6Gbps testing we use a Crucial MX300 750GB SSD.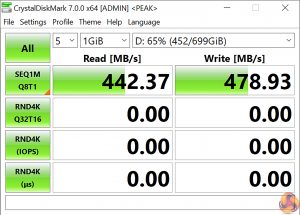 SATA performance was also right where we would expect it. Given the plentiful quantity of SATA lanes for the TRX40 platform, add-on chipsets are not used on the ASUS TRX40-E Gaming motherboard, so all SATA 6Gbps ports will run at full speed.
Audio

Rightmark Audio Analyser is a freeware benchmarking utility designed to objectively test the performance characteristics of audio solutions. We setup a line-in line-out loop and execute the record/playback test before generating the results report you see below. A sampling mode of 24-bit, 192 kHz was tested.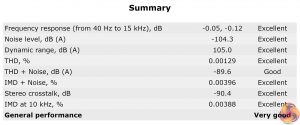 Rightmark Audio Analyser rates the ASUS ROG STRIX TRX40-E Gaming motherboard's SupremeFX audio system as 'Very Good' overall, with most of the categories scoring 'Excellent'.
Manual CPU Overclocking:
To test the ASUS ROG STRIX TRX40-E Gaming motherboard's CPU overclocking potential, we set the CPU Core Voltage to 1.25V and applied the Level 7 LLC setting.
We were able to hit a stable frequency of 4100MHz using a load voltage of 1.232V according to CPU-Z and HWinfo. This used a BIOS-set core voltage of 1.25V, 130% CPU Current capability, and Level 7 load-line calibration (LLC).
ASUS' LLC settings continue to make no sense and feature no useful explanation in the UEFI. Trial and error got us to Level 7, which resulted in a steady state offset of 28mV, which we deemed to be acceptable for our testing, stability checks, and cooling hardware.
Greater CPU frequency capability was achievable, and I'm confident that the motherboard could push further. However, going past this voltage level and clock speed requires cooling performance beyond a dual tower air cooler or even a reasonable 240mm AIO. At that point, you should be looking at 360mm AIO with high speed fans or, more realistically, custom liquid cooling.
Motherboard Sensors
ASUS provides an excellent set of onboard monitoring data, including temperature sensors for the CPU, VRM, and chipset. The VRM temperature sensor is particularly good to see included (as it should be at this price and performance level) as users can tweak the VRM fan curve based on the temperature levels observed in their usage, and their tolerance to increased operating temperatures.
Data reported by HWiNFO and Hardware Monitor, such as CPU temperature and package power draw, tended to corroborate with the numbers displayed by Ryzen Master, which is good.
Overclocked Performance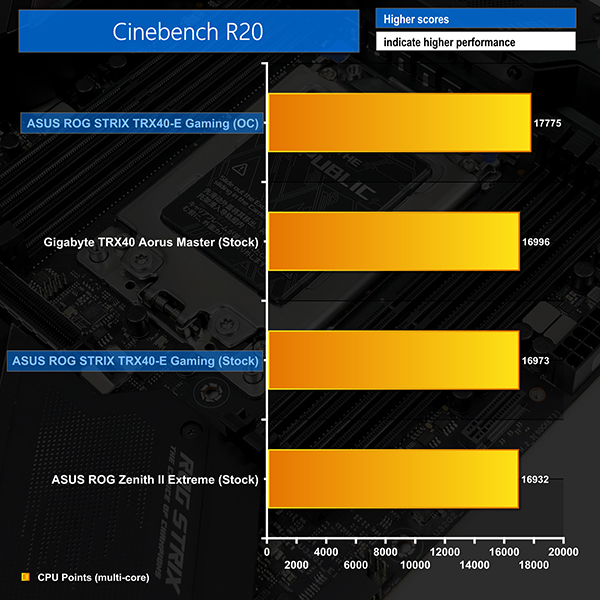 A solid performance boost of just under 800 points, or close to 5% was delivered by overclocking to a static 4.1GHz. Of course, the manual overclock also reduces maximum boost frequencies, so lightly threaded workloads will suffer versus the 4.5GHz maximum boost clock at stock conditions.
I still prefer Precision Boost Overdrive for overclocking with Ryzen Threadripper 3000 as you increase the all-core speed slightly but maintain the maximum boost clocks at lower load levels.
System Power Consumption
We leave the system to idle on the Windows 10 desktop for 10 minutes before taking a reading. For CPU load results we run Cinebench R20 nT and Blender Classroom stress tests and take a reading. The power consumption of our entire test system (at the wall) is shown in the chart.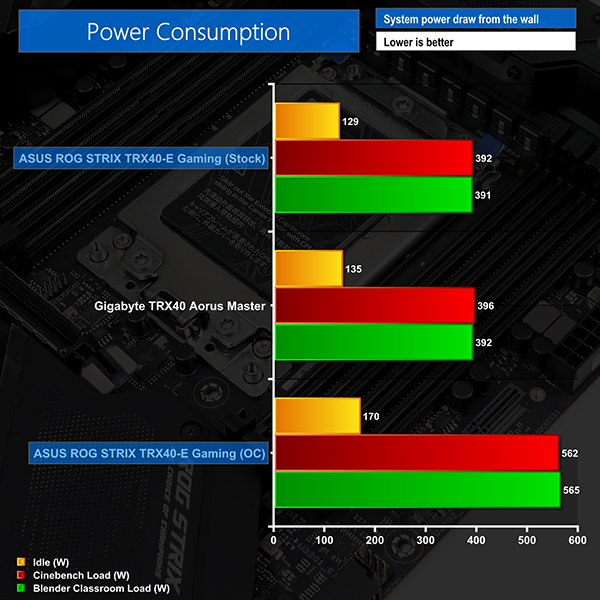 ASUS applies sensible voltages for stock operating conditions, and these resulted in reasonable power draw levels. Compared to Gigabyte's relevant competitor, the ASUS TRX40-E Gaming required a smidgen less power at idle and when loaded. Realistically, there's little difference in the results here.
Overclocking forced the system draw from the wall beyond 550W. ASUS' board was perfectly capable of feeding the hungry, overclocked CPU and it did so with no motherboard-related stability concerns in our testing.
Clearly, a strong power supply like the Seasonic Prime TX-1000 unit that we used is an absolute requirement for a Threadripper system with a power-hungry graphics card thrown into the mix.
System Temperatures
We run the Cinebench R20 nT test on loop for 1 hour while recording the system data using HWInfo. This data is then analysed to show the CPU temperatures and also the VRM MOSFET temperatures, when the sensor data is available.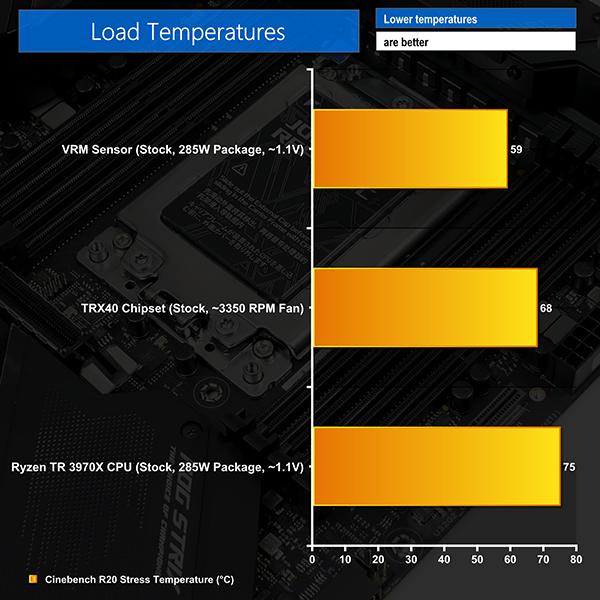 ASUS deserves a lot of credit for the superb design of its VRM system. The use of sixteen 60A power stages results in strong operating efficiency for the electrical components thus reducing their efficiency losses as heat. This, in turn, reduces the load on ASUS' VRM heatsink and gives it a relatively simple job of keeping the components cool.
At stock, the VRM sensor never went above 59°C in our testing with the Threadripper 3970X pulling 285W. As 60°C wasn't reached, the VRM fans did not kick in, which is a strong positive. Overclocking pushed the VRM temperature past 60°C within 5 minutes of load being applied. At that point, the VRM fans kicked in and rotated at reasonable levels to keep the system adequately cooled without becoming noisy. Of course, the fan speed curve and spin-up temperature can be manually tweaked.
Chipset cooling was perfectly fine. We saw temperatures around the 70°C mark after extended system operation. The 40mm fan tended to stay below 3500 RPM, so noise levels were tolerable and weren't particularly audible over a CPU cooler fan.
Sliding in just below the £500 mark, ASUS' ROG STRIX TRX40-E Gaming is a strong sTRX4 motherboard for enthusiasts not looking to break the bank on their motherboard purchase. Yes, almost £500 on a motherboard is extremely expensive. However, the strength of ASUS' power delivery solution, the effective cooling solutions, and a host of complimentary features put the TRX40-E Gaming in good standing.
Performance is solid overall, with the only major differences largely being attributed to AGESA version updates. Gigabyte's competing TRX40 Aorus Master and its AGESA 1.0.0.3 profile was generally a little faster than the ASUS board in our testing. However, the differences were typically minor.
Overclocking proved easy enough with the TRX40-E Gaming thanks to ASUS' consistent UEFI design. I would like better explanation as to ASUS' specific load-line calibration profiles in order to improve target voltage accuracy. Other than that, overclocking was straightforward as the relevant features were easy to find and plenty of settings are made available.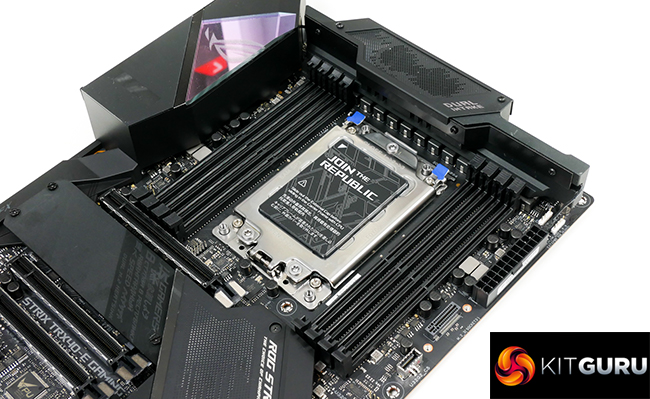 What particularly impressed me was the proficiency of ASUS' cooling solutions – in particular the VRM cooling. Deploying 16 60A Infineon power stages to handle the CPU load means that each stage isn't stressed particularly heavily, even with a 32-core Threadripper CPU. That allows the electrical components to operate efficiently without over-reliance upon the VRM heatsink.
Our stock testing did not result in the MOSFET temperature sensor reaching 60°C and triggering the pair of 30mm VRM heatsink fans to spin up. The system was therefore silent from a VRM cooling perspective, even with our extended 1-hour Cinebench test. Overclocking did force the MOSFET temperatures higher, resulting in the VRM heatsink fans kicking in. However, their RPM was reasonable, and their noise output was unobtrusive.
The excellent hybrid-style heatsink that ASUS has designed, alongside the efficient power delivery components, work very well.
I do have some gripes, however. 2.5GbE instead of 5GbE or 10GbE seems like needless cost-cutting on a premium product. I'd have liked to see onboard voltage monitoring points and a rear IO clear CMOS button. The primary M.2 location is impossible to access with a graphics card installed. And slot spacing isn't ideal, and it isn't as good as competing motherboards at the price point.
With that said, ASUS delivers a solid overall bundle that displayed excellent stability, a functionally useful OLED screen, and an overall set of features that addresses most realistic use cases.
£500 isn't cheap even by TRX40 motherboard standards, and there's a lot of competition between the big four vendors in this segment of the market. But we feel that the ASUS ROG STRIX TRX40-E Gaming is a solid choice that offers strong overall balance for users jumping onto the new Threadripper 3000-based platform.

The ASUS ROG STRIX TRX40-E Gaming is priced at £489.95 (at the time of writing) at Overclockers UK).
Pros:
High performance power delivery design.
Exceptional VRM cooling solution.
Smart chipset fan positioning and good speed control.
Good M.2 cooling performance and smart vertical orientation.
LiveDash OLED looks good and is functional.
Well built, good looking, and premium quality.
Strong BIOS stability and plenty of useful UEFI options.
Cons:
Slot layout not as good as competitors.
Only 2.5GbE – competitors offer 5Gb or 10Gb.
No onboard voltage check points or rear clear CMOS button.
Limited clarity for the UEFI load-line calibration settings.
KitGuru says: A strong option at just under £500, ASUS' TRX40-E Gaming delivers the ROG STRIX quality that we expect and bundles in a superb 16-stage power delivery solution with smart VRM cooling.