There really is very little to say about the ASUS ROG Zenith II Extreme Alpha motherboard because there really are so few areas where the board disappoints. You get arguably the best power delivery solution on the market, five M.2 connectors, a 1.77" OLED display, there's 10 Gigabit Ethernet and high-speed WiFi, and ASUS' UEFI implementation is as strong as ever.
Perhaps the only slight negatives I can point my finger towards are the large E-ATX sizing, but this is a necessary evil to fit so much hardware onboard and it's certainly easier to deal with than XL-ATX. You don't get a multi M.2 SSD add-in-card adapter like with competing solutions, but ASUS' board supports five drives natively, which is a better outcome in my opinion. And the current retail price of £900 is ludicrous, but that's expected for a flagship product on the TRX40 platform.

On the positive side, ASUS' power delivery solution was superb and pushed our 64-core 3990X as far as the CPU cooling solution could take it. The VRM cooling of the motherboard also proved competent by managing well over 600W of power delivery to the CPU for extended time periods.
The fans did ramp up heavily and we recorded MOSFET temperatures that were closer to 100°C than we'd have liked. But, in context, this is a strong result that lesser calibre motherboards would struggle to achieve.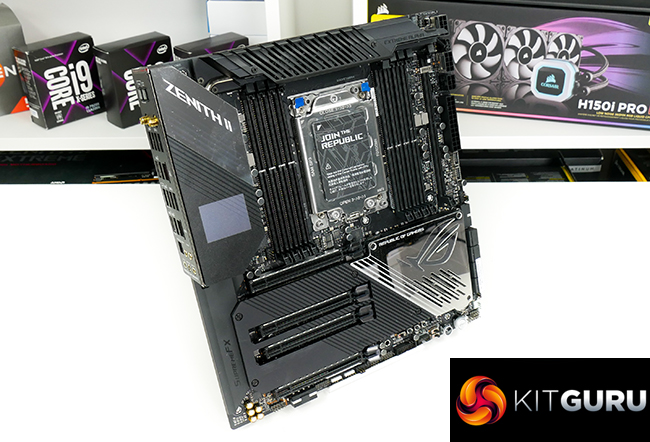 I must also highlight my particular fondness for ASUS' VRM and chipset fan control capabilities. The VRM fans stays passive below 60°C, which is actually quite difficult to reach without overclocking a Threadripper chip. That keeps the relatively loud 30mm blowers quiet for a majority of one's usage and also extends their lifespan. The chipset fan stops below 55°C, though the TRX40 chipset is more susceptible to heating up quickly, as we have seen from X570. Thankfully, the chipset fan was not intrusive and did a solid cooling job.
While ASUS' control for the onboard fans on the motherboard is strong, the overall fan control abilities in the UEFI for system fan headers is not as strong as Gigabyte's competing solution. ASUS does, however, include the functionally useful fan extension board that adds further temperature sensor and RGB lighting capability.
£900 is a hard-to-swallow asking price, even for a flagship TRX40 motherboard that could be paired with a market-leading 64-core CPU that is just shy of £4000. With that said, it is really difficult to see how anybody purchasing this motherboard could wish for any more. Yes, another high-speed NIC would have been welcomed, like we see from Gigabyte, or some degree of Thunderbolt 3 support would also be good.
But overall, we think that the ASUS ROG Zenith II Extreme Alpha ticks a vast majority of the boxes that deep-pocketed enthusiasts, prosumers with demanding workstation tasks, or hardened overclockers with lofty goals could wish for. Expensive, but perhaps good value if you can indeed make use of the vast array of features and capabilities offered.

The ASUS ROG Zenith II Extreme Alpha is priced at £900 (at the time of writing) at Overclockers UK HERE.
Discuss on our Facebook page, over HERE.
Pros:
Excellent choice of features and well-built, high-quality design.
Market-leading power delivery solution.
LiveDash OLED screen is novel and useful.
Strong VRM cooling capability.
Five M.2 connections without stealing expansion card slots.
Smart inclusions for overclocking enthusiasts – onboard buttons, voltage check points, dual BIOS chips.
Strong BIOS stability and plenty of useful UEFI options.
Cons:
An additional high-speed NIC would have been welcomed by prosumer enthusiasts.
E-ATX design is more straightforward than XL-ATX but limits multiple graphics card capability.
£900 in the UK currently!
KitGuru says: A flagship product in every sense of term. There really is very little to complain about with the ultra-enthusiast ASUS ROG Zenith II Extreme Alpha, other than its £900 current price, of course.