Automatic CPU Overclocking – Ratio:
The Ratio automated overclocking mode locks the base clock to a set value (100MHz) and adjusts the CPU multiplier. While the UEFI parameters suggest that memory operations were not touched, the DRAM speed was actually reduced to 2133MHz. This is a negative for users with high-speed XMP memory kits that are capable of operating well above the 2133MHz speed setting.

Voltage levels were set to 'auto' meaning that the motherboard would apply values it deemed appropriate.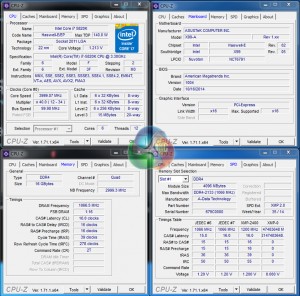 The X99-A set a 41x multiplier for scenarios when one or two CPU cores are active. A reduced 40x level is set for situations when more than two cores are active (for a 5820K CPU). CPU VCore was set to a maximum level of around 1.21V (peaked at 1.232V under load), which is still fairly easy to tame for mid-range (or better) cooling solutions.
A 400-500MHz CPU clock speed boost for nothing more than the push of a few buttons is great for those who are not confident with overclocking.
Automatic CPU Overclocking – BCLK + Ratio:
The BCLK + Ratio tuning mode saw a greater number of parameters tweaked. A 125MHz BCLK was applied (by way of the 1.25x BCLK strap) to deliver a static CPU overclock of 4.125GHz.
Memory frequency was set at 2333MHz by virtue of the 125MHz BCLK, 1.33x DRAM:BCLK strap, and 14x memory multiplier. Timings remained at their XMP level. Again, this frequency would be a significant reduction for users with fast (2666MHz+) XMP kits.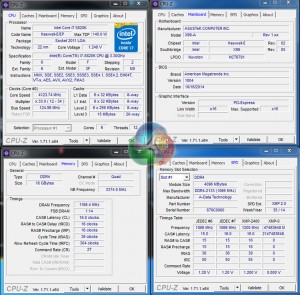 This time, the higher CPU frequency dictated a higher VCore level. The CPU VCore was set at 1.248V for load, and peaked at 1.264V due to the board's overshoot compensation. This level is still easy enough to tame with the higher-performing mid-range CPU coolers.
Manual CPU Overclocking:
To test the Asus X99-A motherboard's CPU overclocking potential, we first increased the CPU VCore to 1.275V, Cache voltage to 1.25V, and CPU Input Voltage to 1.90V. We also enabled PLL overvoltage, disabled SVID support, and applied level 1 Load-line Calibration (LLC).
We maintained the DRAM frequency at 2400MHz to take its stability out of the overclocking equation. Cache frequency was maintained at 3.0GHz.
Asus' clear and concise UEFI makes overclocking a simple task. The primary overclocking parameters are all kept in the same section, and the enhanced controls are easy to find in their dedicated sub-sections.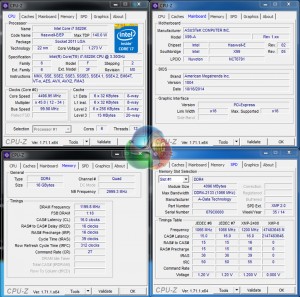 The X99-A had no problem hitting our CPU's 4.5GHz limit for a 1.275V VCore level. Even with LLC set to level 1, 1.280V was delivered to the CPU. We do not have any complaints about a 5mV overshoot.
Temperature levels stayed below 80C, making the configuration possible for users with high-end air coolers or AIO watercooling units.
The validation can be viewed here.
Memory Frequency Performance:

Support for high-speed memory kits has been a particularly troubling topic since the X99 launch. We test the motherboard's ability to load the 3000MHz XMP configuration on our G.Skill Ripjaws4 DDR4 memory.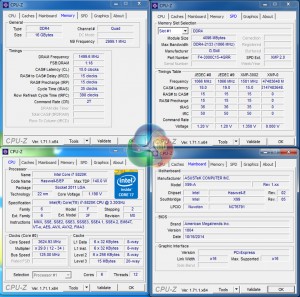 Running with 3GHz memory could not be easier on Asus' X99-A motherboard. The well-tuned BIOS is to thank for the simplicity of reaching 3GHz; one has to press F5 to load the UEFI defaults, apply the XMP mode, and reboot the system.
Asus has done an excellent job with memory support for the X99 platform. Back at release, the company was able to consistently operate at 3GHz DRAM clocks, even when all other vendors were struggling to do so (and some still are!).