While our NZXT Avatar S mouse did work in Asus' X99 UEFI, the support was flaky at best. On some instances the mouse would work perfectly. But other times would see functionality disappear.
We've found our NZXT Avatar S to be the most troubling mouse with UEFI support, so its flaky functionality does not come as a major surprise. That said, many competing vendors' UEFI implementations provide the appropriate level of functionality.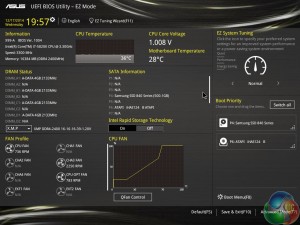 Asus' UEFI is consistent across its range of mainstream boards and so is our analysis. Many of the screenshots are taken from our review of Asus' X99-Deluxe motherboard.
Asus opens its X99 UEFI with a summary page, of sorts, that squeezes a significant proportion of the important information onto a single 1024×768 screen. The interface is all but identical to that of the company's Z97 implementation, and that's a good thing with the excellent feedback that the mainstream boards' UEFI has received.
AI Tweaker is where all of the overclocking action takes place. From frequency adjustments, to voltage increases, to changed power parameters, it's all controlled through AI Tweaker or its numerous sub-sections.
Asus gives users a strong degree of flexibility with both frequency and voltage tuning. And if you're feeling particularly confident in your cooling configuration, there is the option for extreme voltage modes to be unlocked (with the aid of an onboard jumper for safety purposes).
The thing I like most about the AI Tweaker layout is its simplicity. Novice overclockers who are still learning the skill will be able to navigate the options with ease, but that doesn't interfere with the advanced settings that more experienced personnel require.
And on the topic of simple overclocking, Asus is particularly keen to shout about its EZ Tuning Wizard. EZ Tuning automatically detects the installed components before allowing a user to select their system usage scenarios and cooling hardware. Once this has been processed, the wizard outputs a suggested DRAM and CPU frequency boost that can be achieved.
Selecting the Gaming/Media Editing mode increases the DRAM and CPU frequency, while the Daily Computing option boosts the processor's speed only. Be aware though, the speed boosts aren't guaranteed to work; in the past, our RAM gave us some issues when trying to boot at the 3000MHz speed EZ Tuning set without XMP enabled.
Temperatures and fan speeds are displayed on the Monitor page. Readings from the individually-deployed thermistors (available separately) can also be displayed on the page.
Asus' Q-Fan Control is a method of adjusting and setting fan speed profiles in a graphical manner. The visual approach is also backed up by numerical and selectable choices on a specific section of the Monitor page.
One of the key tools for Asus' X99 UEFI is GPU Post. The tool delivers information regarding the (potentially) complex graphics configuration bonded to the X99 motherboard. Functionality-wise, GPU Post ensures that graphics cards are receiving the correct PCIe bandwidth so that their performance is not needlessly hampered.
Up to eight user-customised settings profiles can be saved to the X99 UEFI. It's worth noting that saved profiles are typically wiped on updating to the latest BIOS version, so making note of the settings is still recommended as a precautionary measure.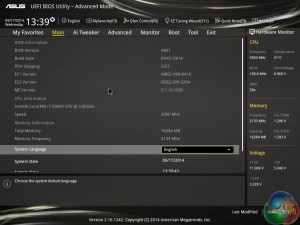 There's very little to dislike about Asus' X99 UEFI implementation. The interface is clean, clutter-free, and easy to navigate. And of course, there's in-depth functionality to back up all of that layout tidiness. While many competing vendors have switched to higher resolution – 1920×1080 – interfaces, we still don't see the need for Asus to make the move because the UEFI designers manage to fit relevant levels of information on each 1024×768 frame.
If there's one thing we dislike about the interface, that's its somewhat ugly (in my opinion) colour scheme. But, in all honesty, that's just looking for negatives and the interface certainly isn't ugly enough to impact on the general usage experience. We can't find any points where we recommend Asus focus its improvement efforts – the interface is, quite simply, excellent.
Software
As is the case with the UEFI, Asus' software supplied with the X99 series motherboards is largely identical to that provided with Z97 parts. All of the tools revolve around Asus' AI Suite 3 software.
AI Suite 3 includes a mix of system-control and productivity applications. Tools such as Ai Charger+ and USB Charger+ are convenient to users who need to rapidly refill their smart phone or tablet's battery. A particularly useful tool that I would like to highlight is USB 3.0 Boost.
Focusing on USB 3.0 Boost, the tool is Asus' way of enabling the speed-increasing UASP mode for USB 3.0 devices connected to a Windows 7 system. Since ASRock dropped its UASP-activating software (XFast USB) back with Z97's introduction, Asus' USB 3.0 Boost tool is the only way of pushing past 400MBps with a USB 3.0 device connected to a Windows 7 system.
Central to AI Suite 3's set of programs is the Dual Intelligent Processors 5 section. From this point many of the system's operating parameters can be controlled. Digi+ Power and TPU control many of the board's operating voltages and power settings, while Fan Xpert 3 allows users to make on-the-fly adjustments to fan speeds and profiles.
One of the more unique tools is Turbo App. Asus uses the tool to control user-defined speed boosts when a certain application is launched. For example, one could increase the CPU ratio by a few notches every time Adobe Photoshop is launched, or the opposite could be done for MS Paint.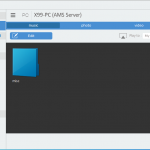 Asus' Media Streamer software can, as suggested by the name, stream media between systems connected to one's network. There is no wireless adapter on the X99-A, hence Wi-Fi Go! is not supported out of the box.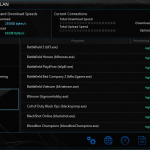 Turbo LAN is similar to Killer's Network Manager software in the way that it can control network bandwidth priorities. The software tool is one of the primary reasons that Asus continually relies upon Intel NICs rather than the Killer E2200 series alternative, even for its gaming motherboards.