Manual CPU Overclocking:
To test the Gigabyte AB350-Gaming 3 motherboard's CPU overclocking potential, we aim to set the CPU voltage close to 1.40V. CPU VCore is set to +0.060V in order to target 1.40V. SOC voltage is left unchanged due to the use of an offset voltage adjustment system rather than a direct numerical input.

We maintained the DRAM frequency at 3200MHz to take its stability out of the overclocking equation.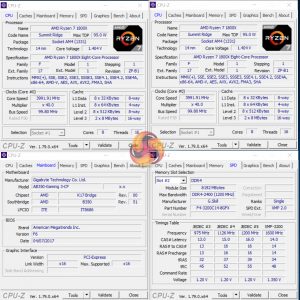 A challenge with the offset voltage application method is the voltage overshoot during load. Our initial testing used a +0.102V offset as this should have delivered around 1.4V under load, based on the default load voltage levels. However, our load voltage was reported as 1.440V when running Cinebench and was too high for a motherboard of this calibre.
We backed down to +0.072V (load voltage of 1.404-1.416V), which was more reasonable, but could not get our Ryzen 7 1800X to hold stability at its known 4.05GHz limit. The highest frequency we could achieve was 4.00GHz – a 50MHz reduction compared to the MSI B350 Tomahawk. As such, further trial and error showed us that a +0.060V offset voltage on the CPU would deliver a constant 1.404V under heavy load that was perfectly good for the 4.00GHz overclock.
Just like the ASRock Fatal1ty AB350 Gaming K4, Gigabyte's AB350-Gaming 3 could not match the MSI B350 Tomahawk for Ryzen 7 1800X overclocking performance. The speed difference was small but it is a factor for potential buyers.
Overclocked Performance

As a performance comparison, we have included the results from two other AM4 motherboards. The maximum overclocked configuration achieved with each board was either a 4000MHz (40.0 x 100MHz) or 4050MHz (40.5 x 100MHz) processor frequency whilst using 3200MHz CL14 memory.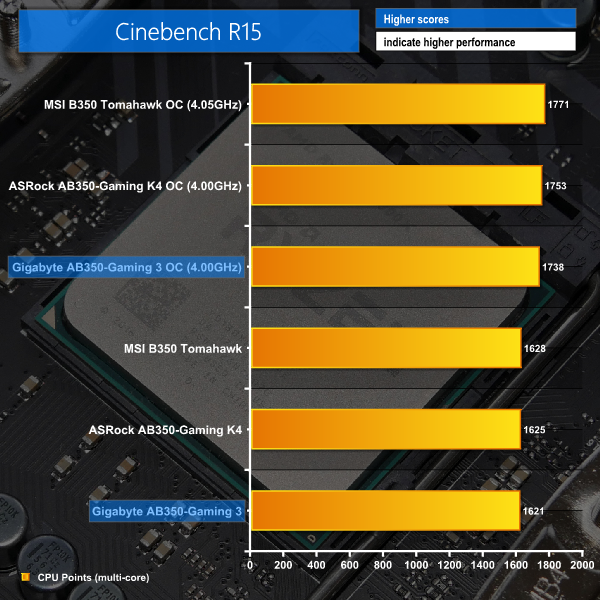 Limited overclocking capacity, compared to MSI's B350 Tomahawk, hurts the performance of Gigabyte's AB350-Gaming 3 in Cinebench.
Power
We leave the system to idle on the Windows 10 desktop for 5 minutes before taking a reading. For CPU load results we run Cinebench multi-core and take a reading. The power consumption of our entire test system (at the wall) is shown in the chart.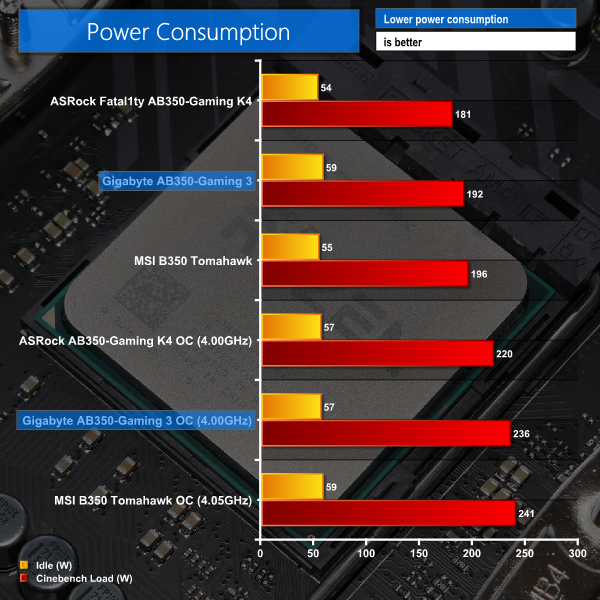 Gigabyte's power consumption is close to that of MSI's thanks to better voltage accuracy of both of those motherboards compared to ASRock's competitor. A 1.4V overclock with an eight-core CPU puts heavy demand on the power delivery solution, as proven by the 236W system-wide draw for the Gigabyte-based system when overclocked and loaded with Cinebench.
We saw reported MOSFET temperatures quickly rising towards 90°C after five consecutive Cinebench runs and would therefore advise monitoring of these temperatures to ensure that they remain at a sensible level. Gigabyte's heatsink for the CPU MOSFETs is decent but the supplementary three-phase solution (primarily for the SOC rail) is un-cooled.