Software
The software used by Gigabyte is almost identical across its current product range. As such, we have re-used the bulk of our analysis from previous reviews and updated the text where there are subtle differences.

Gigabyte makes a vast number of software utilities available for installation with its motherboards. Thankfully, not all the tools have to be installed and APP Center is a very good method of managing the selected software, as well as third-party apps and Windows settings.
EasyTune is Gigabyte's tool for managing system operating parameters. The performance profile of the system can be adjusted using EasyTune and there's also the option to conduct automated system tuning.
Other system settings such as voltages, speeds, and ratios can also be adjusted and saved into profiles.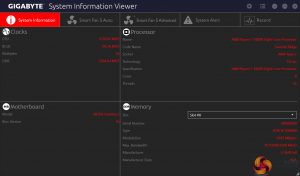 System Information Viewer (SIV) is a similar setup to EasyTune but it is geared towards fan control and system monitoring. System recordings relating to voltages, temperatures, and fan speeds can also be made. This is particularly useful for analysing stability in the form of checking how your system behaves during an extended gaming or video rendering session, for example.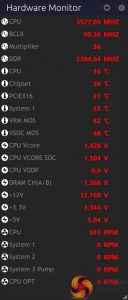 The Hardware Monitor break-out tab is a method for reading a wealth of system information while inside the OS. The quantity of information displayed is good and the readings look to be accurate.
Four fan speed profiles can be selected and manual fan control ability is provided in great detail. An 8-point curve can be set for all the motherboard's fan headers or, alternatively, an RPM-fixed mode can be applied (which custom liquid cooling enthusiasts may appreciate).
RGB Fusion is Gigabyte's in-depth LED control application. The Basic tab can be used to activate different LED operation modes and tweak the RGB behaviour. I was particularly fond of the Intelligent mode which adjusts the LED colour profile based on statistics such as the CPU temperature or load, the LAN speed, or even a time schedule.
The Advanced section gives more LED control, allowing users to adjust the lighting colour and behaviour for the board's lighting zones (and RGB header). This motherboard differs to higher-end Aorus offerings in its ability to only change the single colour applied to each of the board's lighting zones, not individual colours for individual zones. The RGB strips can, however, be set as a different colour to the motherboard. A calibration tool is available for Gigabyte's unique 5-pin RGB header, allowing greater compatibility on the fragmented RGB LED strip market.
Three individual LED profiles can be saved and they can be exported/imported to share with friends or for backup purposes. We are told that RGB Fusion can control the LED profiles of partnering hardware such as an RGB-enabled Aorus graphics card but we do not have the hardware at hand to test the claim.
USB DAC-UP 2 can change the settings of certain USB ports to suit a user's preference with their audio hardware.
Focussing on some of the more useful tools, 3D OSD is a RivaTuner-like application that can be used to overlay system information on the screen. I don't see the need for this feature when RivaTuner is freely available alongside MSI Afterburner but it may prove useful for some people, nonetheless.
Color Temperature can be used to adjust the blue-light profile of one's monitor. I tested this feature with an AOC 4K monitor using a GTX 1080 Ti and it worked well.
OS Software Summary:
Gigabyte's variety of available software tools is strong and the system for managing them through APP Center is smart and efficient.
EasyTune has good potential for system tuning on the fly. SIV offers superb control of fan speeds through an easy-to-use OS-based interface. This is one of the best fan control interfaces on the market that does a superb job of complementing Gigabyte's excellent UEFI-based Smart Fan 5 control system.
RGB Fusion is excellent and gives users a sizeable amount of flexibility for tuning their system's lighting conditions. The LED-adjusting tool is as good as ASUS' AURA software in some respects and better in many respects (re-programmable RGB header pins and the Intelligent RGB modes). Though ASUS' recent release of the AURA SDK gives that platform more future potential.
Some form of RAM drive software tool would have been a nice addition and we experienced some bugs that are likely tied to the new platform. Overall, though, it is difficult to find criticism for Gigabyte's strong selection of OS-based software.