The Gigabyte AB350-Gaming 3 uses a red and black colour scheme across the motherboard. This may annoy some users who have grown to prefer a subtler physical colour scheme so that RGB lighting can be used to tweak the style to their individual preference. The PCB is not the deepest black that we have seen but it should be adequately dark when mounted inside a case.

Despite providing three physical x16 PCIe slots, a look at the board's rear PCB traces shows that only one runs at sixteen lanes of bandwidth with the others being hard-wired to fewer lanes. Steel-reinforced PCIe slot are a quality touch that add aesthetic appeal. Gigabyte uses the narrow-ATX sizing to reduce manufacturing costs and because additional PCB space is not necessary.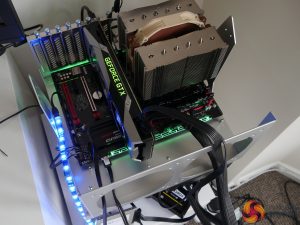 Two primary lighting zones (technically three, but the right-edge zones merge together) are found on the motherboard, with two RGB headers also being made available. As can be seen, a user can control the onboard RGB lighting separately to the external strip lighting.
Gigabyte's edge-mounted transparent plate is a feature that we have become accustomed to for recent models. The section allows light to glow through and illuminate the pattern in a unique fashion. This plastic section can be replaced by a user to feature a design of one's choice. For example, you could produce (perhaps by 3D printing or conventional methods) a plastic cover in the same dimensions that features your gaming rig's name etched into it.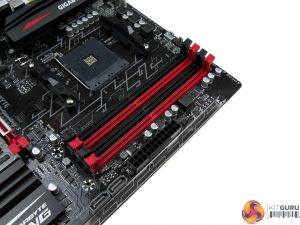 Four DIMM slots support up to 64GB of DDR4 memory. Gigabyte quotes frequency support of up to 3200MHz (provided your memory kit plays nicely with Ryzen). Red and black colouring for the DIMM slots works well as it allows novice users to install two modules in the correct slots for dual-channel operation.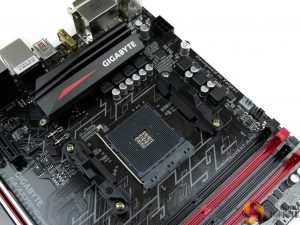 AM4 CPUs installed in the AB350-Gaming 3 are fed by 4+3 phase power delivery solution. An Intersil ISL95712 PWM manages the four CPU phases and three SOC phases. Two of Intersil's ISL6625A (marked '5AZ XNX') MOSFET drivers aid the CPU's four phases while another two aid the SOC's three phases.
Eight ON Semiconductor NTMFS4C06N (six on the front and two un-cooled on the rear) and four NTMFS4C10N MOSFETs manage the four CPU power delivery phases. These MOSFETs are decent for a motherboard at this price point and Gigabyte's choice to double-up on the 4C06N low-side MOSFET count aids load- and thermal-balancing, even if the four control phases are a limiting factor.
The three phase system for SOC voltage uses three 4C06N and three 4C10N MOSFETs but in an un-cooled fashion. While no direct heatsink contact is likely to be fine for these MOSFETs as they aren't driving the CPU, lower temperatures would aid longevity. A small heatsink to cool three phases is easy to squeeze into the budget on a £105 motherboard and linking it to the CPU section via a heatpipe would provide a beneficial increase in cooling capacity.
Compared to MSI's B350 Tomahawk competitor at this price point, Gigabyte's 4+3 power delivery solution is largely comparable, with low-side MOSFET count doubling for both boards on the CPU rail. In some metrics, Gigabyte's solution may slightly weaker than MSI's due to the differing design approaches for the MOSFETs used. Compared to the ASRock Fatal1ty AB350 Gaming K4, Gigabyte's solution features greater control thanks to the use of four PWM channels but more physical phases is an advantage for ASRock.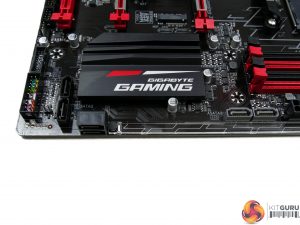 Six SATA 6Gbps ports are provided by the AB350-Gaming 3. The four black ports are operated by the B350 chipset and therefore can be used all the time (except for port 3 which shares its bandwidth with an M.2 SATA device).
The two grey ports are delivered by the two SATA 6Gbps lanes on an AM4 CPU that make way for an M.2 PCIe 3.0 x4 device. As such, the two grey ports labelled 'ASATA' cannot be used if a PCIe 3.0 x4 NVMe M.2 SSD is installed. Page 15 in Gigabyte's manual explains the storage options in detail.
No U.2 is not an issue for a motherboard in this market segment. The board's sole 5Gbps USB 3.0 header rests along the bottom edge.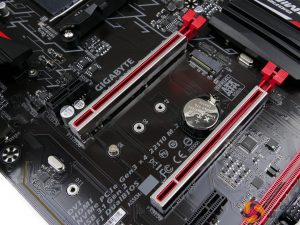 One M.2 slot provides support for 32Gbps PCIe 3.0 x4 NVMe SSDs (when used with Ryzen) thanks to a direct link from an AM4 CPU. M.2 SATA 6Gbps SSDs can also be used by stealing a lane from one of the physical SATA ports.
Drives up to 110mm in length are supported but there is no cooling system for a drive. Slot positioning also means that an SSD will receive warm air from a graphics card sat above it (when used with an open-air cooler card). A positive aspect of that mounting location is the ability to hide an ugly green SSD PCB.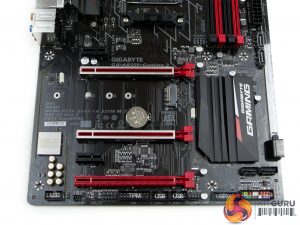 Three full-length PCIe slots are made available but the bandwidth delivered to each varies significantly. All sixteen of a Ryzen CPU's PCIe 3.0 lanes are delivered to the uppermost full-length, steel-plated slot for use with a graphics card. The second steel-plated slot receives up to four PCIe 2.0 lanes from the B350 chipset but shares that bandwidth with the slots directly beneath it. It is suitable for use with an older SATA HBA or high-speed NIC, for example, but not a modern PCIe SSD such as the Intel SSD 750.
The lowest full-length slot is simply a PCIe 2.0 x1 connection to the chipset. Compatibility with full-length expansion cards that do not need more than PCIe 2.0 x1 bandwidth is the only reason for that slot being full length. A dedicated PCIe 2.0 x1 link is sent to the uppermost PCIe x1 slot, making it suitable for a WiFi card, or similar, without stealing lanes from elsewhere.
SLI is not supported and CrossFire would be crippled by the second card using PCIe 2.0 x4 bandwidth through the chipset. For all intents and purposes, this is a single-card motherboard.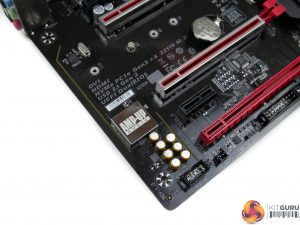 Gigabyte's AMP-UP audio solution is based on the high-end Realtek ALC1220 codec which is clearly a premium addition for this market segment. Many of the competing solutions at this price use Realtek's older ALC892 codec.
Nippon Chemicon capacitors and shielding for the codec are used to boost the system.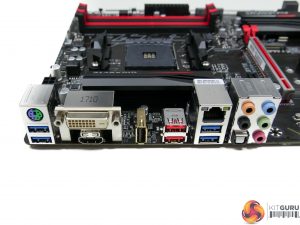 Seven Type-A USB ports are found on the rear IO, which should suffice for most users. Four of those ports operate at 5Gbps USB 3.0 bandwidth, with two of them using B350-based 10Gbps USB 3.1 Gen 2 connections. The remaining right-angled port uses a USB 2.0 connection and Gigabyte's DAC-UP 2 system for adjusting voltage delivery.
The inclusion of 10Gbps USB 3.1 Gen 2 ports is a clear advantage for Gigabyte in this price segment. However, the lack of a USB Type-C connector, even at 5Gbps 3.0 bandwidth, is disappointing.
Realtek's 8111GR Gigabit NIC is used on this board and is also a common choice for competing vendors. DVI-D and HDMI 1.4 ports are usable when an AM4-based APU is installed, though neither can output 4K at 60Hz. I am glad to see Gigabyte including the full cohort of audio jacks as well as optical SPDIF.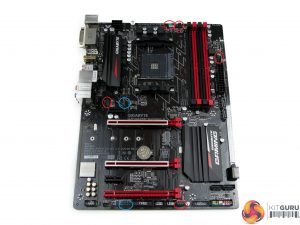 Five 4-pin fan headers are spread around the motherboard, four of which are within reach of the CPU socket. All of these headers, which are marketed as 'Hybrid Fan Header' by Gigabyte, allow for PWM and DC fan control in the UEFI and OS software. Overall fan control and monitoring is handled by the ITE IT8792E chipset.
Gigabyte includes two RGB LED headers. The 4-pin version is mounted close to the CPU socket in anticipation for use with the Wraith Spire RGB cooler. A bottom-edge mounting location is used for the 5-pin RGBW header, which is perfectly fine given Gigabyte's inclusion of an extension cable.
A noteworthy advantage for Gigabyte's motherboard is the dual BIOS solution. Having redundant BIOS chips is especially useful with the AM4 platform still in its infancy and this motherboard receiving regular BIOS updates. That sort of redundancy would have been welcomed on ASUS' AM4 flagship Crosshair VI Hero when a corrupted BIOS resulted in our board being rendered completely dysfunctional.