The Gigabyte AB350-Gaming 3 is a well-designed motherboard that targets B350 buyers with an appetite for features. Gigabyte cuts costs in areas such as the power delivery system in order to maintain 10Gbps USB 3.1 Gen 2 connectivity and Realtek ALC1220 audio that is associated with higher-priced offerings.
Overall performance from the motherboard is where it should be. Overclocking gains were limited by the relatively weak power delivery solution that ran very hot, as well as the slim set of UEFI options that limit a user to offset voltage tuning and no loadline calibration options. With that said, we still took an 8-core Ryzen 7 1800X to 4.00GHz and we would be confident that Ryzen 5 overclocking will be comparable to that of competing motherboards.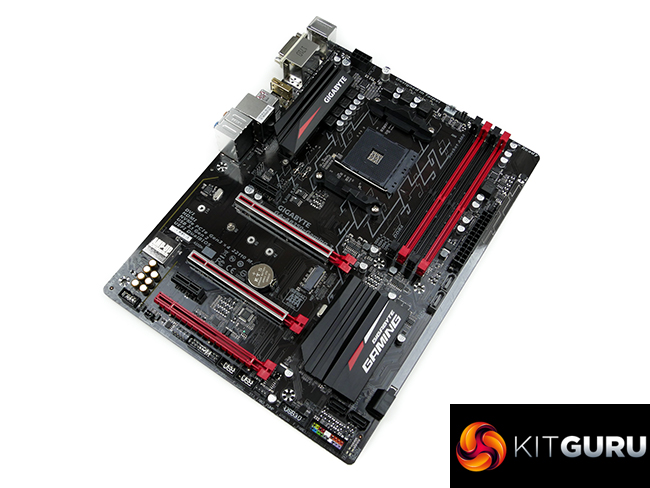 Gigabyte's RGB Fusion and Smart Fan 5 pieces of software are excellent. Superb OS-based control, with intelligent lighting options, is given to the onboard LEDs and multiple strip headers. I also like Gigabyte's continued inclusion of basic RGB LED control inside the UEFI as this is an area that its competitors ignore. A suitable number of headers, all with excellent control and monitoring options, allow a user to effectively tune their system's fans.
Performance from the motherboard features was very good. SATA and M.2 ran as expected while the audio performance generally beat out the solutions on price-comparable competitors. USB 3.1 Gen 2 compatibility is where Gigabyte's AB350-Gaming 3 shines as it allows the board to offer USB transfer rates twice as fast as those on ASRock, MSI, and ASUS alternatives at around £100. However, the lack of Type-C connectivity is disappointing.
Compared to the MSI B350 Tomahawk that won our Must Have award, Gigabyte has the advantage of USB 3.1 Gen 2, better RGB and LED capability, more SATA ports, and a better audio solution. However, MSI delivered better top-end overclocking thanks to a more user-friendly UEFI and marginally better power delivery system, in addition to USB Type-C.
It is rare for us to give a Must Have award to two products in the same market segment but Gigabyte's AB350-Gaming 3 is equally as good as MSI's B350 Tomahawk, albeit in different areas. From a pure performance standpoint, MSI's B350 Tomahawk is a Must Have. From a features and customisation standpoint, Gigabyte's AB350-Gaming 3 is a Must Have.

The Gigabyte AB350-Gaming 3 is available at Overclockers UK for £104.99. A three-year manufacturer warranty is provided. With its 10% price reduction from £116.99 to £104.99, the Gigabyte AB350-Gaming 3 enters a different market segment where it has an overall feature-set advantage over its competitors. This new price point also renders the £5 cheaper AB350-Gaming redundant.
Discuss on our Facebook page, over HERE.
Pros:
Strong stability with 3200MHz RAM using XMP.
10Gbps USB 3.1 Gen 2 is twice as fast as competing vendors' solutions at this price point.
Strong audio solution is better than that of its competitors.
Superb RGB Fusion LED system that is market-leading at this price point.
Excellent fan control system with enough headers.
UEFI control of the RGB LED system and fan speed curves is excellent.
Cons:
Power delivery solution is basic and could use better cooling.
Limited overclocking options as well as offset voltage configurations in the UEFI.
No USB Type-C connector.
KitGuru says: A well-designed motherboard with a feature set that is largely stronger than the competition at this price point.