Gigabyte styles the TRX40 Aorus Master with a primarily black colour scheme that leaves a subtle zone of onboard RGB light to cater for added flair. There are areas of contrast with the silver slot covers and text, but the motherboard is primarily dark black and fairly neutral in its appearance.

The full-cover rear IO shroud is home to the single RGB lighting zone and the Aorus logo. Beneath this shroud lies the rear ports that see an integrated IO shield deployed. This is a premium touch that I am enjoying seeing on more motherboards in today's market.
Evident is the TRX40 Aorus Master's widened Extended-ATX sizing that makes chassis selection more challenging but certainly not as difficult as the longer XL-ATX form factor.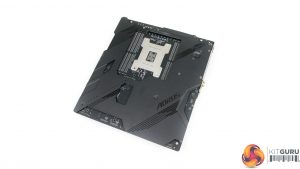 A dark black aluminium backplate encompasses most of the motherboard's rear side. This rear brace certainly adds structural rigidity to the motherboard, and that is useful when installing a heavy CPU cooler and multiple graphics cards.
A 'NanoCarbon Coating' is applied to the rear of the backplate using an electrostatic adhesion technique, which sound fancy but is very common in industry. According to Gigabyte, the coating on the aluminium backplate helps to reduce backside PWM component temperatures by 10%. Realistically, a standard black aluminium backplate would have been adequately efficient in its heat transfer duties but credit to Gigabyte for trying out a relatively new process for enhancing thermal properties.
Worth noting is that users should watch out for interference with certain cases that struggle to deal with the added thickness.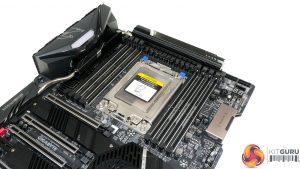 As is the norm for TRX40 motherboards, eight DDR4 DIMM slots are positioned either side of the giant sTRX4 CPU socket. Gigabyte quotes support for non-ECC memory up to 256GB using currently available 32GB DIMMs. ECC memory support is also stated, with Gigabyte's QVL outlining compatibility with some Crucial (Micron) and V-Color (SK Hynix) modules.
While ECC memory support is arguably of little importance to buyers of Threadripper, rather than EPYC, it is good to see that Gigabyte has at least tested some ECC memory and put it on the support list. Users building a FreeNAS monster, for example, may appreciate the peace of mind that their Crucial ECC modules will work in this board.
Vertical positioning of the CPU socket and DIMM slots means that the first PCIe slot location is infringed upon. The benefit of this design decision is that it allows Gigabyte to provision more space above the CPU socket for the VRM components and cooling.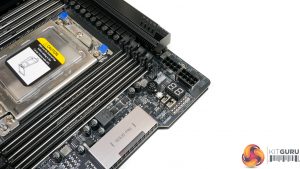 Close to the right-side bank of DIMM slots you will find an array of headers and switches. A two-digit debug LED display is included, which I love to see on a motherboard of this ilk. Onboard power and reset buttons, BIOS switches, and voltage monitoring points are some of the main attractions to enthusiasts and tinkerers.
On the topic of BIOS switches, Gigabyte continues its tradition by equipping this high-end offering with dual BIOS chips, one of which is in a socketed mount. This is ideal for redundancy and resiliency, especially as even a failure on both BIOSes may be rectifiable thanks to the socketed approach.
Given the sizeable VRM heatsink and its proximity to the motherboard's top edge, Gigabyte positions both 8-pin CPU power connectors in the top-right area of the motherboard. This may cause some users a few cable management issues but it also makes them easily accessible even when the motherboard is sat inside a tight chassis.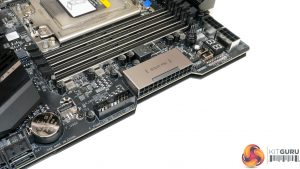 Moving further down the motherboard's right edge, we come across the right-angled 24-pin connector. This 90-degree rotated orientation is undeniably clever when it comes to cable management benefits. But on an already-very-wide E-ATX motherboard, it will certainly increase the odds of installation woes in many mid-tower and even full-tower cases. This issue is somewhat alleviated by Gigabyte's use of a small PCB cut-out to gives users a little extra space.
The vertical facing USB 3.2 Gen 2 internal Type-C header is found in its usual location, though Gigabyte could have made more effort to put this flush with the motherboard's edge.
Interestingly, we also see the bank of front panel headers positioned up near the 24-pin connector rather than in their conventional bottom-right location. I do not see any problem with this installation location as cable management routing options are plentiful in this vicinity.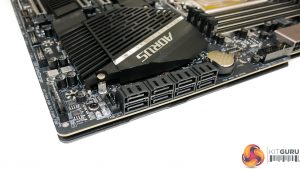 Eight SATA 6Gbps ports are provided, all of which are driven by the TRX40 chipset and do not share bandwidth with other devices. Adjacent to the bank of SATA ports is an internal Thunderbolt Add-in-Card header, though Thunderbolt is not provided on this motherboard out of the box.
You also get a set of four POST LEDs in this region, allowing users to quickly troubleshoot system boot problems tied to the CPU, DRAM, VGA, or BOOT device. A better position for these LEDs would have been in the top-right zone, but they are an undeniably valuable inclusion even in this slightly less visible location.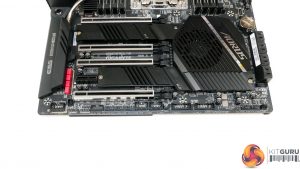 The bottom edge connectors are slightly different on the TRX40 Aorus Master thanks to Gigabyte's adjusted layout decisions already highlighted.
Both internal USB 3.2 Gen 1 5Gbps internal headers are positioned in the bottom edge. If your chassis cable is short enough to not reach one, you can almost guarantee it will not reach both. That's disappointing and would have been easy to avoid. Thankfully, Gigabyte includes a pair of standard USB 2.0 headers which repeatedly prove useful for RGB boxes and AIO controllers.
Gigabyte is clearly under no illusions of the cooling required with Threadripper builds. As such, we find five 4-pin fan headers mounted along the motherboard's bottom edge. This is a superb move by Gigabyte as it gives plenty of connection option in a location that is simple to cable manage and easy to reach for most chassis fans.
Front panel audio, TPM, a couple of RGB headers, and two temperature sensor headers round out the main bottom edge connectors.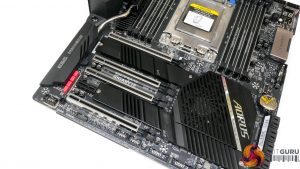 The steel reinforced, full-length PCIe slots can operate at PCIe 4.0 x16/x8/x16/x8 bandwidth directly from the CPU's lanes. That single PCIe 4.0 x1 slot runs from the TRX40 chipset.
Gigabyte's PCIe layout design is clearly targeted towards single- and dual-graphics card users, though there's no reason why you couldn't install three dual-slot cards in an eight-slot chassis. I can confidently say that Gigabyte's slot spacing is ideal, given the constraints imposed by the CPU socket and DIMM slot positioning. It is superior to the layout decisions made by ASUS with the TRX40-E Gaming.
A pair of 2.5- or 3-slot graphics cards will gobble up all available connectors. But two dual-slot graphics cards can be used while maintaining access to a pair of full-length PCIe 4.0 x8 ports.
That last point is absolutely ideal for dual-purpose buyers of this motherboard. If you're a gamer by night whose work commands a pair of dual-slot graphics cards by day, you're likely to be smiling at the ability to install two additional high-bandwidth devices such as RAID controllers, video capture cards, accelerator devices, or fast NICs.
Three M.2 slots are spread across two primary installation zones on the TRX40 Master. Installation is simple and quick – you do not need to remove large motherboard shrouds or heatsinks integrated with the chipset cooler.
The top slot runs from the CPU and can take 60/80/110mm length drives with PCIe 4.0 x4 or SATA 6Gbps connections. The lower-left slot is exactly the same, other than its size limitation of 80mm drives only. The lower-right option can also take 80mm PCIe 4.0 x4 or SATA 6Gbps SSDs but this bandwidth is fed through the TRX40 chipset.
Gigabyte uses a rather chunky metal heatsink and thermal pad to cool the drives. The top M.2 slot gets its own dedicated heatsink while the bottom two slots share a larger block of metal. That latter point has cooling benefits when just one drive is installed in the location, as it is given complete usage of a metal heatsink designed for two toasty SSDs.
As is usually the case, though, an open-venting graphics card sat above the SSDs will raise their temperature considerably. ASUS' vertically-orientated M.2 mount near the 24-pin connector is one of the best methods we have seen for avoiding this potential cooling headache.
Gigabyte's AMP-UP audio system is based around the Realtek ALC1220-VB audio codec and an ESS SABRE 9218 DAC. As the TRX40 platform does not feature onboard audio support, Realtek ALC4050H controllers are used to power the audio chipsets by converting TRX40 USB connections.
WIMA audio capacitors are used for signal smoothing and gold-plated jacks are thrown in for good measure, and EMI reduction.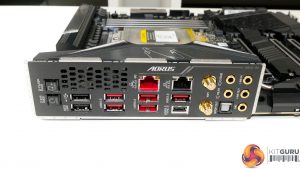 Clear CMOS and Q-Flash Plus buttons are found on the rear IO next to a pair of USB 2.0 ports, one of which is intended for BIOS flashing. You get another five 10Gbps USB 3.2 Gen 2 ports in Type-A form and one as Type-C.
Gigabit networking is handled by an Intel I211AT NIC while an Aquantia adapter is called upon for 5GbE duties. I am glad to see Gigabyte deploying 5 Gigabit Ethernet as I think it is a perfectly reasonable inclusion for mid-range motherboards on the high-end Threadripper platform.
Alongside the standard set of audio connectors are the two antenna ports that provide up to 2.4Gbps 802.11ax WiFi 6 capability. This is deployed by an onboard Intel WiFi 6 AX200 M.2 PCIe adapter.
A small area of perforation is maintained on the integrated rear IO shield to act as an airflow path for the VRM cooling fan.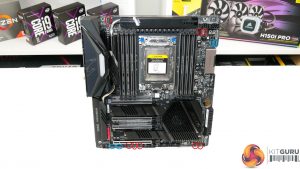 Eight 4-pin fan headers are spread across the Gigabyte TRX40 Aorus Master, which is a superb number to include on this level of motherboard. Three of the headers are within easy reach of the CPU socket, and two of those are geared to CPU fan duties.
Gigabyte's fan header positioning is smart and the abilities of the 'Hybrid' fan headers is excellent. Each 4-pin header supports up to 2A (24W) high current fans, making them also usable with liquid cooling pumps. Users are also given excellent control options within the UEFI Smart Fan 5 utility as to how quickly their fan speed curves will react and which temperature sensor data should be read.
Additionally, Gigabyte also includes two external temperature sensor cables that can be used to drive fan speed curves. And a unique inclusion is the noise detection cable that detects airflow/sound pressure to display an estimated noise output within OS software.
Two pairs of RGB headers are found on the motherboard with each pair featuring an old 12V header and one of the newer Addressable RGB alternatives.
Gigabyte builds the TRX40 Aorus Master around a monster of a power delivery solution. Controlled by the Infineon XDPE132G5C PWM controller, this true sixteen phase VRM delivers power directly to the sTRX4 CPU socket.
Being designed as a true sixteen phase configuration without phase doubling or power stage teaming, Gigabyte's VRM solution enjoys the speed and latency benefits of a non-doubled alternative approach, with the sheer control capability of a heavy multi-phase system.
1120A of theoretical maximum current delivery capability is a gargantuan level that even the 64-core Threadripper 3990X will not saturate.
The sixteen power stages that feed a processor are International Rectifiers TDA21472 units. Rated at 70A each, these are up there with the absolute best co-packaged MOSFET solutions on the market.
For comparison, ASUS' competing ROG STRIX TRX40-E Gaming motherboard uses sixteen of the de-rated TDA21462 60A power stages for its primary power delivery solution.
There are 90A alternative DrMOS or power stage solutions deployed on competing motherboards. But, with sixteen of the 70A International Rectifiers models deployed in a non-doubled control configuration, Gigabyte's TRX40 Aorus Master is offering just about the best power delivery solution at this price point.
Three additional TDA21472 70A power stages are mounted with an International Rectifiers IR35204 PWM controller near to the left-side DIMM bank. These look to be in control of the SoC power delivery and are absolute overkill for such a task.
The primary MOSFET heatsink is mounted on the top side of the configuration and is connected via heatpipe to the secondary heatsink and the thermal block that stretches down to the motherboard's bottom-left region.
Gigabyte deserves credit for making a smart, low-profile heatsink that uses fins well whilst also maintaining a good appearance. This is a well-designed heatsink for a motherboard of this calibre, given that Gigabyte has clearly gone for a short design that minimises clearance issues.
ASUS' competing heatsink design for the TRX40-E Gaming is physically larger and will beat the short-duration performance of Gigabyte's design. That point is thanks in large to the ROG STRIX motherboard's use of a hybrid-type heatsink design that trades some area of the fin array for a sizable slab of metal that offers strong thermal capacitance capabilities in the cooling equation.
With that said, Gigabyte's heavily finned design should be able to shed its heat load effectively at higher temperatures and longer stress durations. There's also the benefit of Gigabyte's design being far smaller in terms of height and physical footprint and therefore presenting fewer interference opportunities.
The 55mm diameter chipset fan sits beneath a metal grille and features vertical blades that aim to force airflow in a specific direction. According to our testing, the maximum speed of this fan is around 4200 RPM, at which point it becomes clearly audible and intrusive.
Out of the box, in Gigabyte's 'Balanced' mode, the fan was audible over a quiet CPU cooler but did a superb job at keeping temperatures low when combined with the well-sized block of metal on top of the chipset. Using the 'silent' mode, or a manually tuned alternative, narrowly permitted zero RPM operation for spells of low system activity.
The 30mm MOSFET fan was not so good, however. This small unit draws fresh air in from a shrouded area in the rear IO shield and forces it over the left-side heatsink fin array. The problem there is that the top-side fin array directly interacts with the bulk of the thermal load but receives active cooling from the fan only via a conduction lag time through the heatpipe. This design approach is not ideal for minimising fan speed under high thermal loads.
Operating at its maximum speed of 10,500 RPM, the 30mm unit sounded like a dentist drill. Thankfully, the more common operating speed of around 5000-5500 RPM was tolerable, but by no means quiet.
We managed to manually tune a zero RPM operating mode using Gigabyte's superb UEFI control abilities. This allowed the fan to remain off until the MOSFET sensor hit 60°C. The fan stayed at around 4200 RPM for the extended test run and this kept MOSFET temperatures below 70°C.
The 'NanoCarbon-coated' aluminium backplate makes clear contact with the underside of the power delivery area via thick thermal pads. This allows for heat soaking through the PCB to be transferred to the sizeable piece of metal and therefore dissipated over a greater surface area than the concentrated PCB hotspot.
It's a smart design move by Gigabyte.