The Gigabyte TRX40 Aorus Master is a rather straightforward motherboard to analyse as obvious weaknesses are so rare yet the unique strengths are consistent. The key focus point, in our opinion, is how the motherboard compares to its similarly-priced competitor in ASUS' TRX40-E Gaming.
Performance of the TRX40 Aorus Master was as good as we would expect from a £500 TRX40 offering and we had no issues with out-of-the-box boost frequencies. Our overclocking efforts could have certainly been made easier by loadline calibration settings that do not force a guessing game for targeting specific voltages. Thankfully, performance when overclocked was fine, aside from the BIOS bug that sometimes hit during system boot.

Gigabyte's layout decisions are generally smart and work well, provided your chassis can take an Extended-ATX motherboard. The right-angled 24-pin connector eases cable management burdens in some cases, and that theme is consistent for fan header positioning. PCIe slot layout is superior to that of ASUS' TRX40-E Gaming, with users able to install triple dual-slot graphics cards on the Gigabyte board, or two graphics cards and two high-bandwidth devices.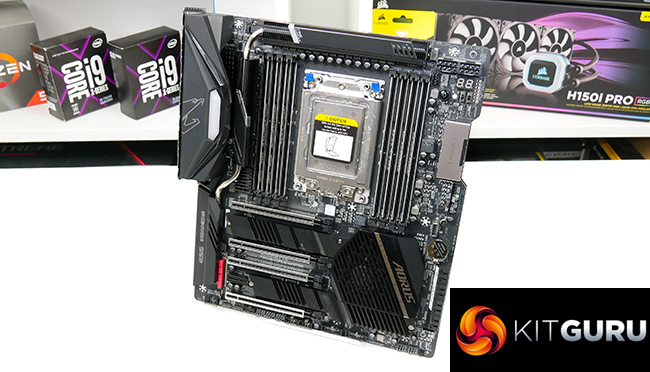 The 16+3-phase power delivery solution is undeniably powerful. I am absolutely confident that this solution will have no problems pushing the upcoming 64-core 3990X Threadripper. And the low-profile VRM cooling solution minimises potential CPU cooler interference better than many competing motherboards.
With that said, Gigabyte's VRM cooling solution is not as efficient as ASUS' alternative on the TRX40-E Gaming. The TRX40 Aorus Master required higher fan speed to maintain similar (or sometimes slightly higher) MOSFET temperatures to that of the ASUS competitor in our extended Cinebench R20 test. This is disappointing, especially as Gigabyte's E-ATX form factor provided more room to fit a beefier heatsink.
Sticking with the topic of cooling, Gigabyte's approach to system fans is superb. The TRX40 Aorus Master is equipped with a total of eight headers, all of which support high current fans. Additionally, the system fan headers can be controlled via temperature data from several onboard reading points and two external sensors. That's in addition to the functional zero RPM mode for the small MOSFET blower.
Excellent fan control is an area of usability that can easily go under the radar but makes a noteworthy difference in day-to-day system usage.
While just under £500 is certainly expensive for a motherboard, the Gigabyte TRX40 Aorus Master does a good job at showing its competitiveness in this tough market segment. Triple M.2 slots, onboard diagnostic features, and 5 Gigabit networking are some of the value-added features that work well alongside the extremely powerful VRM solution and excellent fan operation capabilities.

The Gigabyte TRX40 Aorus Master is available for £489.95(at the time of writing). Buy from OCUK HERE.
Discuss on our Facebook page, over HERE.
Pros:
Smart expansion slot layout.
Low profile VRM heatsink minimises CPU cooler interference.
Onboard voltage read points, power buttons, and debug LED are welcomed.
Dual BIOS chips give peace of mind.
Strong out of the box performance.
Excellent fan operation capabilities.
Premium design – integrated rear IO shield, thermal backplate, right-angled 24-pin.
5GbE networking and triple M.2 slots with cooling.
Cons:
Some BIOS bugs in keeping overclocked settings on POST/Boot.
VRM heatsink cooling performance is not as strong as ASUS' larger design.
E-ATX form factor is more difficult to deal with than ATX, especially with a right-angled 24-pin.
KitGuru says: Plenty of appealing features, class-leading fan control, and a monster of a power delivery solution, Gigabyte's TRX40 Aorus Master has a lot to offer.