The aesthetics of the NZXT N7 B550 are very good thanks to the superb matte white and black theme and the solid cover. If you don't like the white, there is a matte black version instead. Thankfully, the cover feels generally solid and does add rigidity to the motherboard.
I like the clean, consistent white styling. And I am also a fan of the dotted sections, despite the fact that they serve little purpose other than aesthetics.
It is, however, very surprising that there is no onboard RGB at all. This is a disappointment given that many users will want RGB lighting and those who do not can simply turn it off.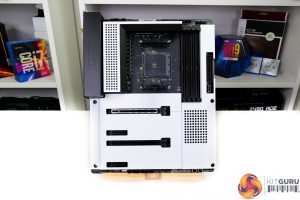 Sticking with NZXT's design logic, there are plenty of connectors all situated near the board edge. This is ideal for cable management ease.
Of course, this is an AM4 CPU socket motherboard, so the usual Ryzen support is present. The same can be said for standard dual-channel DDR4 RAM capabilities.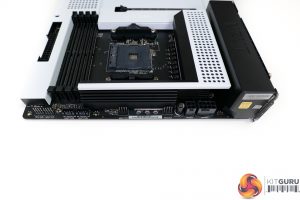 Nestled in the top-left are 8-pin and 4-pin CPU power connectors. I like the inclusion of an added 4-pin for more juice, though it is not likely to be necessary for AM4 usage.
A single CPU fan header and AIO pump header are positioned on the top edge, and you also get two 4-pin SYS Fan headers. While the single CPU fan header is disappointing, the inclusion of AIO and SYS Fan headers are good partners.
Along the top edge is also where you will find two proprietary NZXT RGB headers instead of the usual 3-pin and 4-pin RGB found on competing vendors' motherboards. These are ideal for users already in the NZXT ecosystem.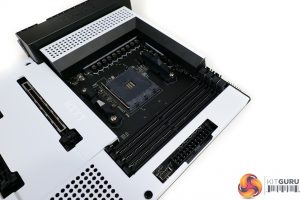 Cut-out from the motherboard cover is access to the outwards-facing 24-pin. Alongside this, NZXT deploys a single USB 3.2 Gen 2 10Gbps Type-C header. This is excellent to see and is better than 5Gbps alternatives.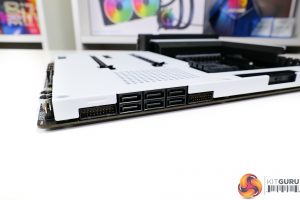 Six right-angled SATA ports are delivered from the B550 chipset. You also get dual right-angled USB 3.0 5Gbps headers.
While dual right-angled connectors is great for cable management, it is not ideal for compatibility. If one does not work because of your case design, it is highly likely that neither will work. I would have preferred one right-angled and one outwards-facing for better redundancy.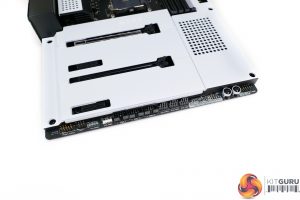 Triple USB 2.0 headers on the bottom edge is excellent. This is very good for use with AIO controllers and RGB lighting whereby two headers is barely adequate in today's market. Big kudos to NZXT there.
A combination of 5V and 12V RGB headers are found in the bottom-left. These are of the standard format not NZXT's proprietary connectors.
Furthermore, three more 4-pin fan headers are situated in a good location for cable management. The board supplies seven total 4-pin fan headers which is a superb number, especially with the good spread of positioning. All headers are 2 Amp current rated so are ideal for use with pumps or splitters.
Onboard power and reset buttons are good to see for troubleshooting purposes. As are four debug LEDs in a reasonably easy to see location.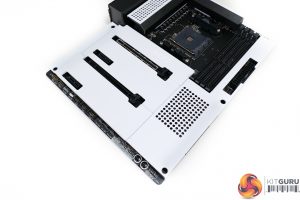 The top – reinforced – full-length slot is PCIe Gen 4 x16 from the Ryzen CPU, the secondary full-length is PCIe Gen 3 x4 from the B550 chipset, and the two PCIe Gen 3 x1 slots are also driven by the B550 chipset.
Good spacing and positioning is a positive for the expansion slots. This selection and layout will suit most users – especially as triple-width graphics cards can fit alongside an added high-bandwidth device.
NZXT uses magnetic covers to hide the M.2 slots. Initially I thought these were a gimmick, but the connection method works well and is secure.
Unfortunately, you get no heatsink with the metal covers. This means that you will either have to roast your SSD with no heatsink, use the SSD's own heatsink and likely ditch the covers due to space constraints, or mod your own solution. Even the WD_Black SN750 SSD and its modestly sized heatsink did not fit under the covers properly.
This is a typical case of form over function which, unfortunately, seems to be a trend for this motherboard.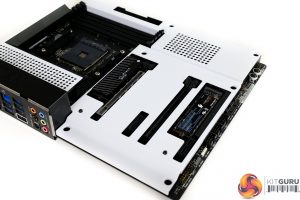 But the M.2 situation gets worse than just the non-heatsink metal covers.
The top slot runs at PCIe Gen 4×4 using lanes directly from the CPU. That is fine. The bottom slot, however, runs with lanes from the B550 chipset but is limited to SATA or a PCIe Gen 3 x2 connection.
PCIe Gen 3 x2 is a ridiculous decision when there is ample bandwidth available on the B550 platform to run at proper x4 link speed. The majority of modern NVMe SSDs will be slowed to sub-2GBps transfer rates, cutting a significant percentage off their performance levels.
Put simply, if you want a second high-speed SSD, buy an adapter card and use the bottom PCIe slot. This is a far less elegant solution but at least you will get proper speeds. Worse still, the bottom M.2 slot shares lanes with two of the SATA ports and potentially drops you down to four right-angled SATA connections when in use.
This questionable design decision is a hangover from the underlying ASRock motherboard, so we know where to point the finger here – at ASRock. Nevertheless, NZXT should have spotted this and insisted that the design is changed so that they are not left with ASRock's illogical baggage. Bad move NZXT/ASRock, very bad move.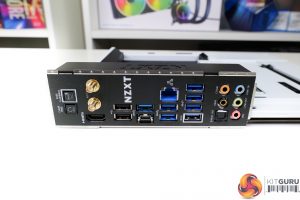 Wired Ethernet is fed by a Realtek RTL8125BG 2.5GbE controller, while wireless comes from the new Intel AX210NGW WiFi 6E and BT5.2 adapter. In terms of networking connectivity, the NZXT N7 B550 is superb, especially if you have a fancy new WiFi 6E router.
Learning from feedback on previous motherboard, NZXT has clearly gone big on USB connectivity. You get nine USB Type-A ports on the rear IO – two USB 2.0 for peripherals, four USB 3.0 5Gbps, and three USB 3.2 Gen 2 10Gbps for high-speed transfers. Also 10Gbps is the single USB Type-C port.
There is the use of dual ASM1074 hub controllers for the 5Gbps rear and internal connections, but that should be fine for most people's bandwidth needs. BIOS Flashback is supported which is great to see. I also like the rear clear CMOS button as a quality touch for ease of use and troubleshooting.
HDMI 2.1 represents the only display output. This is disappointing for potential multi-screen APU buyers, but nobody else will care. The audio solution is based around the Realtek ALC1220 audio codec, dedicated capacitors, and a TI NE5532 op-amp.
NZXT's board is built on a 6-layer PCB. The VRM is a 12+2 stage design managed by the Renesas RAA229004 PWM controller in 6+2 mode with the 6 VCore phases doubled.
Twelve Vishay SiC654 50A-rated power stages handle the CPU VCore. These are split as ten to the left and two in the top-left, and are driven by six rear-mounted ISL6617A (marked '17AF') phase doublers/drivers.
The SoC is a two-stage design and is handled by two Vishay SiC632A 50A power stages. NZXT also deploys 12K-rated Nichicon Black capacitors and gives the memory a two-phase design.
Overall, the NZXT N7 B550 sports a good VRM solution with a solid count of physical phases, high-quality caps, and a strong PWM controller albeit with doublers.
NZXT's VRM heatsink is little more than a solid lump of metal with minimal effort to design an efficient heatsink. It is clearly designed for styling first and it does indeed look good.
But it is big, long, and has both blocks connected solidly so cooling should do a good job on the decent quality underlying MOSFETs.
Importantly, the heatsink is not too tall as to cause CPU cooler interference in general.
For a look at the NZXT N7 B550 motherboard's UEFI and CAM software support, check out the video review on YouTube or Vimeo.