Manual CPU Overclocking:
To test the NZXT N7 B550 motherboard's CPU overclocking potential, we set the CPU Core Voltage to 1.35V and applied the Level 1 LLC setting.
NZXT's ASRock-built UEFI is easy to navigate for overclocking and LLC and voltage accuracy are strengths.
Our first step was to knock the Fabric Clock up to its intended 1800MHz and this was straightforward.
We could not maintain stability at our usual 4.7GHz 5950X frequency with 1.35V and Level 1 LLC, so we had to settle for 4.65GHz. This was not a temperature or VRM cooling problem, so it looks to be that the board would not do our 4.7GHz presumably due to BIOS stability as the VRM hardware is good quality.
Motherboard Sensors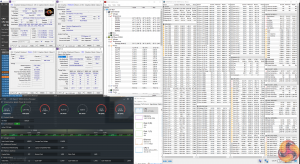 This is usually the point where I would complain about the lack of VRM temperature sensor data entry in monitoring software. However, NZXT does not disappoint here.
At first glance, it appears that there is no VRM sensor. But further investigation, including manual PCB and VRM area temperature checks that we conducted, indicate that the sensor labelled 'CPU' underneath 'motherboard' in HWiNFO corresponds to the VRM temperature sensor. This is labelled 'CPUTIN' in HWMonitor.
Overclocked Performance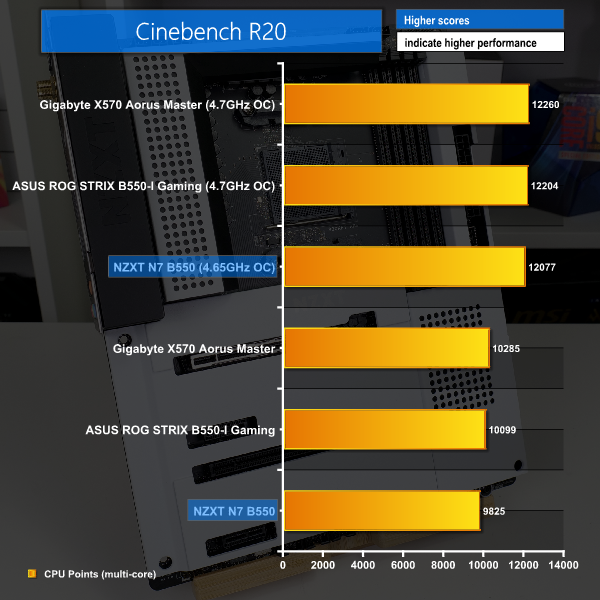 Overclocking performance is – understandably – lacking on the N7 B550 due to the competitors' abilities to run the 5950X 50MHz higher. The margin is relatively small, though.
System Power Consumption
We leave the system to idle on the Windows 10 desktop for 10 minutes before taking a reading. For CPU load results we run Cinebench R20 on loop and take readings. The power consumption of our entire test system (at the wall) is shown in the chart.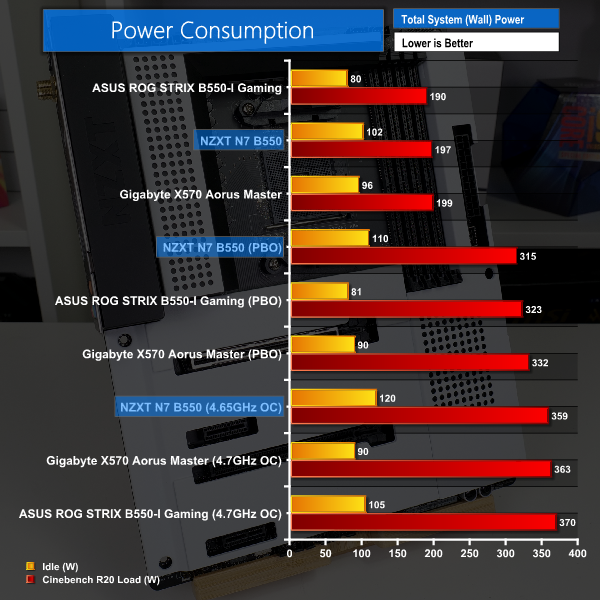 Idle wall power draws are a little high on NZXT's motherboard. But the load numbers fall in line with the competition and are actually a little better under PBO and manual overclocked loads due to slightly reduced frequencies for the N7 B550 by comparison.
The fact that this board is handling almost 360W of wall power – much of which heads to the CPU – is a positive outcome.
System Temperatures
We run a Cinebench nT loop stress test while recording the system data using HWInfo. This data is then analysed to show the CPU temperatures and also the VRM temperatures.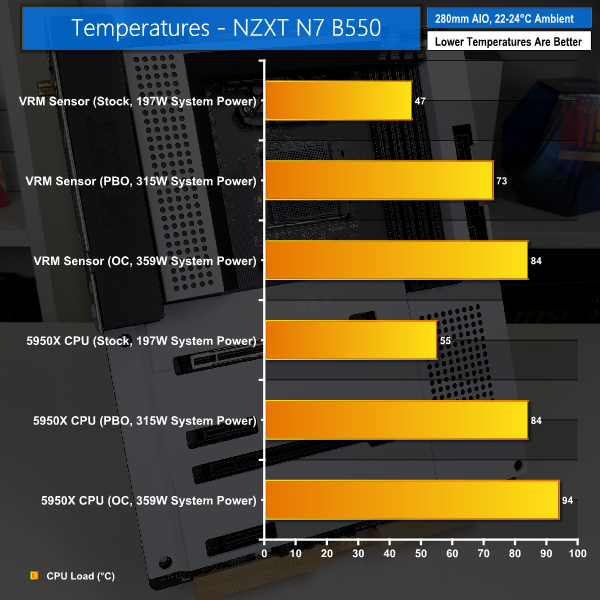 Temperatures are all round very good on the NZXT N7 B550. Sensible stock settings and good overclocked voltage accuracy mean that the CPU stays in check under a variety of operating frequencies and a 280mm Asetek AIO.
And the big block of metal cooling NZXT's solid quality Vishay VRM components does a good job to maintain below 90C operating temperature even when pushing 359W wall power in a high ambient test environment.
We did not notice any detrimental cooling performance due to NZXT's use of an aesthetic cover. Solid job, NZXT. Solid job, indeed!
Be sure to check out our sponsors store EKWB here: https://ek.tech/kit-guru