The NZXT N7 B550 is clearly a motherboard that has focussed on styling first and raw functionality second – we see many examples of form over function. That may appeal to many users, especially those who are already within the NZXT ecosystem. But we still feel that the fundamentals of good performance and sensible connectivity choices are important.
Strengths include the board's styling, as the metal covers and matte white aesthetic look superb and unique. And we like the NZXT RGB headers for those already in the ecosystem. You also get an excellent number of fan headers with good distribution and solid control through CAM.
It is positive to see NZXT learning from previous feedback and putting a strong focus on ample USB connectivity as this will be of utmost importance to some buyers. The same can be said for 2.5GbE and WiFi 6E networking – the latter of which is particularly important for those with a brand new WiFi 6E router.

Excellent build quality, smart general layout especially for cable management ease, and a strong and well-cooled power delivery solution are further key positives for the N7 B550.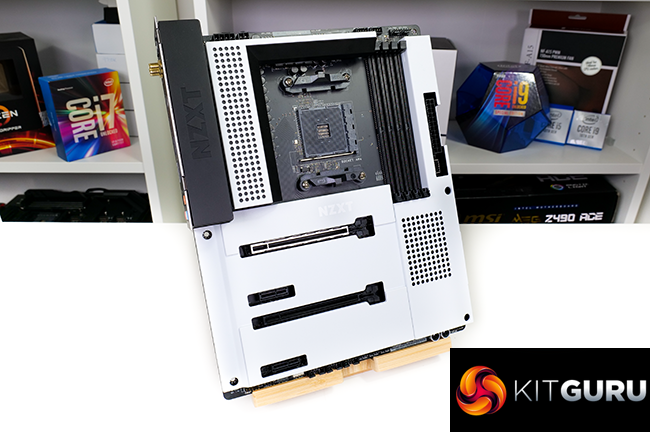 But there are several weaknesses, some of which we deem quite significant. Firstly, not running the correct Fabric Clock when a simple XMP setting is supplied is highly disappointing. This resulted in lost performance and is not the quality level we expect from a competent motherboard.
The M.2 system is just bad. Un-cooled slots with limited heatsink space while using the budgeted magnetic covers is unacceptable. And the decision to limit the secondary slot to slow Gen 3 x2 speeds and shared SATA bandwidth is just odd. NZXT has ASRock to thank for that latter criticism.
The lack of onboard RGB lighting is also a strange one, especially given the push for aesthetics. Also very notable is the NZXT N7 B550's intended price point. At £209.99 MSRP in the UK, this is a very expensive B550 motherboard that straddles the X570 line. Yes, NZXT has a unique aesthetic and some custom features that will appeal to users in the ecosystem. If that is you, £210 may be deemed a reasonable price to pay.
However, users not in the NZXT ecosystem are likely to be better served by Gigabyte's comparably priced B550 Vision D-P motherboard which features a similar aesthetic and overall superior onboard hardware such as Thunderbolt 3 and M.2 heatsinks.
With all of that said, it is hard to argue against NZXT's design intentions of creating a solid motherboard with superb aesthetics and unique NZXT brand features. The N7 B550 delivers that – at a price – so if it appeals to you and you are happy with the sometimes minor shortcomings, it is worth considering.
The NZXT N7 B550 is being sold exclusively through Scan in the UK. It is currently up for pre-order at £209.99 HERE.
Discuss on our Facebook page HERE.
Pros:
Gorgeous aesthetic design with superb build quality.
Excellent USB connectivity options, including internal headers.
Solid VRM components and an effective VRM heatsink implementation.
Smart cable management design focus.
NZXT RGB links will appeal to those in the NZXT ecosystem.
CAM support works well.
WiFi 6E is a fantastic addition for future-proofing or those with high-speed WiFi needs as of now.
Cons:
Dreadful M.2 system – both in terms of bandwidth allocation and cooling.
No onboard RGB lighting.
Negative performance quirks from the latest BIOS update.
Expensive given the feature package.
KitGuru says: NZXT certainly delivers on its aim of creating a stylish motherboard with excellent cable management options and plenty of connectivity. There are undeniable shortcomings – largely thanks to ASRock's poor design efforts – but if you want a motherboard for its looks, you will be hard pushed to find a more alluring option than NZXT's N7 B550.