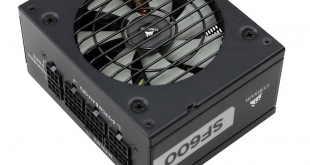 The SF600 Platinum is currently Corsair's flagship SFX model offering a notable efficiency increase compared against the plain SF600. The question is whether it is worth paying a premium price tag to get it or if it would make more sense to opt for the more affordable Gold rated SF600.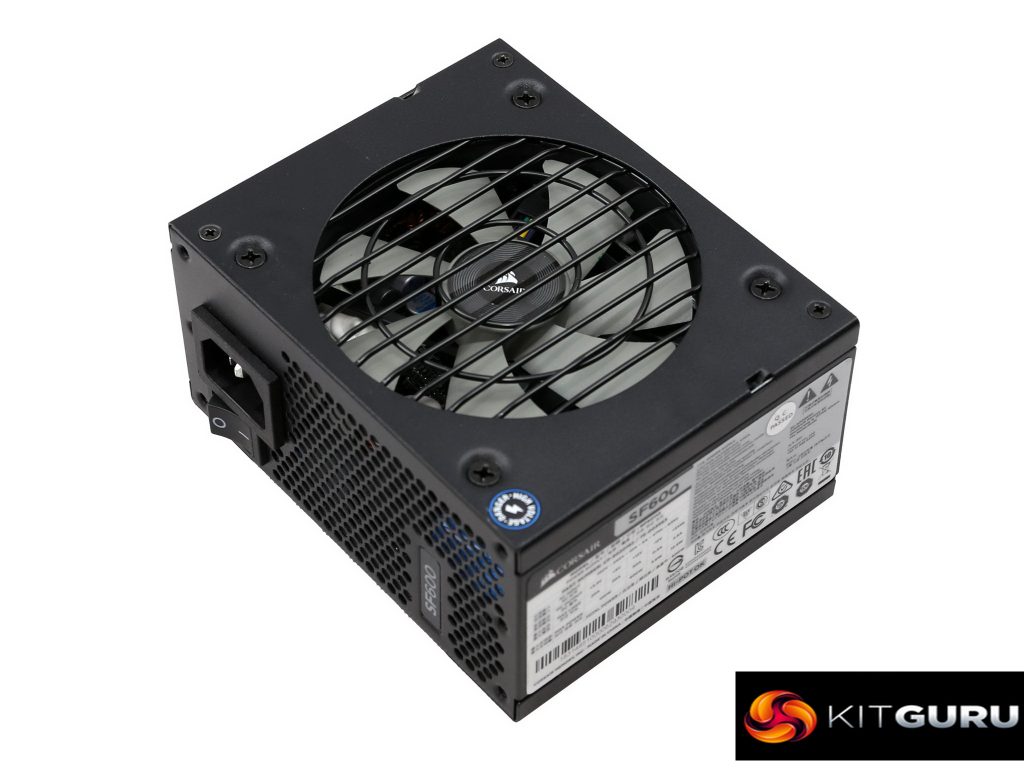 SF Platinum models are manufacturer by Great Wall, the same OEM who helped create the SF Gold units. The latter offer top performance, the best in the respective SFX wattage categories – so improving this platform surely was a difficult task.
The SF600 Platinum will be our main subject today, and in an upcoming next review we will take a look at its smaller 450W brother. Thanks to the 600W capacity this power supply can meet the requirements of a mid-level gaming system, equipped with a single high-end GPU or two mid-level ones along with a capable processor.
Some of the audience reading this might feel that 600W is not a lot of available power for a modern system, however you should take into account that we are talking about an SFX unit, which has much smaller dimensions compared to an ATX power supply.
What matters the most here is the power density score which for the SF600 Platinum is 742W per litre (or 1000 cubic centimeter). In comparison a 1000W PSU with 180mm depth has 431W per litre power density, so as you can see the difference is huge.
Read our How We Test Power Supplies HERE
Specifications
Manufacturer (OEM)
Great Wall
Max. DC Output

600W

Efficiency
80 PLUS Platinum, ETA-A (88-91%)
Noise
LAMBDA-A (20-25 dB[A])
Modular

✓

(Fully)
Intel C6/C7 Power State Support

✓

Operating Temperature (Continuous Full Load)
0 – 50°C
Over Voltage Protection

✓

Under Voltage Protection

✓

Over Power Protection

✓

Over Current (+12V) Protection

✓

Over Temperature Protection

✓

Short Circuit Protection

✓

Surge Protection

✓

Inrush Current Protection

✓

Fan Failure Protection

✗

No Load Operation

✓

Cooling
92mm Rifle Bearing Fan (NR092L)
Semi-Passive Operation

✓

Dimensions (

W x H x D

)
122 x 65 x 102mm
Weight
0.874 kg (1.93

lb

)
Form Factor
SFX, EPS 2.92
Warranty
7 Years
The efficiency has been upgraded to 80 PLUS Platinum and in the Cybenetics scale it is ETA-A. When it comes to noise output the unit achieves a LAMBDA-A rating which is fully satisfactory, given the SFX form factor and the 600W capacity.
The continuous output rated temperature is pretty high at 50°C and all necessary protection features are present. The cooling duties are handled by a 92mm rifle bearing fan which is driven by a relaxed speed profile. There is also a semi-passive mode which cannot be deselected though. Finally, the provided warranty is long at seven years. To the best of our knowledge there is no other SFX unit featuring a longer warranty.
Power Specifications
Rail
3.3V
5V
12V
5VSB
-12V
Max. Power
Amps
20
20
50
2.5
0.3
Watts
120
600
12.5
3.6
Total Max. Power (W)
600
The minor rails could be at 100W max combined power, since they are not heavily used any more. The main rail is the +12V which in this power supply can deliver up to 600W of power, or 50 Amps. Lastly, the 5VSB rail has the typical amperage which we meet in the majority of PSU's nowadays.
Cables & Connectors
Modular Cables

Description

Cable Count

Connector Count (Total)

Gauge

In Cable Capacitors

ATX connector 20+4 pin (300mm)

1

1

16-18AWG

No

4+4 pin EPS12V (400mm)

1

1

16AWG

No

6+2 pin PCIe (700mm)

2

2

16AWG

No

SATA (100mm+105mm+105mm105mm)

1

4

18AWG

No

4 pin Molex (100mm+105mm+105mm)

1

3

18AWG

No

AC Power Cord (1400mm)

1

1

18AWG

–
All cables are short, since this PSU is meant for small chassis. Nonetheless, from the moment an SFX-to-ATX bracket is provided, we believe that Corsair should also provide another version of this model featuring longer ATX and EPS cables (the PCIe cables are long enough even for a full tower case), to make it compatible with larger chassis as well. Else the aforementioned bracket has no meaning.
It is nice to see 16AWG gauge cables that do have to handle high loads, however it is a shame to find only a single EPS and two PCIe connectors. This is exactly the same amount with the SF450 Platinum! Actually the SF600 and SF450 Platinum share the same cable configuration and this is odd, given that the latter has 150W less. In our opinion Corsair should equip the SF600 with either two EPS and two PCIe connectors, or one EPS and four PCIe.
The distance between the peripheral connectors is small, but we won't complain since this power supply is for small chassis. It would be nice though to provide at least 120mm clearance between the 4-pin Molex connectors.
All cables are individually sleeved and they don't feature any extra filtering capacitors, which might improve ripple suppression – however most users hate them so we understand Corsair's reasoning.