The Corsair SF600 Platinum retails for $149.99 in the US while in the UK market it is sold for £124.99 at Overclockers UK.
Corsair took the already very good SF600 Gold model and delivered markedly superior performance with this new Platinum design. The overall performance of the Platinum model is around 4% higher. Additionally in regards to noise output, the Corsair SF600 Platinum is very much improved over the older model.
This is because Great Wall fixed the fan profile and made it less susceptible to the load of the minor rails. The SF600 Gold is very silent but only when the load at 5V and 3.3V stays at low to mid levels. If for some reason you push those rails hard, the fan profile gets very aggressive and can easily force the fan to spin at full speeds. Definitely not many of you will apply enough load to make those two insignificant rails deliver so much load, however still I have to take this extreme case scenario under consideration.
Currently the SF600 Platinum is the best SFX unit that money can buy today. It sports super tight load regulation, high efficiency, good transient response, clean voltage rails and the cherry on top is the quiet operation even under extremely tough conditions. Moreover, its build quality is top-notch and it is covered by a seven year warranty.
So what not to like in a great PSU like this one? Well, since I am extra picky and highly experienced in spotting shortcomings (thanks to more than a thousand PSU evaluations that I have conducted so far), I do have some observations to make.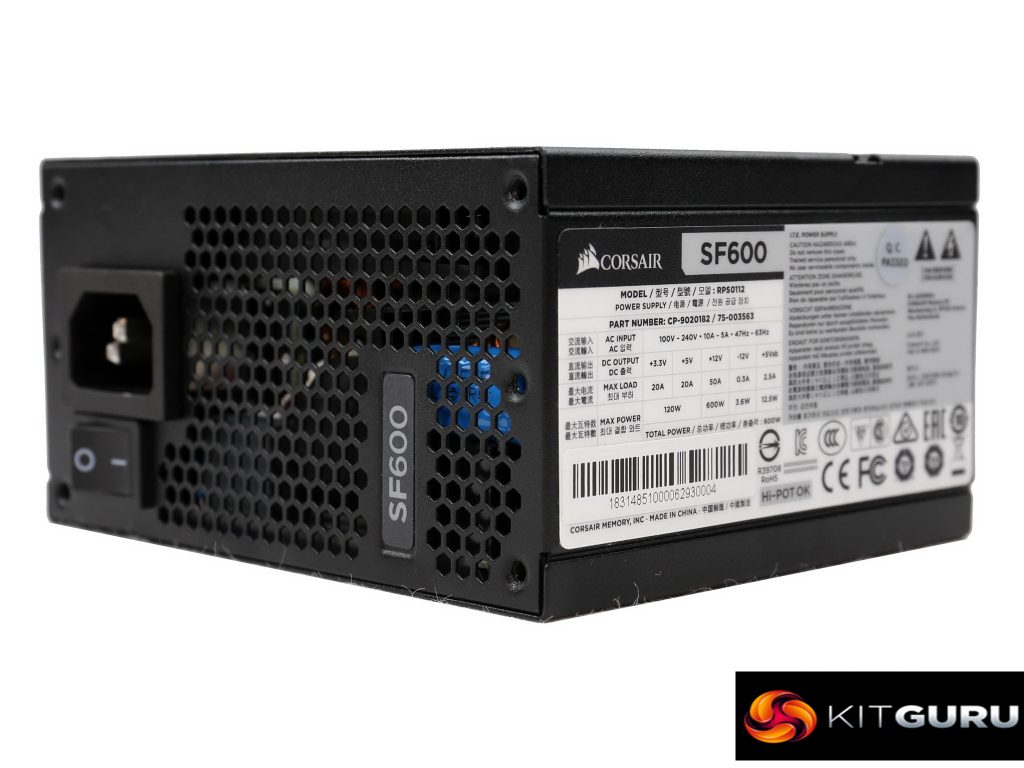 In my opinion Corsair need to change the cable configuration with this 600W model, instead of sharing exactly the same with the 450W unit. This was the case with the older SF models and I complained about that, too. In my opinion a high-end mid capacity PSU like the SF600 Platinum should be equipped with a couple of EPS connectors and four PCIe ones, giving the option for two cable configurations: either two EPS and two PCIe or a single EPS along with four PCIe. Such a cable configuration would allow the PSU to power a strong gaming system or a video/graphics editing PC, equipped with a multi-core CPU that needs lots of power.
Another fact that could damage sales of this product is the leaked information on the upcoming SF750. As I see it many users wanting a high capacity SFX PSU will probably prefer to wait a bit longer for the SF750 model, which will be the strongest in the SFX category. You tend to pay more for SFX anyway, so the predicted small increase in price from 600W to 750W would likely be accepted by the discerning audience.
Corsair clearly has the performance lead in the SFX category, right now. Both SF Gold and SF Platinum lines offer stellar performance and once the SF750 is out, it will surely rock the boat and solidify Corsair's domination in the PSU market.
You can get the of the Corsair SF600 Platinum from Overclockers UK for £124.99 inc VAT HERE.
Pros:
Delivered full power at 47°C.
High power density.
Efficient.
Highly efficient 5VSB rail.
Top performance in all sections.
Silent.
Excellent build quality.
Fully modular.
Individually sleeved cables.
SFX-to-ATX bracket provided.
7-year warranty.
Cons:
I would like to see two EPS connectors (and ideally four PCIe).
The semi-passive operation cannot be deactivated.
Turn-off overshoot at +12V should be lower.
High inrush current with 230V input.
KitGuru says: If you can afford the price and don't have a problem with the single EPS and the two PCIe connectors, the SF600 Platinum is the best SFX unit that money can buy today. Its lead in our performance charts won't last for long though, since Corsair will soon release the SF750, which will definitely change the status quo in the small form factor power supply category.