General Data
Manufacturer (OEM)
CWT
Platform Model
GPU850V-G
PCB
Double Layer
Primary Side
Transient Filter
4x Y caps, 2x X caps, 2x CM chokes, 1x MOV, 1x CAP004DG
Inrush Protection
NTC Thermistor & Relay
Bridge Rectifier(s)

1x GBU15L06 (600V, 15A @ 115°C)

APFC MOSFETS

2x Champion

GP28S50G

(500 V, 28A @ 150°C, 0.125 Ohm)

APFC Boost Diode
Hold-up Cap(s)

1x Nichicon (400V, 680uF, 2000h @ 105°C,

GG

)

Main Switchers

2x On Semiconductor

FCPF125N65S3

(650V, 15A @ 100°C, 0.125Ohm)

APFC
Champion CM6502S & CM03X Green PFC controller
Switching Controller
Champion CM6901
Topology

Primary side: Half-Bridge & LLC Resonant Controller
Secondary side: Synchronous Rectification & DC-DC converters

Secondary Side
+12V MOSFETS
6x International Rectifier IRFH7004TR2PBF (40V, 164A @ 100°C, 1.4mOhm)
5V & 3.3V
DC-DC Converters: 2x UBIQ QM3006D FETs (30V, 57A @ 100°C, 5.5mΩ)
2x UBIQ QM3016D FETs (30V, 68A @ 100°C, 4mΩ)
PWM Controller: ANPEC APW7159C
Filtering Capacitors
Electrolytics: Chemi-Con (4-10,000 @ 105°C, KY), Chemi-Con (1-5,000 @ 105°C, KZE), 2x Rubycon (6-10,000 @ 105°C, ZLH)
Polymers: FPCAP
Supervisor IC
Sytronix ST9S429-PG14 (OCP [2x 12V channels, OVP, UVP, PG) & Weltrend WD7518D (OCP [2x 12V channels], SCP) & LM393G
Fan Model
Deepcool DF1202512CH-003 (120mm, 12V, 0.15A, Fluid Dynamic Bearing)
5VSB Circuit
Standby PWM Controller
TinySwitch-LT TNY177PN (18W Peak)
The platform is provided by CWT and it is actually based on the GPU850V-G, with several modifications in order to make it more reliable and slightly improve the performance. For example all capacitors are of higher quality since they are sourced by Japanese manufacturers, both the electrolytic and polymer ones.
In the primary side a half-bridge topology is used along with a LLC resonant converter for higher efficiency. In the secondary side six FETs regulate the +12V rail and a pair of DC-DC converters handle the generation of the minor rails.

The build quality is good, something expected since this is a high-end CWT platform. It is also expected from a high efficiency CWT platform to barely use any heatsinks and indeed this is the case here.
In the secondary side we only find two small heatsinks with no components attached on them, while in the primary side the APFC converter's heatsink is small.
The first part of the EMI filter consists of two Y and one X caps. The second part includes more parts: two Y caps installed after the bridge rectifier, a single X cap, an MOV and a CAP004DG discharge IC. All in all the EMI filter is complete and does a splendid job.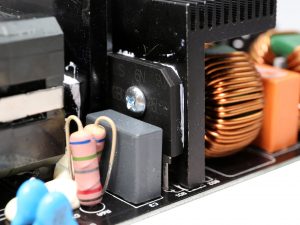 The single bridge rectifier, a GBU15L06, is installed onto a dedicated heatsink.
The NTC thermistor, responsible for protection against large inrush currents, is supported by a bypass relay.
The APFC converter uses two Champion GP28S50G FETs and a single Infineon IDH08G65C5 boost diode. The bulk cap is provided by Nichicon and its capacity, 680uF, is low for a 850W unit. This means that the hold-up time is lower than 17ms. The APFC controller is a Champion CM6502S which is also supported by a CM03X Green PFC controller.
The primary switching FETS, two On Semiconductor FCPF125N65S3, are installed into a half-bridge topology. An LLC resonant is also utilized to offer lossless switching.
The IC responsible for controlling all above, along with the switching of the +12V FETs, is a Champion CM6901. The latter is installed on the solder side of the main PCB.
The unit's main transformer.
There are two small heatsinks in the secondary side, which don't host any parts. Their main job is to cool down the FETs located at the solder side of the PCB, six International Rectifier IRFH7004TR2PBF which handle the +12V rail.
All filtering caps, both electrolytic and polymer ones, are provided by Japanese manufacturers (Chemi-Con KZE and KY, Rubycon ZLH and FPCAP).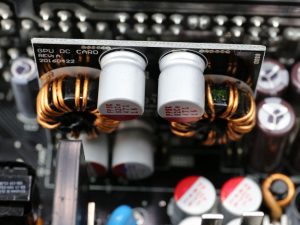 A couple of VRMs generate the minor rails. They use two UBIQ QM3006D and two QM3016D FETs, while the common PWM controller is a ANPEC APW7159C.
At the front side of the modular PCB lots of polymer caps further suppress ripple. The modular panel is connected to the main board through several bus bars, in order to restrict energy losses.
A coupe of protection ICs are used, to offer OCP for up to four +12V rails: a Sytronix ST9S429-PG14 and a Weltrend WD7518D. An LM393G, dual differential comparator is used, to support the protection ICs.
The standby PWM controller, responsible for the 5VSB rail, is a TinySwitch-LT TNY177PN.
The soldering quality is good. CWT usually doesn't let us down when it comes to this and this unit is no exception.
The cooling fan's model number is DF1202512CH-003. It measures 120mm across and it uses a single fluid dynamic bearing, so it will last for quite long.