The Deepcool DQ850-M retails for $129.99 (without VAT) in the US while in the UK market it is sold for £119.99 (including VAT).
Deepcool's new PSUs look promising, since they are based on a capable platform provided by Channel Well Technology (CWT). The build quality is very good and they are using high grade parts including Japanese capacitors, Infineon, Champion and On Semiconductor FETs along with a fluid dynamic bearing fan which according to Deepcool will have an extended lifetime.

It is nice to see something different in this popular capacity range. With the end of the mining era (for GPUs) mid capacity PSUs (650W to 850W) are very popular since they can support a wide range of capable gaming systems.
The DQ850-M features an attractive external design and offers high enough overall performance, which could be even better if the hold-up time was longer and the transient response at +12V and 3.3V was tighter. For a longer hold-up time apparently a larger bulk cap is needed and these are expensive. Be as it may, the ATX spec asks for more than 17ms hold-up time so every PSU claiming that it meets this spec should comply.
As for the transient response performance, the heavy use of polymer caps doesn't help since these type of caps don't offer the required capacity. For lower voltage drops under sudden loads more electrolytic caps are required – to raise the overall capacity in the secondary side (or a smart design).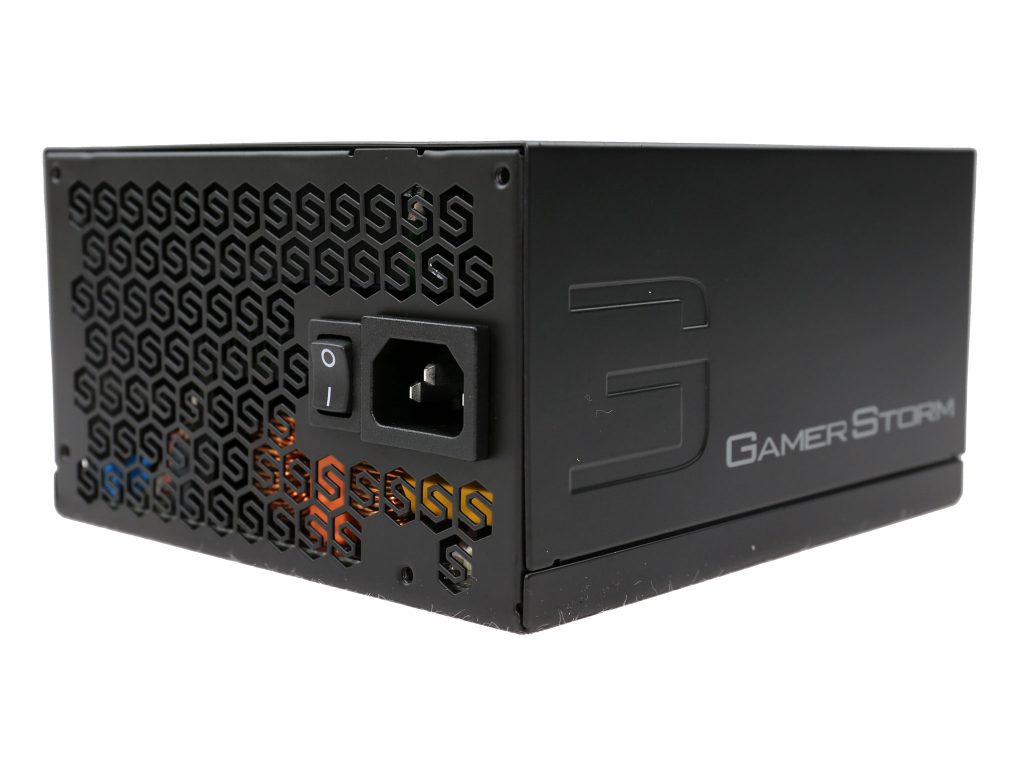 Deepcool's new 850W Game Storm unit is good, however given the overall performance score that it achieves it should be offered at a lower price, in order to be more competitive. It faces strong competition from Corsair's RM850x and Seasonic's SSR-850FX models, both of which cost around 110 bucks while achieving higher than the DQ850-M overall performance scores.
The only section where the DQ850-M has an advantage over the SSR-850FX is the noise output since it is notably quieter, however it is still behind the RM850x which is among one of the quietest 850W power supplies that money can buy today.
You can buy this unit from Amazon for £109.99 HERE
Pros:
Delivered full power at 47°C.
Efficient.
Tight enough load regulation.
Good ripple suppression.
Quiet (LAMBDA-A- in the Cybenetics scale).
High build quality.
Low conducted EMI.
Accurate power ok signal (but notably lower than 16ms).
FDB fan (which should be larger than 120mm though).
Fully modular.
5-year warranty. [25/9/18 Update: Deepcool informed us that the provided warranty has been extended to ten-years]
Cons:
More expensive than the competition.
Low hold-up time.
The transient response at +12V and 3.3V needs improvement.
Should have more than 4x PCIe connectors.
20AWG gauges for the peripheral cables.
One of the EPS cables shares the same +12V rail with a PCIe cable.
KitGuru says: The Deepcool DQ850-M is a good PSU which faces stiff competition. Its major assets are the quiet operation, distinctive looks and high build quality, while the notable cons include the low hold-up time and the slightly high retail price. We would like to see a slight price drop to make it more competitive – we reckon a price around £100 inc vat in the UK would be ideal!