Our cross-load tests are described in detail here.
To generate the following charts, we set our loaders to auto mode through our custom-made software before trying more than 1500 possible load combinations with the +12V, 5V, and 3.3V rails. The load regulation deviations in each of the charts below are calculated by taking the nominal values of the rails (12V, 5V, and 3.3V) as point zero. The ambient temperature is between at 30°C (86°F) to 32°C (89.6°F).
Load Regulation Charts
Efficiency Chart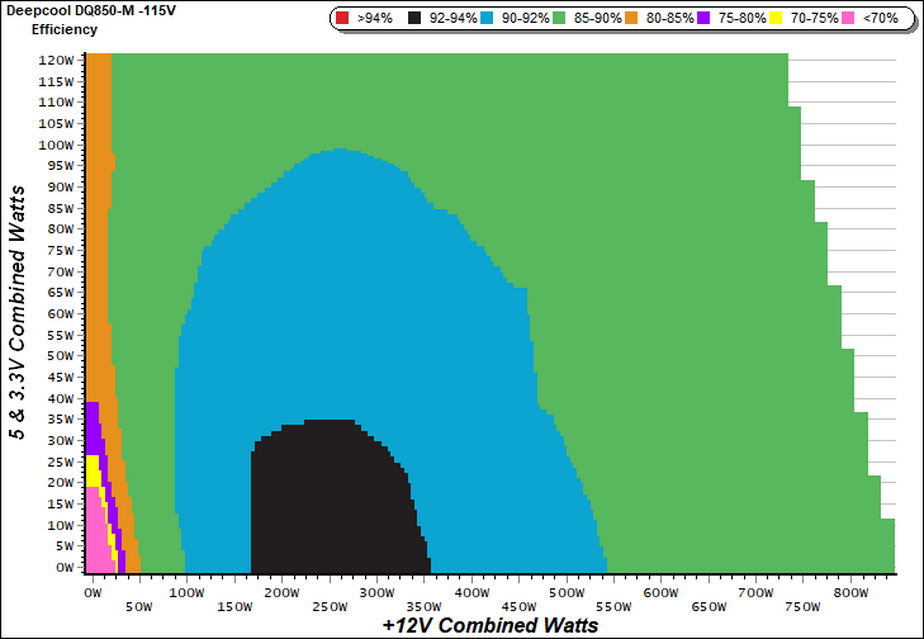 For a quite large region the unit's efficiency is above 92%. From 100W to 540W at +12V and with the load on the minor rails remaining lower than 100W, the efficiency levels are within 90-92%.
Ripple Charts
Infrared Images
We apply half-load for 10 minutes with the PSU's top cover and cooling fan removed before taking photos with our modified FLIR E4 camera that delivers 320×240 IR resolution (76,800 pixels).
The temperatures on the VRMs are increased, because we pushed those rails hard during the ten-minute load period. A pair of polymer caps located close to the VRMs has increased operating temperature as well at 89°C.
Thankfully those caps are highly tolerant to increased temperatures, contrary to electrolytic ones. The four electrolytic caps close to the VRMs and the modular board operate at over 70°C, which is not a low temperature. On the contrary, the bulk cap has a very low temperature of 37°C. Given the information that we gathered during this session, we believe that the fan profile is properly set and maybe it should be a bit more aggressive at typical and higher loads.