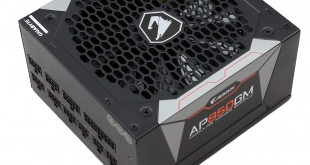 The Aorus GP-AP850GM is a distinctive looking power supply featuring a fully modular cable design along with 80 PLUS Gold and ETA-A efficiency certifications. Gigabyte chose to cooperate with a lesser known OEM partner, MEIC, and we are curious to check this platform's performance.
It has been quite some time since our last encounter with a Gigabyte PSU. Although this company is huge and a major player with graphics cards, mainboards and laptops it keeps a very low profile in the power supply market. Probably now that Asus, a major competitor, will enter this field for good with the ROG Thor models, Gigabyte have started enriching its power supply portfolio.
The Aorus P850W and P750W models were announced several weeks ago, however we still can't seem to locate any availability via UK or USA etailers online.
Strangely, as we go to press, the P750W unit isn't even listed on Gigabyte's website. That said, according to our sources the P850W will be available via the US market in mid-September, while it will hit the UK market around the end of September.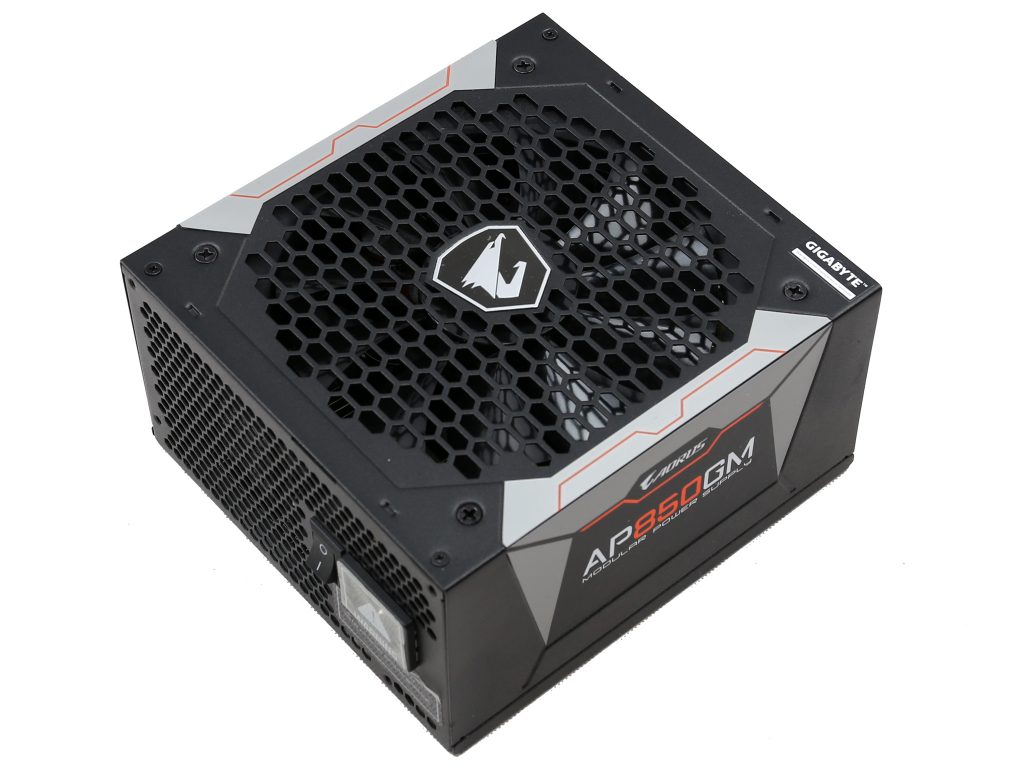 Gigabytes Aorus P850W features an appealing external design, according to our taste at least since looks is a subjective matter. Typically for this price range it features a fully modular cable design, while its efficiency certifications place it in the mid-category, since Gold and ETA-A models are more budget-oriented nowadays with Platinum, Titanium and ETA-A+ units addressing users that don't mind investing a significant amount on their new PSU purchase.
There is a single +12V rail which is currently preferred by the majority of brands (and users) while the cooling fan uses double-ball bearings, offering increased reliability especially under tough conditions. Usually most brands prefer rifle or fluid dynamic bearing fans because they produce less noise, however at high operating temperatures the expected lifetime of those bearing types is reduced dramatically, making double-ball and magnetic bearings the best choice.
Please be aware if you can't see the images in this review you will need to disable your ad blocker as they can be known to interfere with the display code.
Read our How We Test Power Supplies HERE
Specifications
Manufacturer (OEM)
MEIC
Max. DC Output

850W

Efficiency
80 PLUS Gold, ETA-A (88-91%)
Noise
LAMBDA-S++ (30-35 dB[A])
Modular

✓

(Fully)
Intel
C6/C7 Power State Support

✓

Operating Temperature (Continuous Full Load)
0 – 50°C
Over Voltage Protection

✓

Under Voltage Protection

✓

Over Power Protection

✓

Over Current (+12V) Protection

✓

Over Temperature Protection

✓

Short Circuit Protection

✓

Surge Protection

✓

Inrush Current Protection

✓

Fan Failure Protection

✗

No Load Operation

✓

Cooling
135mm Double Ball Bearing Fan (D14BH-12)
Semi-Passive Operation

✓ (non selectable)

Dimensions (

W x H x D

)
150 x 87 x 162mm
Weight
1.58 kg (3.48

lb

)
Form Factor
ATX12V v2.4, EPS 2.92
Warranty
10 Years
The manufacturer of this unit is MEIC and this is the first time we have tested one of their designs. The unit is 80 PLUS Gold certified while in the Cybenetics scale it achieves ETA-A and LAMBDA-S++ efficiency and noise certifications respectively.
All cables are modular and the max operating temperature for full load delivery is 50°C, as the ATX specification recommends. The protection features are entirely covered and the unit's cooling is handled by a 135mm double-ball bearing fan, which is suitable for operation under tough conditions.
Finally, the dimensions are compact thanks to the 16cm depth and the weight is kept low as well. The provided warranty according to Gigabyte is up to ten-years, depending on the region. This is a good sign especially for a new platform like this one, showing that there is high confidence in its reliability through time.
Power Specifications
Rail
3.3V
5V
12V
5VSB
-12V
Max. Power
Amps
20
20
70.5
3
0.3
Watts
120
846
15
3.6
Total Max. Power (W)
850
The minor rails have 120W capacity, which is enough for any system nowadays and the +12V rail can deliver more than 70 Amps. The 5VSB rail has enough juice as well for a PSU in this Wattage category.
Cables & Connectors
Modular Cables
Description
Cable Count
Connector Count (Total)
Gauge
In Cable Capacitors
ATX connector 20+4 pin (660mm)
1
1
16-22AWG
✓
4+4 pin EPS12V (800mm)
1
1
18AWG
✓
4+4 pin EPS12V (650mm)
1
1
18AWG
✓
6+2 pin PCIe (750mm)
2
2
18AWG
✓
6+2 pin PCIe (650mm+150mm)
2
4
18AWG
✓
SATA (550mm+100mm+100mm) / 4-pin Molex (+100mm)
1
3 / 1
18AWG
✗
SATA (460mm+100mm+100mm) / 4-pin Molex (+100mm)
1
3 / 1
18AWG
✗
4-pin Molex (450mm+100mm+100mm) / FDD (+100mm)
1
3 / 1
18-22AWG
✗
FDD Adapter (+105mm)
1
1
22AWG
✗
AC Power Cord (1400mm) – C13 coupler
1
1
16AWG
 –
There are two EPS connectors included with this power supply and they are offered in different lengths. This is a good option if you need only one, as you can pick the cable length to best suit your chassis. If you need both however, and you are using a large chassis, then this isn't ideal. Gigabyte could get around this by offering another longer cable to get a matching pair to suit all situations.
With six PCIe connectors in total this PSU will easily power a strong gaming system and we appreciate the pair of dedicated PCIe cables. On the other hand, the number of SATA connectors might not be sufficient for some enthusiast users, however we do believe that this won't be a problem for the 4-pin Molex connectors since five of them are provided. So in case the number of provided SATA connectors is not enough, you can always get an adapter as long as you don't need the 3.3V rail.
The distance between the peripheral connectors is too short at 100mm. These should really be 140mm to 150mm particularly for the 4-pin connectors.
The Berg connector which is fixed on a modular cable is not an ideal choice since very few need those nowadays. Gigabyte/MEIC should install an additional 4-pin Molex connector in this cable, or even better a SATA.
The cables are of high quality and are very flexible. Since Gigabyte/Aorus didn't want to use sleeved, round cables but flat (ribbon style) ones, there was no other way but to have the filtering caps on full show. At least they tried to hide them with black heat shrink which makes them kind of stealthy – well from a distance anyway.