The Gigabyte Aorus GP-AP850GM retails for $149.99 in the US where it will be available mid-September. In the UK it will be sold for £124.99 and it is expected in late September.
Gigabyte had quite some time to release a new power supply line and it was a surprise that it chose to do so utilising the platform of a not so known manufacturer (MEIC). In the end this proved to be a good move though, since MEIC delivered a good product which is able to meet the performance of formidable competitors such as the Aerocool ACP-850FP7 and the Corsair HX850.

The load regulation is tight enough, the ripple suppression is excellent while the transient response is really good and this is what matters the most, since a PSU under real life conditions will constantly face transient loads.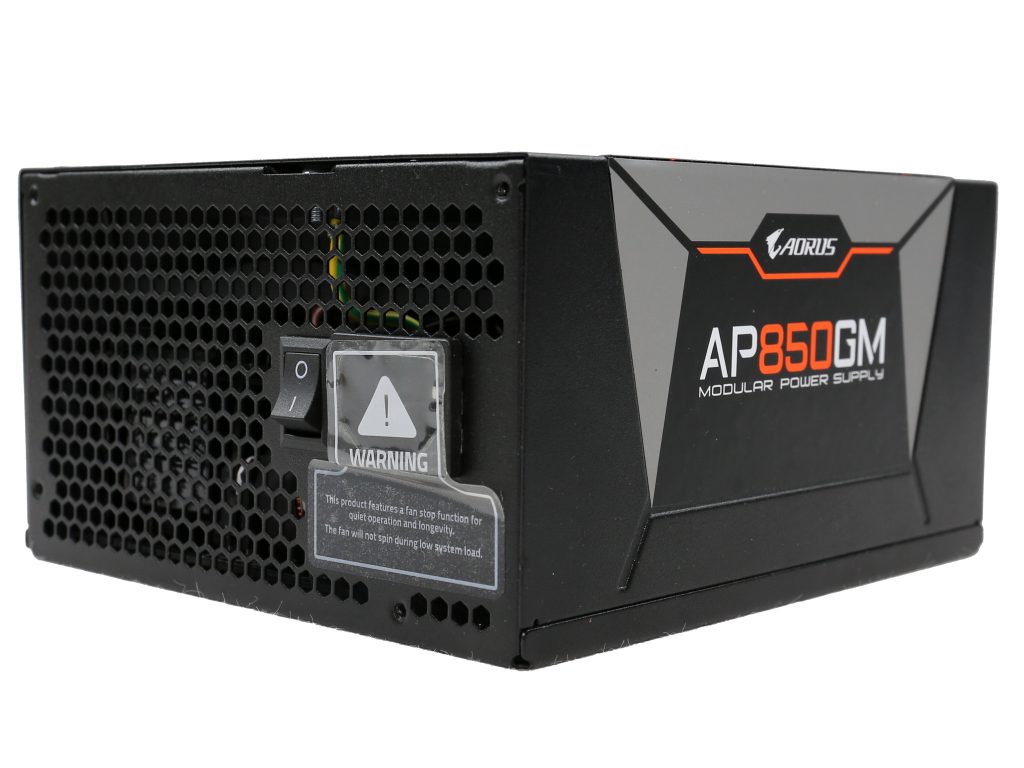 In my opinion Gigabyte should tune the fan profile to be more relaxed, since this is an efficient platform, under normal loads at least. With light loads (20-40W) a little tuning is required as well in order to increase efficiency, however I should note that the platform is able to deliver over 60% efficiency with 2% of its max-rated-capacity – something that will be a requirement in the upcoming ATX specification according to our sources (and it will be increased to 70% in the coming years).
There two EPS and six PCIe connectors in total, which are enough to fully cover the PSU's capacity. Although the 24-pin ATX, EPS and PCIe connectors are supported by in-line caps, still the corresponding cables are flexible so you won't meet any problems during the cable rooting and management processes.
Moreover, all cables are very long and the two dedicated PCIe cables are ideal for energy hungry graphics cards in order to avoid voltage drops under high loads. There are some issues though in this unit's cable configuration. For starters the six SATA connectors look few for a high-end 850W unit (the HX850 for instance comes with 16x SATA connectors). Moreover the distance between the peripheral connectors is too low at only 100mm. Finally, there is no need for the fixed FDD connector, especially from the moment a FDD adapter is provided.
Another issue that Gigabyte has to solve along with MEIC is this platform's DC power sequencing which is not inline with Intel's specs, from the moment the 3.3V rail's voltage is higher than the 12V rail's, during the PSU's start-up phase.
It is nice to see Gigabyte releasing a good product, since this will create more competition in the popular 850W category. MEIC, the manufacturer of this unit, so far didn't have a presence in the desktop PSU market since it mostly deals with power adapter. Despite the lack of experience in manufacturing desktop units, they did a fine job though and we are very interested to analyse more platforms from this OEM.
Pros:
Resilient to high operating temperatures
Double-ball bearing fan suitable for tough operating conditions
High efficiency under normal loads
Good transient response on all rails
Very low vampire power
Accurate power ok signal
Fully modular with highly flexible cables
2x EPS and 6x PCIe connectors
Interesting external design
Compact dimensions
Ten-year warranty
Cons:
Not so high efficiency under light loads (20-40W)
Conducted EMI with the AVG detector
Six SATA connectors look few in a high-end 850W PSU
Decreased distance between the peripheral connectors (only 10cm)
No need for the fixed FDD (Berg) connector, since a FDD adapter is also provided
The platform's DC power sequencing doesn't meet Intel's specifications
Can be very noisy under tough conditions
It would be nice if the semi-passive mode could be deactivated
KitGuru says: The GP-AP850GM is a highly capable PSU that manages to stand out from the crowd thanks to its nice external design and the unique platform, which isn't utilized by any other brand so far. It has good performance and under normal conditions it will remain silent. It is good to see Gigabyte/Aorus in the tough PSU market, since it increases the available options for all buyers out there.